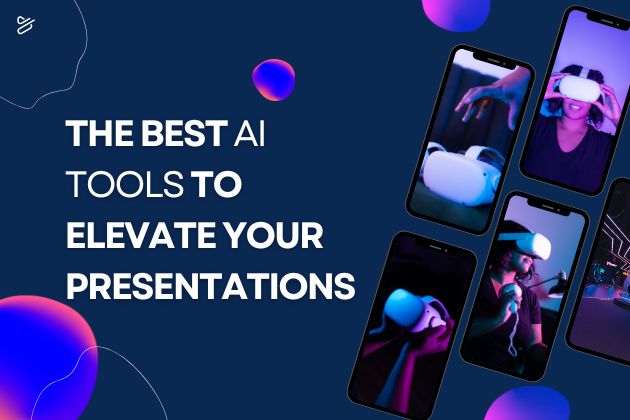 The Best AI Tools to Elevate Your Presentations
Read Time:
4
minutes
AI tools have become a driving force in content creation, extending their influence to tasks like constructing impactful presentations. However, assembling effective presentations goes beyond leveraging AI; it entails tapping into your public speaking skills and adeptly organizing content to deliver genuine value to your audience.
To make a presentation truly shine, it's essential to blend the capabilities of AI with the expertise of human touch, all powered by the right tools. With so many choices available, you might be thinking, "Which AI is the best for creating presentations, though?"
There's no one answer to that question. The right AI tool for you will depend on your goals and needs. That's why we've gathered the following options for you to consider:
Generating Ideas: GhatGPT
The format of this blog will resemble a general workflow, with each AI applying to a different step in the process of planning a presentation. This can help you better determine which tool might help you at any given phase of the process. During the early stages, when you might need help coming up with ideas, ChatGPT is among the best AI for presentations.
This is due to how simple it is to use ChatGPT. For example, maybe you need to come up with an idea for a presentation on how to boost employee safety. All you need to do is type something like "Provide a list of ideas for presentations on the topic of improving employee safety in the workplace" into ChatGPT.
The AI will provide you with a list in moments. Even if you don't use all its suggestions, they can help you get started. If you still want more ideas, typically, simply prompting ChatGPT to deliver more examples is effective.
You can also use ChatGPT for basic research purposes by asking it to answer questions you may have about the content of your presentation. However, it's important to check any information ChatGPT provides you with for accuracy. Research shows that, unfortunately, ChatGPT has been growing less accurate in recent weeks instead of more accurate.
Creating Charts and Infographics: AppyPie
When designing a presentation, it's often wise to consider ways you can present information visually. Including graphs and infographics in your presentation can help you effectively share large amounts of information without necessarily overwhelming your audience or losing their interest.
That doesn't mean you need to create these visual elements on your own. Doing so is a time-consuming task that may keep you from focusing on other priorities. Instead, you can use AppyPie, an AI tool that generates infographics and charts for you.
You may need to experiment with the tool so that it generates charts, infographics, and other such images and elements that properly condense information while matching your branding. Luckily, the website offers many examples and templates for you to preview and edit.
Creating a Rough Draft: Decktopus
A presentation should be like an essay or paper for a college course. Most students understand that writing a single draft of a paper isn't sufficient. To ensure an essay is as strong as possible, a responsible student would begin by writing a rough draft. Only then would they move on to polishing the draft and completing the assignment.
A presentation could be the same. The problem is that creating a presentation can take so much time and effort that you might simply not have the option of starting with a rough draft.
That's no longer the case. With Decktopus, all you have to do is respond to a few basic prompts, and the AI will generate a complete presentation for you.
The odds are good the presentation the tool generates won't be perfect. You'll almost certainly need to modify everything from the formatting to the content at least a little bit. However, by providing you with what can essentially be a rough draft of your presentation in mere moments, Decktopus can save you a lot of time.
(Tip: As the name implies, Decktopus is particularly helpful for those working on sales decks, pitch decks, and other such slideshows and presentations. Check our guide on how video can improve sales presentations for more info on this topic.)
Creating Individual Slides: SlidesAI
If you'd prefer to exercise more control over what goes into your presentation slides but you still want to save money by using the best AI for presentations, consider experimenting with SlidesAI. 
SlidesAI leverages AI to generate impressive presentation slides from text alone. It also integrates with Google Slides, making it a helpful tool to use if Google Slides is already your preferred presentation maker.
Sendsteps AI is a unique AI presentation maker in that it gives users the option to generate quiz questions throughout their presentations with the help of AI. Naturally, this makes it a valuable tool for an educator who might use it to plan presentations to accompany their lessons.
That said, quizzing audience members on the topics you're discussing can be a wise idea when delivering various types of presentations. Quizzes make a presentation more interactive, thus helping you more effectively capture and keep your audience's interest. Quizzing your audience members can also simply help you more accurately determine if you've succeeded in maximizing retention of the information you're sharing in a presentation.
The Best AI for Presentations: Options to Consider
Again, there isn't one AI tool that perfectly serves the needs of everyone using AI to improve their presentations. That said, the options on this list are all worth at least giving a try. They may help you generate presentations much more efficiently, boosting your productivity as a result. Who doesn't want to spend less time on presentations if they can?
Use Powtoon to Create Stunning Videos and Presentations
Although these tools may help you begin generating a presentation, to capture your audience's attention, you might want to include videos, animations, and other such visual elements that will make your presentation far more dynamic.
You might also feel that generating such elements is prohibitively costly and time-consuming. Luckily, Powtoon simplifies the process of video and animation production, making it easy even for someone with limited video production experience and a small video production budget. Learn more by signing up today.

The following two tabs change content below.
Hanna is Powtoon's Content Marketing Strategist. She joined Powtoon as a copywriter in 2019, after graduating from university with a specialized degree in marketing and business. She continues to inspire people to create incredible video content with blog posts, videos, guides, and more. Hanna's passions include reading, singing, and caring for animals (#proudvegan). Nothing makes her happier than waking up to her two black kitties who, contrary to popular belief, are good luck!
Latest posts by Hanna Abitbul (see all)