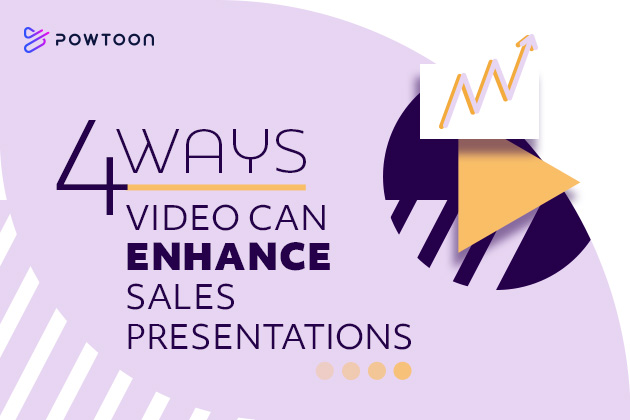 4 Ways Video Can Enhance Sales Presentations
Read Time:
3
minutes
No matter what you're selling, you're more likely to attract customers if your sales presentations are dynamic. There are many ways you can ensure they are interesting enough to make the right impression. Including video is one example.
Video and visual communication are helpful for several reasons. For one, video ensures a consistent experience for everyone who views your sales presentations. While the way in which you pitch your product might vary from one presentation to another for various reasons (such as your mood, comfort level, etc.), at least the video elements will always remain the same. This gives you the peace of mind that comes from knowing you're always giving a quality presentation.
Additionally, a video may serve as a full sales presentation itself. This can help you save time and money. When traveling to deliver a sales presentation in-person isn't an option, you can send a video to your prospects.
That said, using video to improve sales presentations will be a more effective tactic if you keep certain tips in mind. They include the following:
Demonstrate the Product
This may seem like an obvious tip, but it's an essential one. It's a good idea to include clips of people using your product in your sales presentation videos for one key reason: Doing so allows you to show your product in its best light.
Showing how to use your product by using it yourself for each and every sales presentation can be risky. There are many ways a demonstration may go wrong. For example, perhaps you're demonstrating a piece of software, but technical issues are preventing you from doing so in a way that's likely to impress busy members of the Executive Suite. Or, you may be nervous during a particularly important sales presentation, and could therefore make mistakes, like forgetting an important step in the process when demonstrating how to use what you're selling.
You don't need to worry about this when you have a video showing off your product. You'll know it will look perfect for every presentation.
Include Testimonials
Sales experts often highlight the importance of testimonials because they genuinely are valuable. Many surveys indicate everyone from the average consumer to a CEO will be more inclined to purchase something if others have vouched for its strengths.
However, some testimonials are more effective than others. Testimonials that are in text form don't have the same impact as those that involve live customers speaking about why they love a product. A testimonial featuring an actual person will add more emotion to their words, cementing just how strongly they feel about what they're describing.
Can you bring your happy customers with you to every sales presentation? No. If you did, they wouldn't remain happy customers for long. Luckily, you can include clips of them delivering testimonials in your sales presentation videos.
Create Multiple Videos
Depending on the nature of your product, it may be wise to create multiple videos. This is true if the needs of your potential clients can vary on a case-by-case basis.
For example, perhaps you're selling software that has a range of features. Maybe it includes a suite of marketing tools as well as project management and coordination tools.
Some clients may be more interested in the marketing features, while others may have more use for the project management features. Instead of boring potential customers by showing them long videos that include information they might not find relevant, create several videos (or break one video up into sections) to provide a more valuable experience.
Discuss Your Mission
Your main goal during a sales presentation is to explain the very practical ways your product can solve a customer's problems. That said, you could also discuss your mission and values. This may result in a sales presentation that's more memorable than others.
Discussing your mission simply by talking about it will have less of an impact than a video can. With a video, you can add music, images related to your mission, and other such elements, tapping into the emotions of a potential client.
Create Stellar Sales Presentation Videos With an Easy-to-Use Tool
Don't assume you'll need to hire a full production team to create effective sales videos. Powtoon is a user-friendly tool that makes creating videos an easy and intuitive process you can master on your own. Sign up for free today to get started!

The following two tabs change content below.
Hanna is Powtoon's Content Marketing Strategist. She joined Powtoon as a copywriter in 2019, after graduating from university with a specialized degree in marketing and business. She continues to inspire people to create incredible video content with blog posts, videos, guides, and more. Hanna's passions include reading, singing, and caring for animals (#proudvegan). Nothing makes her happier than waking up to her two black kitties who, contrary to popular belief, are good luck!
Latest posts by Hanna Abitbul (see all)