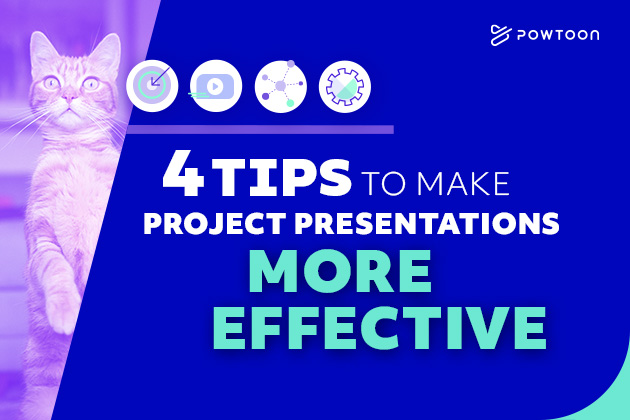 4 Need-to-Know Tips to Make Project Presentations More Effective
Read Time:
3
minutes
Regardless of the specific nature of your industry, if you're a supervisor or manager working in a large corporation, your job may at times involve delivering project presentations to employees and clients.
These presentations need to be engaging. If you're delivering a presentation to employees, you want to ensure you're motivating them to take action and dedicate themselves to a project. If you're delivering a presentation to clients, you want to give them a reason to commit to a project instead of giving their business to one of your competitors.
This doesn't need to be as challenging as it may seem. There are numerous ways you can improve the odds of a presentation having the effect you want it to. The following presentation tips will help you achieve this goal:
Allow Yourself the Freedom to Go Off-Script
Preparation is key when developing a presentation. For instance, you might decide to write a script for a presentation to ensure you don't make any unplanned mistakes when delivering it.
This isn't necessarily a bad idea. However, some experts recommend adhering more to an outline than a script. This simple presentation tip can make a dramatic difference in your ability to engage listeners.
When you stay on-script, it's possible you'll unintentionally come across as too stiff to genuinely excite your audience. If you follow an outline while giving yourself the freedom to go "off-script" when doing so seems appropriate, your presentation will feel more natural. Generally, a conversational style is ideal when delivering a presentation. You might also want to research body language tactics that can improve presentations.
Use Video
You may already appreciate the value of incorporating visuals into a presentation. However, because using slideshows during project presentations has been a fairly common means of engaging an audience for years now, slideshows can actually have a negative impact in some cases. People have become so accustomed to watching generic PowerPoints that they sometimes lose interest the moment one begins.
There's a simple way you can overcome this hurdle. Instead of expressing your points in a slideshow, show a video.
Video content allows you to share a lot of information and ideas about a project in a fairly short period of time. It lets you organize your ideas while expressing them in a dynamic manner that has a fairly strong chance of capturing your audience's attention.
Video also helps you deliver consistent project presentations when you need to give a presentation multiple times to multiple audiences. Again, while some spontaneity during a presentation is often helpful, when you're making your most important points, you want to be as clear as possible. This project presentation tip will help you achieve that goal.
Set Up Realistic Expectations
Part of delivering a project presentation may involve explaining to clients or employees how long it will take to complete a project. During this phase of the presentation, you might feel the urge to make unrealistic statements about a project's timeline.
This is understandable. However, you're better off being honest about how long it may take to complete a project. If the members of your audience can sense that you're not lying to them or exaggerating how quickly you can complete a project, they will often be more likely to work with you on it. This is true whether you're delivering a presentation to employees or clients.
Similarly, you should address certain practical factors when delivering a presentation. Discuss the estimated cost of a project, talk about how you will staff it, and speak to how you will handle potential challenges or roadblocks that may arise throughout the project's duration.
Use Analogies
This is another common presentation tip that's very useful when the content of a presentation might confuse some members of your audience.
Depending on the type of project you're describing, there may be times during your presentation when you'll be explaining ideas that might be somewhat difficult to understand for someone who doesn't have the proper frame of reference. To ensure everyone understands what you're attempting to describe, use analogies when explaining complex ideas.
Strong teachers often use analogies for this purpose. When delivering a presentation, you shouldn't talk down to your audience, but you should think of yourself as an educator teaching a lesson to students who might not be familiar with everything you're covering right away. Using analogies the way a teacher would can help you make an otherwise confusing topic much more understandable for everyone in the room.
Perhaps most importantly, remember that developing certain leadership communication skills can take time. However, if you consistently apply these tips, you'll begin to find that delivering effective project presentations doesn't need to be as intimidating as you think.
Enhance Project Presentations With Video Content
You might be reluctant to incorporate video content into your presentations because you suspect that creating it is time-consuming or expensive. While producing videos for presentations may have once been a challenge, thanks to online video editors and templates (such as those we offer at Powtoon), even those with minimal experience can now quickly create videos that will boost the impact of a presentation. To begin experimenting with video content for presentations, sign up for your free account today!
The following two tabs change content below.
Hanna is Powtoon's Content Marketing Strategist. She joined Powtoon as a copywriter in 2019, after graduating from university with a specialized degree in marketing and business. She continues to inspire people to create incredible video content with blog posts, videos, guides, and more. Hanna's passions include reading, singing, and caring for animals (#proudvegan). Nothing makes her happier than waking up to her two black kitties who, contrary to popular belief, are good luck!
Latest posts by Hanna Abitbul (see all)