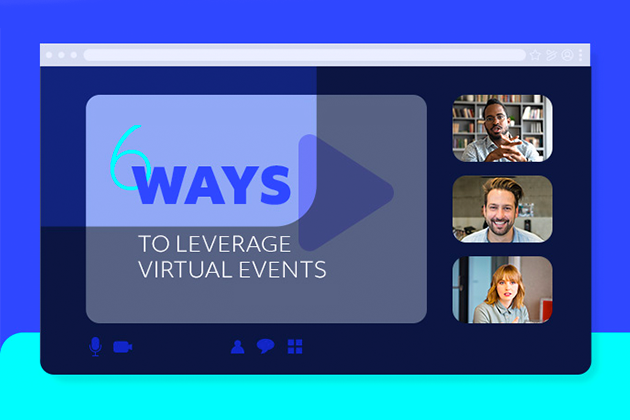 6 Ways to Leverage Virtual Events in 2022
Read Time:
5
minutes
Virtual events can be daunting for those unfamiliar with the process. There is clear value in a face-to-face interaction, but as we all continue to practice social distancing this year, in-person events around the world have been cancelled for the foreseeable future.
Fortunately, modern technology has made it possible for teams, organizations, and institutions to continue reaching their audiences with online sessions that rival in-person interactions — better known as virtual events! According to a survey conducted by PCMA, 70% of event planners are going virtual.
But how do you turn an in-person event, filled with networking opportunities, informative sessions, and attendee insights into a successful virtual event? How can you learn from virtual events in 2020 to create even better virtual experiences in the future? And how do you ensure attendees are engaged throughout?
It takes a new way of thinking and planning — requiring hosts to reimagine content that engages attendees from home.
That's why we've put together a guide full of ideas and tips to visually engage your audience that will help you ensure your virtual event is a major success!
What Is a Virtual Event?
A virtual event is a gathering of people hosted via a web-based environment rather than meeting in a physical location. Virtual events typically take place over a series of days and are highly interactive. Oftentimes, they aim to create as similar an experience as possible to their physical counterparts.
A virtual event can also refer to aspects of an event that are brought to users through an online experience. This can range from live-streaming a speaker to creating on-demand video content for participants to view on their own time.
While we all know some aspects of face-to-face interactions are impossible to replace, virtual events have some advantages that may even outweigh in-person events. For instance, hosting an event online allows companies to reach wider, global audiences. They're significantly cheaper to host, as well as to attend. And going digital with your event makes it all the more measurable, allowing your company to optimize for maximum audience impact!
Types of Virtual Events
1. Webinars
Companies worldwide have turned to webinars as a key method of informing and staying connected with customers and clients. But hosting a webinar that actually captures your audience's attention can be a challenge.
Make your webinar stand out from the crowd by communicating visually with your audience! Create buzz with a fun save-the-date. Impress your audience with pro video content. Or follow up with a certificate to give attendees a sense of accomplishment in what they learned. Then, summarize the results to your team!
2. Sales Meetings
Sales meetings are a major component of the meeting industry. According to Meeting Professionals International, "Meetings and events contribute more to the GDP than air transportation, motion pictures, sound recording, performing arts and spectator sports industries." It's a $115 billion per year industry!
Whether your meeting is arranged to close sales deals, seek investment, or otherwise, it's easy to transcend your everyday zoom calls! Host productive remote sales meetings that actually engage clients and inspire action – with video templates for sales pitches, web demos, results, summaries, and more. Then, show off your product or service to clients, your big wins to colleagues, and how you're crushing your targets in the process to your boss!
3. Company-Wide Gatherings
When it comes to remote work, your company can't afford to have important messages be ignored! Being able to efficiently communicate important information, news, and guidelines during virtual company-wide events is key to keeping your employees safe, informed, and aligned.
Get employees psyched for your next all-hands meeting with an exciting meeting invite. Produce a cohesive all-hands presentation. And make important information stick with an engaging trivia game. Looking to go beyond? Inspire pride in your employees with attendance certificates for those who participated.
4. College Opening Days
Getting students excited about your institution's first day of the new semester can be quite the obstacle when it's remote. But according to The Telegraph, EdTech spend is expected to reach £3.4 billion by 2021 in the UK alone.
Bring your opening day to life with virtual introductions and remote activities. Choose from a wide selection of video templates for explainer videos, school updates, university culture and values, and more. Keep students engaged, productive, and inspired to do their best while learning remotely!
5. Job Fairs
Despite the layoffs and furloughs the pandemic has caused, so many companies are actively hiring right now. However, with social distancing measures in effect, it's difficult to gather employers and job seekers in one place.
Successfully host a virtual job fair with engaging video presentations that win over prospective candidates. Introduce your company's product or service, organizational values, work culture, and position skill specifications. Reimagine templates for save-the-dates, product demos, explainer videos, and more to visually engage prospects. With presentations as exciting as these, you'll have an amazing selection of talent at your fingertips.
And to all the job-seekers out there, we haven't forgotten about you! Stand out from the competition with a dynamic video resume that positions you as top talent.
6. Trade Shows & Conferences
The attention span of conference and trade show attendees has changed. Your virtual conference needs to keep attendees focused, because let's face it — you're competing with every notification, email, and message.
Easily host an engaging virtual conference or trade show using short, captivating videos! Make it the virtual event of the year by sending out exciting invitations, or by creating a video presentation that showcases your organization's thought leadership. Choose from a ton of video templates for online demos, product pitches, and explainer videos. Then, use a summary template to report the results of the event!
Host Your Own Virtual Event
Our key takeaway? Don't be afraid to go virtual!
Right now, it's the only option most companies have to engage, inspire, and foster connections with their audiences. As you reconstruct your events and look to the future, take advantage of these exciting online experiences. A virtual event can make a great impact.
And, now more than ever, there are amazing video resources to take advantage of here at Powtoon to make your virtual events the best yet!
Editor's note: This article was originally published in December 2020 and has been updated.