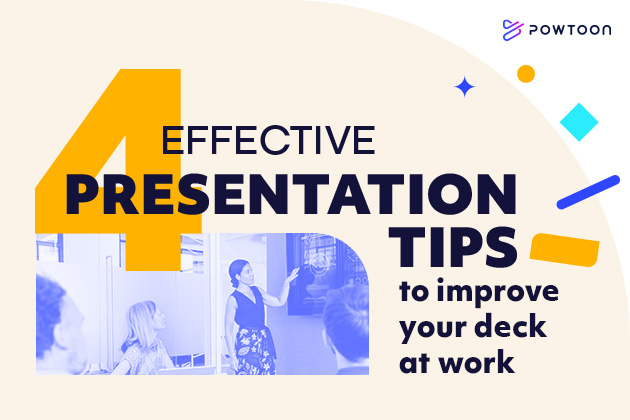 4 Effective Presentation Tips to Improve Your Decks at Work
Read Time:
4
minutes
Delivering a presentation can be among the most stressful and challenging elements of virtually any role at a large corporation. Regardless of the specific nature of your job or the content you're presenting, you need to effectively communicate critical information while engaging your supervisor, colleagues, and in some cases, potential clients or customers. You also need to ensure your presentation is designed to share this information efficiently in order to avoid wasting everyone's time.
However, just because delivering a presentation can seem intimidating, that doesn't mean it has to be. If you keep certain basic presentation tips in mind, you'll be far more likely to achieve your goals.
To deliver stronger presentations at work, consider the following presentation tips:
Presentation Tip #1: Don't Go Overboard With the Visuals
Don't misunderstand this tip. It isn't telling you to not incorporate visuals into your presentation. On the contrary, visual elements can make a presentation much more engaging than it would otherwise be.
That said, you want to ensure the focus of your presentation is on the content itself. Wowing your audience with impressive visuals won't necessarily help you achieve your goals if they walk away from the presentation forgetting what they've learned or feeling as though they haven't genuinely learned much at all.
Thus, when designing visual elements, you should minimize variation in regard to colors, fonts, and other such elements. It's best to use no more than three fonts in your copy. It's also wise to adhere to a fairly consistent color scheme. You may even want to study color theory to learn more about the ways different colors work together to create a pleasing effect.
Presentation Tip #2: Incorporate Audio & Video
Many professionals across a wide range of industries have grown so accustomed to relying solely on slideshows to share information visually during presentations that they forget there are other types of multimedia formats that may help them deliver presentations that make an impression on their audiences.
Strongly consider adding audio and video to your presentations. This will allow you to communicate information even more efficiently.
Additionally, studies have indicated that video content on social media typically yields a high level of engagement when compared to other types of content. There's no reason to believe video can't be equally engaging when used in a presentation.
Presentation Tip #3: Start Off by Addressing a Problem
The specific manner in which you structure your presentation may (at least to some degree) depend on the goal of said presentation. In general, though, presentations usually serve to either share information and ideas related to a problem that needs to be solved, or address how a problem has already been solved. For example, you might deliver a presentation explaining ways your sales team can increase their sales, or you may deliver a presentation explaining how a certain approach has helped your team achieve their sales goals.
In either case, you can capture the attention of your audience and get to the point quickly if you start your presentation by addressing the problem. This gives your presentation a sense of focus that it may lack if you were to begin it in a different way. It also immediately lets your audience know why the information you're going to be sharing in your presentation is of value to them.
Presentation Tip #4: Use Emotion to Keep an Audience Interested
It's not uncommon for members of an audience to grow bored or distracted during a presentation. There are many reasons this can happen. However, it's often the case that audience members simply feel a presentation is too "dry." Even if the information being shared is of value, audience members might nevertheless become distracted if the information isn't presented in a stimulating way.
This is why it's important to add some emotion to a presentation. That doesn't mean every presentation you deliver needs to be melodramatic. Although there may be instances when emotions such as sympathy and even anger may enhance a presentation, by simply being a little funny during a presentation, you can theoretically keep an audience engaged on an emotional level. This boosts the odds that an audience will remain engaged throughout the entirety of your presentation.
This highlights another reason it's helpful to use video and audio: Doing so allows you to convey your message in an emotional manner. On top of that, if you're going to be delivering the same presentation to multiple audiences, having a video can ensure the emotional aspect of your presentation remains consistent every single time you deliver it.
Most importantly, remember that learning to deliver effective presentations can take time. Don't be discouraged if your presentations aren't quite as impressive as you'd like them to be just yet. If you're persistent and you apply these tips, over time, your ability to deliver strong presentations will improve.
Create Strong Videos for Your Presentations Using Templates
If you believe videos can help your presentations make a stronger impression on your audience, consider using Powtoon, a video maker that offers templates. This will make the process of creating videos much easier. Sign up for free today to get started.

The following two tabs change content below.
Hanna is Powtoon's Content Marketing Strategist. She joined Powtoon as a copywriter in 2019, after graduating from university with a specialized degree in marketing and business. She continues to inspire people to create incredible video content with blog posts, videos, guides, and more. Hanna's passions include reading, singing, and caring for animals (#proudvegan). Nothing makes her happier than waking up to her two black kitties who, contrary to popular belief, are good luck!
Latest posts by Hanna Abitbul (see all)