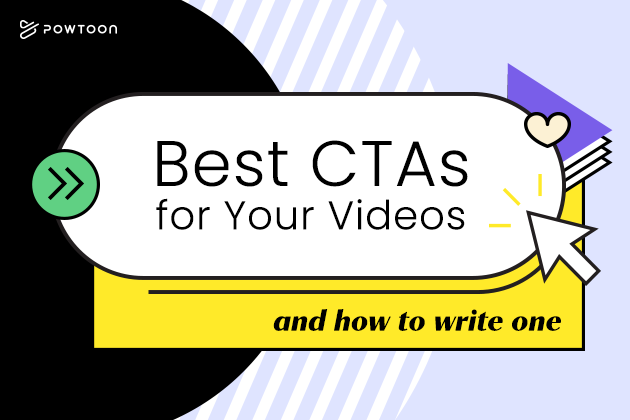 Best CTAs For Your Videos and How to Write One
Read Time:
4
minutes
Video marketing is a powerful tool for driving conversions and engagement on your website or social media. Adding an effective Call To Action (CTA) to the end of your video can help ensure that users are actively engaging with the content you've created. A CTA should be brief, actionable, and memorable in order to inspire viewers to take the desired action.
Keep reading to learn more. This guide will help you better understand the types of CTAs you may include in your videos, how to write a strong video CTA, and how to study examples of effective CTAs to inspire your approach to writing calls to action.
Types of CTAs for Videos
Video marketing CTAs can serve a wide range of purposes depending on the goals of a particular campaign. Types of video CTAs to consider using include:
Promotional: These CTAs focus on encouraging customers to purchase a product or service, subscribe to a newsletter, download an ebook, etc.  Tip: If you're marketing a service that a user will ultimately purchase or subscribe to, consider offering a free trial, and highlight this fact. With a little research, you'll find that many of the strongest call-to-action examples are those which give a lead the chance t take advantage of a free trial or promotion offer.
Informative: Educational video CTAs aims to inform viewers about a particular topic and often include calls to action such as "Learn more" or "Discover how…" 
Engagement: These are mainly used for social media videos and involve asking viewers to like the video, comment, share it with friends, etc.
Writing Effective Video CTAs
When crafting your video CTA, there are certain best practices you should keep in mind in order to ensure maximum effectiveness. Here are some tips for writing effective video CTAs:
Keep it short and sweet: Make sure to keep your CTA as concise as possible – one or two sentences should do the trick.
Be specific: Give viewers a clear call to action with specific instructions on what their next step should be.
Include a sense of urgency: Use words like "now", "immediately", or "today" to make viewers feel like they need to take action right away. Research shows that by generating a sense of urgency in your audience, you can increase conversion rates significantly.
Utilize visuals: Add visual cues such as arrows or circles around your CTA text in order to draw attention to it and encourage click-throughs from viewers.
Test different versions: Experimenting with different versions of your CTA is a great way to determine which one performs best. A/B testing can help you identify the most successful version and increase overall engagement.
Video Marketing Call to Action Examples
One of the most effective ways to begin developing your own strategy for including a call to action in a video is to study examples of effective video CTAs from other brands. Consider the following CTA examples:
Felix Gray: This blue-light glasses brand clearly explains how a customer can purchase and test their products by combining information in a voiceover with a URL on the screen itself. The video conveys the information efficiently and clearly, guarding against potential distractions.
Previsco: Research shows that consumers of virtually all types respond positively when businesses across a range of industries give them the opportunity to personalize their services and products. Previsco takes advantage of this by advising viewers to email the company directly to learn how it can tailor its services to their specific needs.
Century 21: This video from Century 21 indicates how video CTAs can be effective even when they're very simple. Rather than including a voiceover or dynamic imagery, this call-to-action example merely shows a computer screen on a Contact Me page along with text urging a viewer to contact an agent. This simple approach guards against distraction.
These CTA examples should also demonstrate to you that CTA types can vary depending on the specific goal a video is meant to achieve. You may this experiment with different types of CTAs for online videos to determine which best serves your needs in which circumstances and contexts.
How to Grow Your Video Audience With CTAs in Other Forms of Content
When it makes sense to do so, include CTAs in your other forms of content which can help you generate a larger audience for your video content. For instance, on a landing page, it makes sense for a CTA button to encourage guests to sign up for a service or make a purchase. However, at the end of a blog post, you might include a CTA that directs readers to your YouTube channel and other such video marketing channels. This can yield more consistent engagement, boosting the odds that leads will eventually become paying customers.
Additional Video Marketing CTA Tips to Keep in Mind
Along with the suggestions already provided here, additional tips to remember when writing calls to action for videos include:
Make sure your CTA matches the tone of the video.
Use bright colors and contrasting fonts to ensure that your CTA stands out.
Use targeted language that speaks directly to a specific audience.
Try to use action verbs in order to encourage viewers to take action.
During a live video, make a point of urging viewers to take a certain action throughout the video instead of merely including a CTA at the end. Ideally, a live video will be engaging enough to sustain the interest of a viewer throughout its duration, but you should account for the possibility that a viewer won't stick around to watch your video to the very end. Make sure you leverage the full potential value of everyone who tunes in to such a video by including a CTA or similar message at strategic points throughout the content.
These tips can help ensure that you make the most effective video marketing CTAs possible, thereby increasing engagement with your videos and ultimately improving ROI on video campaigns. By leveraging these tips alongside quality examples of successful calls to action, you will be well on your way to creating high-performing video content for your brand.
Produce Video Marketing Content Easily and Affordably With Powtoon
Using the right types of CTAs and applying the tips here won't necessarily yield the results you want if your videos don't capture and keep your audience's attention. Video may be a powerful marketing tool in the digital age, but tapping into its greatest value as a component of your marketing strategy requires ensuring your videos make the best possible impression on your target audience.
Luckily, you don't need major video production experience or even a large video marketing budget to produce quality video content for your marketing campaigns. Through resources such as templates, Powtoon simplifies the process of affordably generating marketing videos. Get started today to try it out for free!

The following two tabs change content below.
Hanna is Powtoon's Content Marketing Strategist. She joined Powtoon as a copywriter in 2019, after graduating from university with a specialized degree in marketing and business. She continues to inspire people to create incredible video content with blog posts, videos, guides, and more. Hanna's passions include reading, singing, and caring for animals (#proudvegan). Nothing makes her happier than waking up to her two black kitties who, contrary to popular belief, are good luck!
Latest posts by Hanna Abitbul (see all)