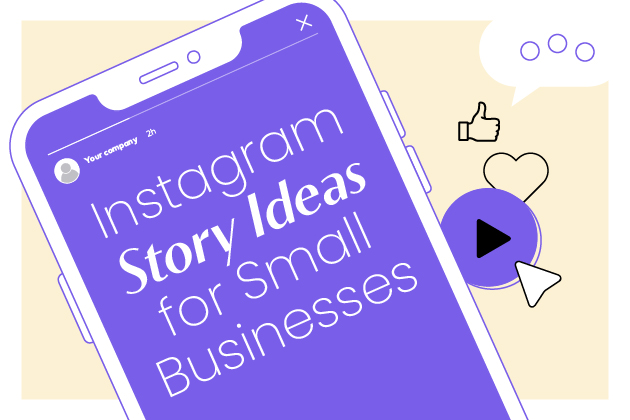 Instagram Story Ideas for Small Businesses
Read Time:
5
minutes
With approximately one billion active monthly users, Instagram is among the most popular social media platforms. Businesses across numerous industries have taken advantage of this popularity to reach their audiences on a consistent basis.
One way they've done so is through Instagram Stories. An Instagram Story is typically a short, vertical video that disappears 24 hours after being posted.
If your small business has an Instagram presence, familiarizing yourself with the benefits of Instagram Stories for businesses and posting regularly should be one of your top video marketing goals. Just as you should consistently brainstorm Instagram post ideas to determine how to optimize your presence on this major social media platform, you should also consider how certain types of content may be more effective in the form of Instagram Stories.
This overview will help. It covers Instagram Story ideas for businesses, helping you better determine which types of posts may help you make the right impression on your audience.
Answer/Ask Questions
Engage with your followers by asking questions and responding to their answers on Instagram Stories. Not only does this get people talking, but it can also give you valuable insights into what they're thinking.
Examples of business questions for Instagram Stories include:
What challenges have you faced in the past that relate to our products or services?
If we could offer one new product or service, what would it be?
What do you think of our latest promotion/campaign/collection?
Instagram also offers a "sticker" you can add directly to a Story to ask a viewer a question. The presence of a question sticker will ensure a viewer understands this is the type of social media post with which they can directly engage in a more interactive way than they otherwise might.
Ask for Feedback & Reviews
Asking for feedback is always important, particularly on Instagram Stories, where requests for feedback may be slightly more informal than on other channels. Not only does this help you understand how customers feel about your business, but it can also help you to identify and address any potential issues.
You could also ask for reviews of your products or services in the form of a written testimonial, star rating, or even video.
Polls
Much like asking for feedback, using Instagram Stories to conduct polls can be a great way to gauge the opinion of your followers and make them feel heard. It's also an effective way to get insight into key decisions, such as which product or service they'd most like you to launch next.
Be aware that this can boost customer engagement and loyalty. Research indicates that customers appreciate when businesses and brands give them opportunities to share their opinions.
Just as you can add question stickers to Instagram Stories, you can also add poll stickers. This offers an ideal way to solicit feedback from a viewer.
Share Highlighted Moments & Milestones
Make sure to celebrate any special moments for your business by sharing them on your Instagram Stories.
Examples of milestones you might share in the form of Instagram posts include a new product launch, award wins, events, and other major achievements. Celebrating these moments helps to build your brand's story and can help people to connect with it on a deeper level.
It can also allow you to share practical information via Instagram marketing. If you're using Instagram Stories to announce a new product launch, odds are you're reaching at least some potential customers who might otherwise not have known about an upcoming product of yours.
(Note: This highlights a general marketing point to keep in mind when planning Instagram posts or other types of social media content. To measure your success on social media platforms, don't focus exclusively on tracking how many new followers you gain or how many users boost brand awareness by sharing your content via their own Instagram accounts. To some extent, these are important metrics, but you also need to consider how your social media marketing efforts are translating into sales. The goal is to turn your social media leads into paying customers.)
Countdowns
Similar to announcement posts, you can use countdowns in Instagram Stories to let your audience members know about upcoming events, product launches, etc. Instagram offers countdown stickers that you can include in these posts to differentiate them from others.
Countdown stickers may generate a subtle but effective sense of excitement among your audience members. When Instagram users see these stickers, they see immediately understand that certain posts are telling them about what may end up being topics of interest in the future.
Teasing Releases
Use Instagram Stories to tease upcoming releases. This is a great way to generate hype in the lead-up to a launch and get people excited about new products or services. You could post sneak peeks, behind-the-scenes content, or even a countdown to create anticipation.
Promoting Recent Blogs
If your business has a blog, use Instagram Stories to promote recent posts. You can add a link that redirects people to the full article and make sure your content is seen by more people.
Showcasing Business Events
Instagram Stories can be ideal for sharing clips of business events with customers. Showing off the highlights, new products or services, and other aspects of your business will give customers a better understanding of what you do and how you work.
Behind-the-Scenes Content
Show the people behind the company with content such as employee introductions, office tours, Q&A sessions with key personnel, and more. This allows customers to feel a deeper sense of connection with your company than they might otherwise experience.
Discounts and Coupon Codes
Discounts and coupon codes are another great way to use Instagram Stories. Offer a discount to those who follow your page, or create exclusive codes for selected followers. This type of promotion can help increase engagement while also driving up sales.
Contests or Giveaways
Organize a contest or giveaway to reward your followers. This can be an effective way to spread the word about your business while engaging with customers and driving up followers. Make sure to include terms and conditions for the giveaway, as well as how participants can enter.
Guides and Tutorials
Share helpful guides and tutorials with your followers. Doing so allows you to provide value while demonstrating how easy it is to use your products or services. You could also include step-by-step instructions, or even video tutorials, to create an engaging experience for your customers. 
All that said, these are just a few business Instagram ideas that highlight the potential value of the Stories feature. As you experiment with different types of content and overall strategies, you'll learn which yields the strongest results.
How to Create Instagram Stories for Business: Powtoon Makes it Easy!
Leveraging the full benefit of Instagram Stories for a business requires producing and releasing quality video content. Luckily, this can be easy to achieve, even if you lack major video production experience or a large video production budget. Powtoon offers templates and other resources and solutions designed to ensure that producing video content for a business is affordable and easy. Sign up for free today to get started!

The following two tabs change content below.
Hanna is Powtoon's Content Marketing Strategist. She joined Powtoon as a copywriter in 2019, after graduating from university with a specialized degree in marketing and business. She continues to inspire people to create incredible video content with blog posts, videos, guides, and more. Hanna's passions include reading, singing, and caring for animals (#proudvegan). Nothing makes her happier than waking up to her two black kitties who, contrary to popular belief, are good luck!
Latest posts by Hanna Abitbul (see all)