How to Make Marketing Videos for Business that Actually Work
Read Time:
4
minutes
Are you under the impression that learning how to make marketing videos for your business will take hours of course lectures and thousands of dollars? While it's true that business video marketing production can take weeks to complete if you outsource your video creation projects to professional companies, that is not your only option. In fact, while that can be a great option for some, making a video is only half the story.
Even if you hire a company you'll still need to develop the buyer persona, shape the creative requirements, and determine the KPIs for measuring success.
Here are Three Questions to Ask Yourself as You Create Marketing Videos for Your Business:
Who is my target audience?
In other words, ask yourself who you are going to share your video with. Who is your ideal client? What do you want them to know about your product or services?
What do I need in my video?
Pull out your company style guide and make sure that your colors, fonts, logo, and phrases align with your video marketing outline. Do you want music in the background? Are you going to have a voice-over reader? Make sure those things don't conflict!
How will I know my marketing video is a success?
According to ClickData, there are 12 KPIs for videos to choose from. We suggest you select 2 or 3 key performance indicators such as clicks, shares, and view-through rates to
Are you ready to learn everything you need to know about making the best marketing videos for your business? Renee Teeley has partnered with Skillshare to create the only course you'll ever need.
Powtoon & Skillshare to the Rescue!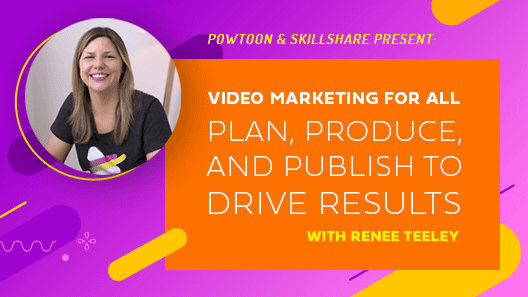 It's one thing to have access to a video maker. It's another thing entirely to know how to use it well to create a marketing video for your business. And it is yet a third further thing (say that three times fast) to learn what to do with the video you made.
That's why Powtoon's very own Chief Evangelist, Renee Teeley, teamed up with the online course pros over at Skillshare to create an easy to understand, super valuable course to show you every step of the way to produce and profit from your next awesome video.
3 Awesome Reasons to Take This Course Today
The reasons to take this course (and to make marketing videos in general) are endless, but let me just touch on three amazing reasons why now is the time to finally dive into video:
Make marketing videos for your business and reach your customers faster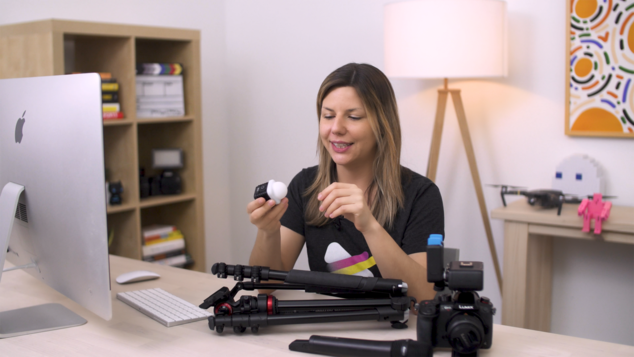 Video is processed by the brain 60,000 times faster than text… Yes, you read that right. With video, your message has more time to sink in. 60,000 times the time, in fact.
A stock trading firm might move its servers closer to the trading floor to reduce a millisecond or two of internet lag (and thus beat their competition to market). And brands are diving into video to get that same awesome advantage of processing speed. Whether you're beating your competition to a microtrade, or just getting inside your customers' brains first, speed is the name of the game.
Video builds trust
People are more likely to buy a product or take advice from someone they feel like they know and trust. Video builds an intimacy that no other medium can. Just think about your favorite TV shows, and how real their experiences feel. Many people describe the feeling of knowing total strangers, just from watching them on the screen. Video can help your brand build a connection with your audience, domain authority in your market, and a brand presence wherever relevant conversations are happening.
It's free
Not many things are, but in this case, you don't need to spend a nickel to take a course personally designed by Renee in all her awesomeness. And, of course, once you've taken the course, Powtoon & Skillshare will still be there for you.
Take more courses, learn more awesome skills, and put them into action on Powtoon. Our support superstars, live webinars, and steady flow of helpful articles and videos will be there for you as your video making skills multiply.
So What Are You Waiting For?
Go right now and register for Renee's awesome course to get a solid foundation for your video marketing strategy. Learn exactly how to:
Set your

video

up for

success

Create video content that supports your goals
Decide where, when, and to whom to distribute your

video

Measure your

success

once you're done
If you loved this course as much as I did, let me know in the comments below or by leaving a stellar review on Skillshare.
And remember, no matter what types of marketing videos you make, whether you create explainer videos, social videos, or video ads, after taking Renee's course, just be sure to make… it… AWESOME!
The following two tabs change content below.
Nick Liebman
Nick is Powtoon's Head Creator for Video & Learning. He joined Powtoon as head copywriter in 2016, after his previous blog was voted one of the top 8 CRO blogs on the internet by Digital Marketer. He continues to churn out awesomeness for all Powtoon users via blog posts, tutorials, webinars, videos, and more. Before working in technology full-time, Nick honed his skills in the unlikely world of music and non-profit work. He holds a B.A. in Music from Grinnell College and an M.M. in Music Composition from Butler University, and has performed his and others' music all over the world.
Latest posts by Nick Liebman (see all)