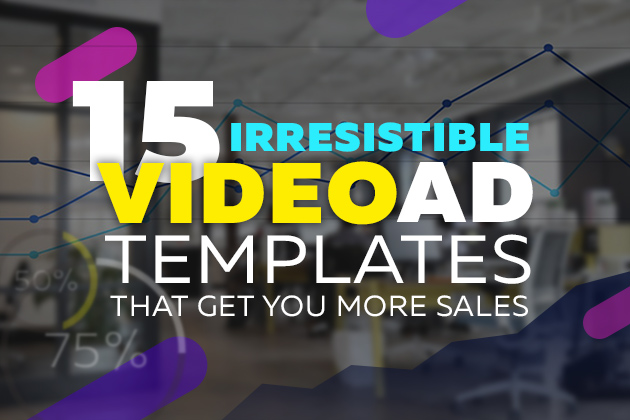 15 Irresistible Video Ad Templates that Get You More Sales
Read Time:
6
minutes
The best video ad templates do three important things: First, they grab attention. Whether it's through bold, juicy colors, cute kittens, or beautiful faces, a video ad that stands out from the newsfeed is essential.

Second: Effective video ads evoke emotion! When we see another person smile, we are likely to smile too. Seeing a heart-warming moment calls up all our memories of our own emotional milestones. Leveraging emotion effectively is a key factor in being able to connect with potential customers (read: drive more sales!)

Third: Any video ad worth its salt will have a clear call-to-action (CTA) at the end. If you've done your job right, you've captured attention and marshalled your viewers emotions. The WORST thing you can do is just abandon your viewers. Tell them how to take the next action, and see your conversion rates soar.

In fact, if you have these three elements, you can craft a video ad for almost any business in just a few seconds.
Before we highlight some of our favorite video templates we're answering a few important questions about video marketing
What is Video Advertising?
A video ad promotes content that plays before, during, or after streaming content. This can include display ads with video content, such as those that start playing when a person puts a mouse cursor over them, and native video ads promoted on digital ad networks.
How effective are video ads?
According to wyzowl.com 88% of people would like to see more video from brands in 2022. (An increase of 3% from last year.)
Why You Should Include Video Advertising in Your Marketing Strategy?
A 2022 survey from Wyzowl.com reveals that 82% of marketers say video has helped them increase dwell time.
Let's dive into the 15 most irresistible video ad templates for any industry vertical. Ready… GO!
A Video Ad Template That Gives Financial Confidence
That confident walk after you get your finances squared away… that's the feeling this ad tries to evoke. If you offer financial services, the core of what you do ISN'T crunching numbers, it's providing knowledgeable and steady advice for helping your customers reach their financial goals. Be confident. Use this ad!
CLICK HERE TO EDIT THIS TEMPLATE

Be Like the 'Be Like Dan' Video Ad
A happy face, dancing on a beach in his business suit. Here's someone who went from boring gray cubicle to an island paradise. If your target audience is looking for ways to go from gray to great, harnessing that desire and tying it to your brand is exactly how to be.
CLICK HERE TO EDIT THIS TEMPLATE

Using Negative Emotions for Good — Advertising Gym Memberships With Video
Not all emotions are positive. Sometimes, the frustration of failing to achieve a desired goal is exactly the motivation we need to take a positive action. This gym membership video ad template uses the negative emotion of frustration, like trying to swim in sand, and harnesses it for good and self-improvement.
CLICK HERE TO EDIT THIS TEMPLATE

Real Estate Video Templates That Don't Even Show a House?
Just like a financial advisor is there to help make your financial dreams come true, so too is your real estate agent there to fulfill your homesteading dreams. And what dream is more powerful than every hope you have for your child's future? The promise of a home that has the space you need to allow your kids to grow up is the true outcome of finding that dream home. And that's the currency of this real estate video ad template.
CLICK HERE TO EDIT THIS TEMPLATE

A Financial Services Video Ad Template That Doesn't Talk About Money?
Sometimes you want to stand out from the crowd by characterizing your expertise. That's exactly what this video ad does. It draws an analogy to a DJ who carefully rides the rhythms to curate an expert experience for his listeners. Of course, we're not actually talking about a DJ here, we're talking about a financial advisor. But almost ANY field involves good timing, and expert execution. To be a master DJ in the financial world is to be a superstar, a leader, and a virtuoso. Who WOULDN'T want that financial advice?!
CLICK HERE TO EDIT THIS TEMPLATE

Cute Cubs Capture Customers' Attention Using Animal Videos
We've all done it. You're absent-mindedly scrolling through a newsfeed, and there it is. A goat at a petting zoo, eating a little kid's hat; or a kitten and a puppy conspiring to devour a cake left out on the counter… almost no one can resist videos of cute animals. The same principle holds true for video ads. Cute animals = increased sales!
CLICK HERE TO EDIT THIS TEMPLATE

To Be the Hippest Hipster, You Need a Hip Looking Video Ad
Everybody's doin' it for the 'gram. If you're running ads to promote a fashion brand, clothing retailer, or lifestyle brand, then your customers come to you to look as awesome as they already are on the inside. Remind your customers that it isn't just about who likes and shares – it's also about their look!
CLICK HERE TO EDIT THIS TEMPLATE

Keep It Simple, Sister! Engaging Video Templates Don't Need to Be Complicated
Sometimes, all you need is a beautiful face and a sharp message to grab attention, harness emotion, and inspire your audience to take action. In this case, our minds will do all the heavy lifting, as human beings are automatically drawn in by expressive faces. This approach is so simple, it works for nearly any industry.
CLICK HERE TO EDIT THIS TEMPLATE

Funny Video Ads Capture Attention & Make Your Brand Approachable
Just like everyone loves a cute animal bounding across the stage, people also love to laugh. From a knowing smirk to a wide-open guffaw, humor is an essential component of human communication. It's not right for every situation, but if you have a chance to humanize your brand with a wink and a nudge, go for it.
CLICK HERE TO EDIT THIS TEMPLATE

Here's How That Video Advertisement Works for Clothing Instead of Real Estate
We would be remiss if we didn't mention how flexible these video ad templates are. In fact, you can use the exact same video to deliver different messages. The power is all yours to customize your text exactly how you like it. Here we see those familiar penguins, but instead of pointing out that they need a place to roost, now we're hitting on the embarrassment of showing up to a party in the EXACT same outfit as someone else! Thinking about the multiple meanings contained in your background video makes these ad templates as flexible as Cirque du Soleil!
CLICK HERE TO EDIT THIS TEMPLATE

Oh, and by the way, it works with zebras too!

CLICK HERE TO EDIT THIS TEMPLATE

Worst-Case Video Ad To Help Customers Trust Your Expertise
Video ads help us push ideas to their extreme. Sure, not every car owner is always careful with their vehicle. Even if we aren't driving in a demolition derby, we still might be sheepish about careless mistakes that ended in expensive body work. Remind your customers that they aren't alone, and they aren't that bad.
CLICK HERE TO EDIT THIS TEMPLATE

Going Literal — Templates for Cosmetics
Of course, not every video advertisement is a metaphor. Sometimes, you just want to show exactly what you're talking about. Selling cosmetics? How about a beautiful woman, wearing stunning makeup striking a happy pose? Not everything in our postmodern world needs to be self-aware and immutably ironic. Sometimes, being direct is the best way to go.
CLICK HERE TO EDIT THIS TEMPLATE
Flatter Your Audience With This Food Delivery Video Ad Template
Is there anything more majestic than an eagle? No. Is there anyone more majestic than your customers? No! And should an eagle (or your awesome, amazing customers) spend his or her time scrounging around for food? NO NO NO! Let your business do the hunting. Cute animals, majestic emotions, and a clear benefit make for compelling video ads (quit hunting, and let us handle it!)
CLICK HERE TO EDIT THIS TEMPLATE

Familiar Moments Show How Your Brand Fits Your Customers' Lives
Ok, you're moving into a new apartment. You've dealt with late truck drivers, and argued with the movers, and picked up literally every single thing you own. The LAST thing you want to do is cook dinner. Heck, where did you even pack the dishes?! That little scenario is one we can all relate to, and it's one that exactly demonstrates how a food delivery service fits into their customers' lives. Sometimes the best video ad templates allow you to paint a picture for your potential customers of how perfectly you fit into their everyday life.
CLICK HERE TO EDIT THIS TEMPLATE
Which Video Advertising Template Is Right for YOU?
The best video ad maker will allow you to create a marketing video that features your products and services in a way that delights your ideal customers. If your content creation strategy doesn't include video advertising campaigns it's likely because you haven't found the right video ad software yet!
Of course, if you haven't signed up for Powtoon yet… WHAT ARE YOU WAITING FOR?! Sign up and start customizing video ad templates using our online video maker platform that are utterly irresistible!
The following two tabs change content below.
Nick Liebman
Nick is Powtoon's Head Creator for Video & Learning. He joined Powtoon as head copywriter in 2016, after his previous blog was voted one of the top 8 CRO blogs on the internet by Digital Marketer. He continues to churn out awesomeness for all Powtoon users via blog posts, tutorials, webinars, videos, and more. Before working in technology full-time, Nick honed his skills in the unlikely world of music and non-profit work. He holds a B.A. in Music from Grinnell College and an M.M. in Music Composition from Butler University, and has performed his and others' music all over the world.
Latest posts by Nick Liebman (see all)