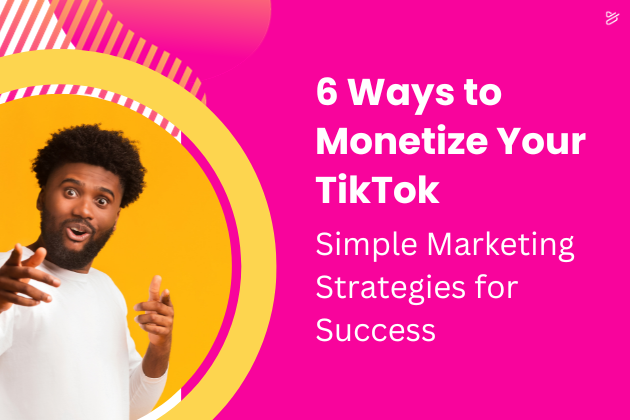 6 Ways to Monetize Your TikTok: Simple Marketing Strategies for Success
Read Time:
4
minutes
TikTok has grown to become one of the most successful social media platforms on the planet in just a few short years. This may be due to the nature of TikTok's content. Research shows that video content on social media drives higher levels of engagement than other forms of content. Thus, it's no surprise that a video-centric platform would attract a large audience.
If you have a TikTok presence, you could potentially monetize it through the following TikTok marketing strategies. Whether you're promoting a growing brand or simply looking for ways to make money off a hobby, this guide to TikTok marketing ideas will help.
Understanding TikTok's Monetization Potential
TikTok currently has over 1.7 billion users and content creators worldwide. That's a very large potential audience to tap into.
As the examples below illustrate, there are various ways to monetize your TikTok presence. What's critical, though, is that you first prioritize developing a loyal following. Once you've done so, monetization is much easier.
Leveraging Influencer Marketing
To monetize your TikTok account, you need to attract viewers. One of the easiest ways to achieve this goal is to partner with someone who already has a large audience.
Influencer marketing involves popular social media personalities promoting certain brands, products, and services. Influencers make arrangements with their partners, agreeing to either promote their businesses for a set fee or collect a certain percentage of earnings based on the results their content yields.
Consider researching TikTok social media influencers in your niche. If you find any whose audiences overlap with your target audience, approach them to discuss a partnership. Along with promoting your products and services, an influencer could promote your channel in general, helping you grow your audience.
Participating in Brand Partnerships and Sponsorships
Once you have a reasonably large audience on TikTok, monetizing your TikTok presence becomes even easier. If your audience is fairly substantial, like an influencer, you could partner with other brands to promote them via your channel. 
You simply need to find brands that align with your values and content. For example, maybe you're using TikTok to promote a line of sustainable kitchen tools. If so, you might partner with a brand of ethically sourced food ingredients, generating videos in which you use your own products to create meals with the products of the brand with whom you're partnering. 
This example highlights the importance of adopting a long-term perspective when developing a TikTok marketing strategy. The more your audience grows, the more opportunities you will have to monetize your TikTok presence further.
Creating and Selling Your Own Products
Naturally, you can use TikTok to promote your own products. Tips to keep in mind when doing so include the following:
Create a Business or Pro TikTok account, as doing so allows you to not only sell products but also to access more tools to help you monitor engagement and other such important metrics.
Research how to connect all the platforms on which you already sell your products (such as Shopify, social media, etc.) with TikTok.
Use promotions to get more eyes on your videos.
Post videos that clearly show how your products can deliver value for your audience members
Analyze engagement data to determine what types of videos yield the highest sales, and modify your content creation strategy accordingly.
Utilizing TikTok's Creator Fund
TikTok's Creator Fund serves to reward TikTok content creators whose content attracts large viewerships and boosts overall engagement on the platform. To attempt to join the Creator Fund, follow these steps:
Create a Pro account if you haven't already done so
Choose Creator Tools under Settings in your account
Click the TikTok Creator Fund button
TikTok will then review various details of your account to determine whether you meet the qualifications necessary to join the Creator Fund. You can try to join the Creator Fund again after 30 days if TikTok initially denies your application.
The Creator Fund is new, so it's not yet clear how much money you may expect to earn from it. However, it's already clear that TikTok isn't using this feature to offer large one-time payments to content creators with successful channels. Instead, TikTok's Creator Fund appears to offer multiple small payments to successful creators as a means of encouraging them to continue using the platform.
Collect Live Gifts and Donations
TikTok LIVE is another feature you can apply to as a way to further monetize your TikTok account. Through TikTok LIVE, when you livestream content on TikTok, you can ask viewers to send "gifts" indicating your content is popular.
On the basis of these gifts, TikTok may award you a certain number of Diamonds, which can be exchanged for real money. While live streaming on TikTok, you may also ask viewers to donate to your channel directly.
It's very important to focus on building a strong rapport with your audience. If viewers feel a connection with you and your content, they may be more inclined to make donations.
Affiliate Marketing
Affiliate marketing involves promoting another company's services or products on your channel, and earning a percentage of every sale your content results in. Research TikTok affiliate marketing programs that appear to align with your brand and goals, the same way you would research influencers to partner with.
Bonus Tips: Maximizing Engagement
Engagement plays a critical role in monetizing a TikTok account. Ways to maximize engagement on TikTok include:
Consistently releasing high-quality content according to a regular schedule
Reviewing the content of other popular creators in your niche for inspiration
Asking your audience to engage with your content, share it on social media, and generally support your page
Make sure your TikTok videos are the right size
As always, it's also important to be authentic. That's a key factor in the success of TikTok. If audience members feel you're being "real" with them, historically, they'll be more likely to remain loyal.
Enhance Your Content With Powtoon
You don't need a film degree or a studio's budget to generate impressive, dynamic, high-quality content for TikTok. Powtoon's online video maker allows users of any experience level to easily and affordably create strong video content. Sign up today to get started!

The following two tabs change content below.
Hanna is Powtoon's Content Marketing Strategist. She joined Powtoon as a copywriter in 2019, after graduating from university with a specialized degree in marketing and business. She continues to inspire people to create incredible video content with blog posts, videos, guides, and more. Hanna's passions include reading, singing, and caring for animals (#proudvegan). Nothing makes her happier than waking up to her two black kitties who, contrary to popular belief, are good luck!
Latest posts by Hanna Abitbul (see all)