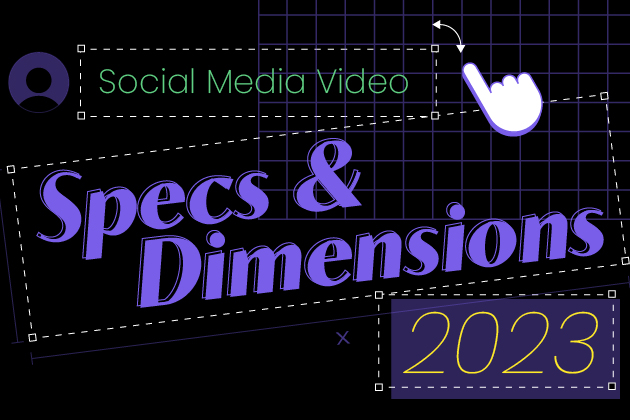 Social Media Video Specs and Dimensions 2023
Read Time:
5
minutes
Image ads are great, but have you ever tried video ads? With video content on social media platforms such as TikTok, LinkedIn, Pinterest, Facebook, and Instagram becoming increasingly popular, it's important to know the social media video specs and dimensions for these networks. Knowing proper video sizes will ensure that your video ad looks impressive on each platform and is optimized for user engagement.
(It will also improve your social media and video marketing strategy's return on investment! When you understand proper social media video specs, you're less likely to waste money advertising video content that yields minimal results.)
How to Optimize Social Media Video Sizes
To maximize your marketing you should optimize your social media video ad sizes for every platform. Each platform requires specific specs and dimensions to be displayed properly. Social media videos should always be compressed as much as possible while still maintaining a high-quality image. This saves space and also keeps upload times quick and efficient.
TikTok Video Specs and Dimensions
TikTok Aspect Ratio: For the best results, TikTok recommends using vertical videos in a 9:16 aspect ratio.
TikTok Video Resolution: TikTok videos should have a resolution of 1080 by 1920 pixels and a maximum file size of 15 MB. All TikTok videos should be encoded in H.264 or MPEG-4 formats.
TikTok File Size: Your TikTok video size should be 287.6 MB. The maximum TikTok video size is 500 MB.
TikTok Video Length: TikTok users keep coming back for those bite-sized video messages. The ideal video length for TikTok videos lies between 21 to 40 seconds. Although in 2023 you will be able to create TikToks for up to 10 minutes long, it is still recommended to keep them as short as possible.
TikTok Video Orientation: Since TikTok videos are meant to be seen on a phone, vertical video is the best option for TikTok videos.
Don't underestimate the value of generating content for TikTok. This platform can be conducive as a means of reaching younger audiences, as it is now more popular than Netflix among users under the age of 35. Just Make sure to apply these TikTok video dimensions and you should be good to go.
LinkedIn Ad Specs and Dimensions
LinkedIn Ad Video Aspect Ratio:
| | | |
| --- | --- | --- |
| Aspect Ratio | Minimum | Maximum |
| Horizontal Aspect Ratio16:9 | 640 x 360 pixels | 1920 x 1080 pixels |
| Square Aspect Ratio 1:1 | 360 x 360 pixels | 1920 x 1920 pixels |
| Vertical Aspect Ratio4:5 | 360 x 450 pixels | 1080 x 1350 pixels |
| Vertical Aspect Ratio 9:16 | 360 x 640 pixels | 1080 x 1920 pixels |
LinkedIn ads tip: Vertical aspect ratios are recommended; however, videos will only be shown in this aspect ratio on mobile devices that support a vertical video player, specifically mobile app versions higher than Android 0.406.59 or iOS 9.14.268.
LinkedIn Ad Resolution: LinkedIn ads can handle a video resolution from 240 x144 low-res up to 4096 x 2160 full 4K. However, it's recommended to use the video with the highest video quality.
LinkedIn Ad File Size: Your LinkedIn ads should have a video size of 75 KB to 200 MB
LinkedIn Ad File format: Your LinkedIn video ad must be in MP4 format (with AAC or MPEG4 audio). They do NOT support GIF files, MOV, or Quicktime files.
LinkedIn Ad Video Length: For maximum brand awareness and brand consideration goals you should keep your video ad under 30 seconds long. Most successful video ads are less than 15 seconds long.
LinkedIn Video Ad Video Orientation: Horizontal/landslide is recommended for Linkedin Ads.
Other LinkedIn advertising options: Besides uploading single-image ads you have the option to use carousel images on LinkedIn, which let you showcase numerous images in a single ad. You can also try out LinkedIn Dynamic ads. With Dynamic Ads, you can personalize your marketing ads even more.
LinkedIn, while already popular among job-seekers, has increasingly become an influencer-friendly platform in recent years. Generating sponsored content for LinkedIn will likely play a more critical role in your marketing strategy in the near future. Familiarizing yourself with proper ad specs can help optimize your sponsored content strategy on LinkedIn.
Facebook Video Ad Specs and Dimensions
Facebook Ad Aspect Ratio: The Ratio for your Facebook ad should be 1:1 (for desktop or mobile) or 4:5 (for mobile only).
Facebook Ad Resolution: Resolution for Facebook ads should be at least 1080 x 1080 pixels
Facebook Ad File Size: The maximum size for a Facebook ad is 4GB
Facebook Ad File Format: Facebook recommends using the MP4 or MOV format.
Facebook Ad Length: Videos on Facebook should be 15 seconds or less to captivate your audience and keep them engaged.
Facebook Ad Orientation: A vertical video ad is best for engaging the maximum audience on Facebook
Facebook ad tip: For those looking for a different ad format, Facebook allows you to post carousel images or videos on their feed. Just make sure the ratio is 1:1 and the resolution is at least 1080 x 1080 pixels. If you prefer something even smaller looking you can always opt for spotlight ads.
As of 2023, Facebook had nearly three billion monthly active users. It remains a valuable platform for social media marketers whose goal is to cast a wide net. So watch out for these Facebook video specs and keep posting!
Instagram Video Dimensions and Specs
Instagram Aspect Ratio: You could upload video ads to Instagram using an aspect ratio of 16:19, 1:1, and 4:5. Instagram recommends an aspect ratio of 4:5.
Instagram Video Resolution: Always try to upload your Instagram video with a maximum resolution. At least 1080 x 1080 pixels is recommended.
Instagram Video File Size: The max file size for an Instagram video is 250MB
Instagram Video Format: The best Instagram video formats are MP4, MOV, or GIF.
Instagram Video Length: Instagram videos that are 15 seconds or less will have the best impact on your audience.
Instagram Video Orientation: Your Instagram video ad should be vertical.
Instagram Post Tip: Instagram stories and Instagram Reels are also great places to post your video ad and are extremely attention-grabbing. The video formats include Stories (1080×1920), IGTV (4096 x 4096), Reels (1080 x 1920), and Live (1280x 720). Feel free to look up other Instagram video guidelines here.
Nearly one-third of Instagram users are between the ages of 25 and 34. You might prioritize using Instagram as a means of reaching a young audience. If you are looking to reach an even younger audience Snapchat may be an even better option. Read more about Snapchat video guidelines here.
Knowing Social Media Video Specs is Important. So is Creating Quality Video Content.
Whether you are posting on FB, Instagram, TikTok, or trying out Snapchat, by keeping these social media video specs and dimensions in mind, your social media videos will be properly optimized for each platform. Remember, producing a quality video is just one step in the process. You also need to be confident that users will be able to view your content easily and reliably. ​
That said, you may worry that creating strong video content requires investing more time and money than you currently have to spare. That's not necessarily the case. Thanks to our templates and other such tools, Powtoon allows users with limited video production experience (and relatively small video production budgets) to easily create social media video content that boosts and sustains engagement. Sign up for free today!

The following two tabs change content below.
Hanna is Powtoon's Content Marketing Strategist. She joined Powtoon as a copywriter in 2019, after graduating from university with a specialized degree in marketing and business. She continues to inspire people to create incredible video content with blog posts, videos, guides, and more. Hanna's passions include reading, singing, and caring for animals (#proudvegan). Nothing makes her happier than waking up to her two black kitties who, contrary to popular belief, are good luck!
Latest posts by Hanna Abitbul (see all)