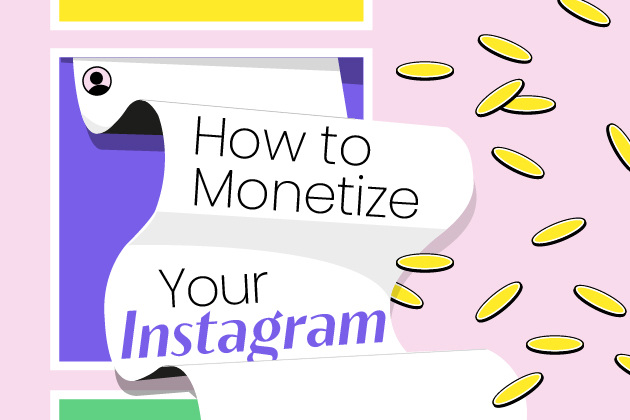 How to Monetize Your Instagram
Read Time:
5
minutes
Whether you have a personal Instagram account or an account for your business, you may understandably be interested in learning how to monetize your Instagram. Although there's no one "right" Instagram monetization strategy that's ideal for every individual and every brand, the following ideas should help you better appreciate how you can take an existing Instagram account and turn it into a lucrative source of funds.
(Note: This guide is particularly useful for those who generally post video content to Instagram. Keep reading if you're interested in learning how to monetize Instagram posts, Instagram reels, and other such types of video content.)
Collaborate with Brands on Sponsored Posts
Before diving into the deep sea of Instagram marketing and Instagram influencers, we must understand what influencers do. An influencer is someone who builds an online audience by sharing and offering interesting content on their Instagram Feed. Through their consistent content like parenting advice, lifestyle tips, or design tricks Instagram influencers build immense trust with their followers and become valuable experts in their field. Brands that want to boost their brand awareness and create trustworthy relationships with consumers often pay influencers to promote their products. These posts are called sponsored Posts.
By partnering with brands and creating sponsored posts, Instagram users monetize their accounts. This means that they get to promote a brand's products or services on their social media accounts in exchange for payment. If you think you have got the right follower count and audience to become a successful influencer on Instagram, YouTube, or TikTok, you need to find sponsored post opportunities. Finding a brand collaboration will require you to network. Even as a micro-influencer, you might be the perfect fit for a particular brand. So don't be shy and reach out to brands other influencers, companies, or creators.
The reason why Instagram marketing is so successful is not only because it has almost 3 billion users. It is also a great way to provide quick demonstrations of products or services in a visually engaging way. In your influencer marketing, you can show a product in action, and illustrate to viewers why it's worth their money. You can do that by uploading a video to Reels or Instagram Stories. Additionally, you can add affiliated links to your posts or Instagram stories. If you are a US creator earning with subscriptions or badges you can receive payment once you have earned at least $25. Meta will send the money to the bank or PayPal account that is linked to your payout account.
Affiliate Marketing
Another reason why Instagram makes an ideal influencer marketing platform is that it allows you to make money through affiliate marketing and is another great way you can make an income as an influencer. But being an affiliate doesn't just mean that you share products to help with product and brand awareness. You act as a salesperson and make commissions on each sale that goes through you.
But how does it work?
This monetization strategy, allows content creators to promote other companies' products on their social media by sharing an affiliate link. Influencers then make a commission for each sale made through that link. To get started with affiliate marketing, you can sign up for an affiliate program with a company whose products you want to promote. You don't have to have a very large follower count to do affiliated marketing. There are lots of micro-influencers who work with small brands.
Check Instagram's guide for affiliate marketing to find out if you are eligible for monetization and gain more information. Instagram's official guides can also provide you with general information about Instagram monetization requirements.
Video content is great for affiliate marketing and the perfect way to promote brand deals on social media. As a content creator or influencer, you can make videos that provide a dynamic demonstration of a product and explain why a product or service should interest a customer. Such videos perform especially great on Instagram Stories or Reels.
If you think becoming an affiliate is your thing then check out these 9 affiliate programs that are great for beginners:
Selling Products
You don't need to be an influencer or content creator to make money online. Business owners who have products to sell, such as physical goods or digital products, can use their Instagram, YouTube, or TikTok accounts to promote and sell these items. Instagram Reels lets you showcase and promote products or services with eye-catching, bite-sized messaging. You can also sell items online by using the platform's shopping feature, like Instagram shop, which allows users to purchase products directly from your post. As a business owner, you can also add links that direct your followers and customers to your website and online store.
Services
If you use your Instagram page as a business account to offer services such as consulting, coaching, or design work, you can use your account to promote and sell these services. Your Instagram profile can include your company or brand information. An Instagram bio link can direct people to a website where they can learn more about your services, book appointments, or make purchases. Videos are a great option to promote these products and services. Short promotional video ads, video testimonials, and product demos yield much better results than static images. Easily create them by customizing Powtoon templates. Once you are done you can upload them directly to your Instagram with one click. Don't forget to use a strong call to action and you should be good to go!
Brand Partnerships
Another way to monetize your Instagram account as an influencer is by becoming a brand ambassador. This usually only applies to Instagram users who have a very large follower count. This requires you to partner with brands and promote their products or services in exchange for payment or other perks. This can be a great option if you have a large and engaged following, as brands are often willing to pay for access to a targeted audience.
Enable Instagram Subscriptions
Instagram subscriptions are a new feature that allows creators to monetize their content and build a closer relationship with their audience. Instagram subscriptions work by allowing creators to offer exclusive content and experiences to their subscribers in exchange for a monthly fee.
To use Instagram subscriptions, creators must first set up a subscription tier and choose a price for their content. They can then create exclusive content for their subscribers, such as behind-the-scenes videos, access to a private community, or special discounts. Subscribers can access this content by paying the monthly fee through the Instagram app.
Instagram subscriptions are a good way for creators to monetize their content and establish a closer relationship with their audience. They can be especially useful for creators with a large and dedicated following who want to offer their fans additional value in exchange for a monthly fee.
Important Information About Instagram Monetization
​​Remember to always disclose when you are promoting a product or service in exchange for payment or other perks, as this is a requirement of the Federal Trade Commission in the United States.
Additionally, keep in mind that learning how to monetize Instagram is an ongoing process. You'll likely have to experiment with multiple strategies as you learn how to get paid on Instagram for your Instagram posts. However, if you're willing to dedicate some time to the process, you'll eventually transform your Instagram account into a powerful tool and gain profits.
Powtoon Improves Your Instagram Monetization Strategy With Quality Video Content
If you're striving to monetize a video-centric Instagram account, you must remember that generating and posting high-quality content is still essential.
Powtoon makes it easy. Thanks to our templates and other creative resources, even those with limited video production experience (and small video budgets) can create content that impresses their Instagram followers. Get started for free today

The following two tabs change content below.
Hanna is Powtoon's Content Marketing Strategist. She joined Powtoon as a copywriter in 2019, after graduating from university with a specialized degree in marketing and business. She continues to inspire people to create incredible video content with blog posts, videos, guides, and more. Hanna's passions include reading, singing, and caring for animals (#proudvegan). Nothing makes her happier than waking up to her two black kitties who, contrary to popular belief, are good luck!
Latest posts by Hanna Abitbul (see all)