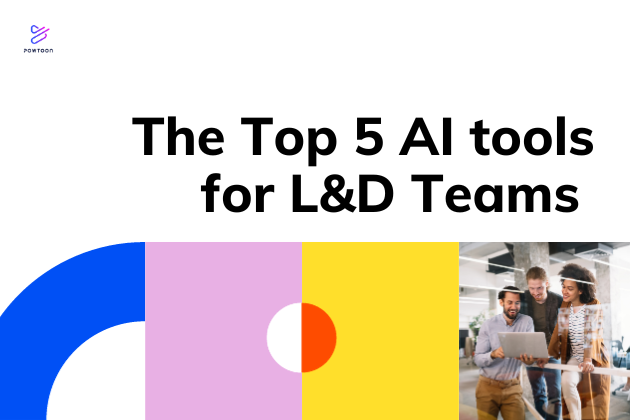 The Top 5 AI Tools for L&D Teams
Read Time:
4
minutes
An emphasis on solid learning and development programs can yield significant rewards for your company. According to surveys and studies, employees are more likely to be engaged on the job if they feel their employers offer them opportunities to develop new skills and acquire new knowledge consistently. By boosting engagement with strong learning and development content, you could also increase retention, saving your company a lot of money in the long run.
Learning and development teams are most effective when equipped with the right tools. For example, it's becoming increasingly common for L&D departments to leverage artificial intelligence. AI tools can analyze data to yield insights about the effectiveness of learning content. In addition, with AI, Learning and Development teams can personalize content to serve the individual needs of each worker.
What AI tools should your L&D team experiment with? The following are a few options to consider:
ChatGPT Is the type of AI tool that can serve various purposes depending on how members of your L&D team decide to use it.
Some use this tool simply for brainstorming purposes. If you're having difficulty developing learning and development content ideas, ask ChatGPT for suggestions.
You can also use this tool to ask questions about topics your employees may need to learn. Although you do need to confirm the accuracy of the answers you receive, using ChatGPT in this capacity could save you a lot of time during the research phase of developing learning content.
EdApp Is an AI tool that simplifies creating an online course for your workers. With this tool's AI content creation feature, you could instantly generate learning content based on something as simple as an individual keyword.
Odds are that you will need to edit and modify the content that the AI tool generates for you. However, it can provide a reliable foundation for building your content and save your learning and development team a lot of time on basic practical content creation tasks. That allows them to devote more attention to tasks such as customizing learning content for each worker.
That's a key benefit of virtually any AI tool your learning and development team might use. Although different AI tools may serve different purposes, all can help your team operate more efficiently than ever before.
Most learning and development specialists understand that only some learn at the same pace. However, up until recently, modifying learning programs to serve specific workers' needs has proven very time-consuming for L&D teams.
AI tools like Cegid are changing that. Like many AI tools, this one harnesses the power of constant data analysis and algorithms to identify individual users' learning styles and learning paces. Through AI analysis, Cegid can generate personalized learning structures, suggest different learning content ideas for your users, and even create evaluations to ensure employees derive genuine practical value from training programs.
It's worth noting that surveys show consumers are increasingly interested in personalized marketing content. Because marketers have already embraced AI's power to develop customized content, many now expect marketing material to be tailored to their specific tastes, needs, etc.
These same individuals also wish their employers could provide personalized learning content. As AI becomes more ubiquitous, employee demand for personalization may become increasingly widespread. An AI tool such as this one allows you to satisfy that demand.
Your learning and development team members may appreciate the potential long-term value of implementing personalized learning and employee training approaches. Regardless, they may nevertheless be reluctant to transition for various reasons.
One such reason may be that your company already has entrenched learning solutions. Integrating your new approach with existing solutions and programs might seem prohibitively challenging.
Adaptemy serves to address this difficulty. Like the above example, this AI tool aims to generate custom learning paths for individual users. It stands out compared to other tools because it's also designed to integrate with your existing systems. This may allow you to switch to AI-based personalized learning more efficiently than your L&D team otherwise could.
It's worth noting that Adaptemy doesn't just use data to suggest personalized learning paths for individual employees. It can also suggest customized learning content, helping your L&D team generate new content ideas.
NovoEd is similar to the above two entries on this list in that it allows your learning and development team members to customize learning paths to suit the paces and needs of individual workers. However, it earns its spot on this list because it specifically serves those looking for an AI tool with collaborative and social learning features.
Entire teams and departments at your company may need to cultivate certain skills and knowledge to thrive in their roles. With NovoEd, instead of merely serving one employee at a time, you can develop personalized learning programs for teams, potentially boosting the efficiency of your learning programs.
Use Powtoon to Create Strong Learning Content
Embracing AI tools can help your learning and development team better serve your workforce while streamlining key processes. That said, it's important to remember that you still need to generate dynamic and impressive learning content to optimize retention among your workers.
Powtoon can help. Powtoon allows users to create stunning videos and slideshows affordably and easily. Even someone with virtually no video production experience can use Powtoon to generate educational videos that allow workers to develop their skills and thrive in their roles. Sign up today to learn more about what Powtoon can do for you and your company.

The following two tabs change content below.
Hanna is Powtoon's Content Marketing Strategist. She joined Powtoon as a copywriter in 2019, after graduating from university with a specialized degree in marketing and business. She continues to inspire people to create incredible video content with blog posts, videos, guides, and more. Hanna's passions include reading, singing, and caring for animals (#proudvegan). Nothing makes her happier than waking up to her two black kitties who, contrary to popular belief, are good luck!
Latest posts by Hanna Abitbul (see all)