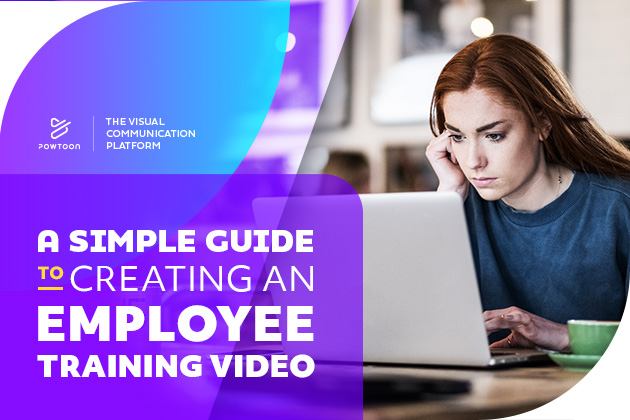 A Simple Guide to Creating an Employee Training Video
Read Time:
2
minutes
Are you looking for a video maker to make employee training videos easy? Powtoon offers a user-friendly platform with features that make creating professional-looking videos simple, but there's still a little prep work you need to do before creating your video. Here's how to create a training video using the Powtoon video maker in six simple steps.
Create a Training Video in Six Steps
1. Identify the topic.
When you're making a training video, you need to have a clearly defined topic. It's tempting to combine multiple topics into one video or start making a video without realizing how much content is involved. Think about the topic and the amount of information to include. Is it appropriate for one training video? Should it be a series of individual modules instead? Once you've narrowed down your focus, it's time to move on to step #2.
2. Decide what type of training video will best fit your topic.
You have multiple video options, and choosing the proper delivery method will maximize employee engagement and information retention. Some options to consider include:
Screen Capture Video: This is ideal if you're onboarding new employees to your company software or making a corporate training video on the features of your new timekeeping system.
Facecam Recorder: This is great for a direct message from the CEO or a department director. Facecam recordings are also great combined with screen captures or slideshow presentations to add a human element to an otherwise sterile display.
Animated Explainer Video: Animated explainer videos are great for training videos that describe complex company processes or other concepts that are challenging to explain with words alone.
Cartoon Animation: Cartoon animations are good for scenario-based training videos. Outline HR behavioral expectations with digital role-plays or demonstrate sales techniques using customized characters.
Slideshow Video: Is your training video information-heavy? A slideshow with voice-over narration may be the way to go. On-screen text and images can highlight the main points while an off-camera narrator explains the details.
3. Make a storyboard or outline.
Since you're using a video maker, you don't need a detailed storyboard but you do need some semblance of a plan. Organize the information you want to cover and write it down in a loose outline. If you're making an animated explainer or cartoon animation, a general storyboard will be helpful.
4. Choose one of Powtoon's professionally designed templates.
Now, it's time to start making your video! Choose a template that matches the type of training video you're making.
5. Customize your template.
Add your text, upload photo and video assets (or choose ones from the stock library), and insert your company's logo. If you're making a cartoon animation, choose from diverse character families to personalize your characters. Your professional-quality training video will come together in no time!
6. Publish and share your final training video.
When your training video is complete, download it for use on your corporate platforms, share it with employees through a custom URL, or embed it on your employee portal or training site.
Make a Training Video with Powtoon
Ready to get started? Sign up for a free account with Powtoon and publish your first video in minutes!
The following two tabs change content below.
Hanna is Powtoon's Content Marketing Strategist. She joined Powtoon as a copywriter in 2019, after graduating from university with a specialized degree in marketing and business. She continues to inspire people to create incredible video content with blog posts, videos, guides, and more. Hanna's passions include reading, singing, and caring for animals (#proudvegan). Nothing makes her happier than waking up to her two black kitties who, contrary to popular belief, are good luck!
Latest posts by Hanna Abitbul (see all)