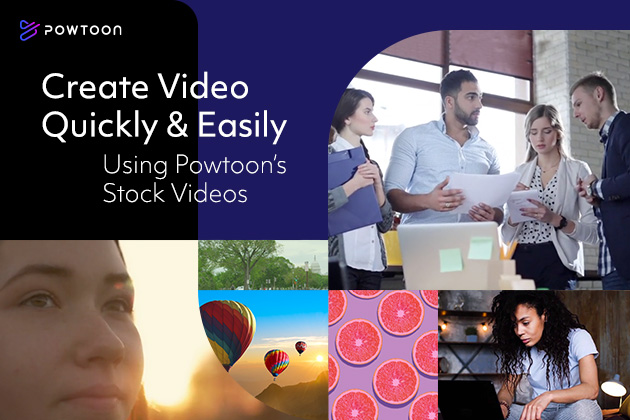 Create Video Quickly and Easily Using Powtoon's Stock Videos
Read Time:
2
minutes
Everyone knows that video is the "must-have" medium for any website or social media channel. But it's one thing to draft a video strategy; creating the actual videos is a whole different animal. Video production can be expensive, time-consuming, and overwhelming – especially for small businesses or individuals who don't have the time or resources to acquire professional-grade equipment, learn about best practices in composition, and master complicated editing software. The solution? Create video content using stock videos with Powtoon. Here's what you need to know.
What Are Stock Videos?
Stock videos are short video clips that have been professionally produced and made available to the public through a usage platform, usually for a fee. They range from a few seconds to a couple of minutes, averaging about 20-30 seconds each. Stock videos are available for every industry and come in a variety of styles including time-lapse, flyovers, acted scenarios, nature or city scenes, and even shots of historical sites or events.
Why Create Video with Powtoon's Stock Videos?
Stock videos elevate your content and help your budget go further. However, not all stock videos are created equal. Here are the top five reasons to use Powtoon's stock videos in your branded video content.
They are of professional quality. High-quality video is time-consuming and expensive to produce. When you create video content for your brand, there can be a lot of pieces to put together. Using stock videos eliminates the need to shoot video on your own, and gives you a video with a polished, professional look.
They are affordable. In addition to being high quality, stock videos are affordable. A custom video shoot can easily cost over several thousand dollars. Stock videos allow you to incorporate professional-quality videos into your content for a fraction of the cost. Even Powtoon's free plan has a collection of stock videos that come free with the platform.
They save time. You don't have to spend time shooting or editing stock videos; they come ready to use. Using stock videos allows you to create more video content for your channels in less time.
They enhance your regular footage. You may have good reasons for using your own video footage when you create video content. Stock videos can enhance this footage with intro/outro clips, transitions, or to fill in any gaps you may have in your collection of assets. It gives your final video a more cohesive, polished look.
They have the appropriate license. Between licensing, royalties, and model releases, the legalities of using video for branded content is complex. Stock videos available through Powtoon are licensed for commercial use and royalty-free, meaning you have permission to use the clip however you choose. When you use Powtoon's stock videos, you'll have peace of mind that the legal details have been thoroughly reviewed so you know you can use your clip with confidence.
Create Video with Powtoon
Combine high-quality stock videos with Powtoon's vast library of templates to create video content for your website, social media channels, or professional presentations that make an impact. The tools and resources through Powtoon make it easy – sign up for a free account today and make your first video in minutes!

The following two tabs change content below.
Shoshi Davis
Shoshi joined Powtoon as a Marketing Assistant. To read more of her stuff, you can find her content on Upwork and Business 2 Community talking all things inbound marketing for SaaS. After only 2 weeks at Powtoon, Shoshi was dubbed by the marketing team as having the superpower of "Unbridled Enthusiasm." So that was pretty cool.
Latest posts by Shoshi Davis (see all)