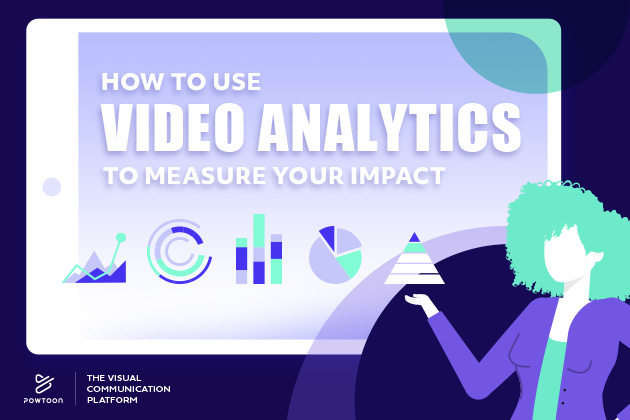 How to Use Video Analytics to Measure Your Impact
Read Time:
6
minutes
Why should we employ video analytics? For that, let's turn to the age-old philosophical question that starts – if a tree falls in the forest… By now the saying is somewhat of a cliche, but marketing teams everywhere know that the answer is "no." In order for your efforts to make a sound – or an impact – they need to reach people. Of course, as with everything, the answer is never quite that simple. To truly make an impact, you need to reach the right people in the right way. For that reason, analytics couldn't be more important. 
We use analytics to measure our impact in most of our efforts at work, from A/B testing marketing emails, to recording Net Promoter Score responses, to seeing if our platform's knowledge base reduces the burden on our customer support. Measuring our impact is how we know if we should move forward on our current path or change gears. But when it comes to the impact of videos, many people think that the number of views or shares is the indicator that matters most. So what matters in videos and how do we measure it?
Video sharing: how much do social video analytics matter?
There's nothing more exciting than a viral video – especially if it was an intentional effort. But do more views or shares necessarily mean more success? In many cases, views and shares really are the metrics to look for. After all, if you publish a product video and get 100,000 views, that translates to more brand awareness no matter who is watching. But sometimes views are more nuanced. 
Let's say you're the marketing director of a B2B company and you've just launched a new product explainer. Your goal is to have industry C-suite executives watch your video and then buy your product. If your video gets 5,000 views but they're all by students and researchers, your video is less effective than if it gets 200 views and half of them convert. For that reason, even though the number of views is important, there are other video analytics you need to consider as well.
What are video analytics and which metrics should you look for?
Video analytics are the different metrics to look at in evaluating a video's performance, from how many people watched a video to how many conversions came as a result of it. They're important because they can help you understand whether your marketing efforts are effective. Of course, to make things a bit complicated, different platforms have different definitions and parameters for their metrics. So what are some of the different metrics to look for when analyzing your video?
1. Number of impressions 
This tells you how many times a thumbnail of your video was shown to viewers. For example, if your video comes up in a YouTube search, that's considered an impression. It's an important metric because it helps you calculate how effective your video is. (More on that below.)
2. Reach
Reach and number of impressions is almost the same thing, just on different platforms. If your video comes up on someone's Facebook feed, that's called reach. In other words, it tells you the number of times your video was shown to users.
3. Impressions click-through rate
This tells you the number of people who watched your video after seeing the thumbnail (which is why knowing the number of impressions or reach is important). If your click-through rate is low, it could mean you're reaching the wrong audience, or that your thumbnail needs to be reworked, so it's a good metric to keep in mind.
4. Views
The number of views tells you whether people are stopping to watch your video rather than just scrolling through it. It's one of the metrics that varies most from platform to platform. On Facebook, if a video plays for 3 seconds, it counts as a view. On LinkedIn, that number is only 2 seconds, but at least 50% of the video has to be on the screen. (Meaning if the video auto-plays while someone is scrolling, it doesn't count as a view.) And on YouTube, a video has to play for 30 seconds to count as a view.
5. Watch time
Once you get into watch time, analytics become more nuanced and useful. Though watch time varies from platform to platform (and appears under different names), this is often a better measure of whether someone is interested in your content than the number of impressions or views. That's because it shows whether your video held the user's interest. Depending on the platform, you can either see metrics for how long your video is being watched, or a breakdown by time or percent. On Facebook, you can learn how many viewers watched your video for at least 10 seconds, or at least a minute. On LinkedIn, see how many viewers watched 25%, 50%, or 75% of your video, as well as how many watched to the end.
6. Audience
One of the great things about social platforms is that they have a lot of data about their users, and therefore the analytics can provide a lot of information about who is watching your video. YouTube audience information will provide you with demographics such as where your videos are being watched based on IP address, the age, and gender of your viewers who are signed into their accounts, and what other videos your users have watched in the last week. Facebook videos will also provide information on viewers' location and other user data. This is important because it helps you to determine not only if you're reaching people, but if you're reaching the right people. 
7. Click through rate
If you're publishing a video, it's a good idea to think about what you want your viewer to do next. Do you want them to learn more on your website? To subscribe to your channel? To buy a product? When you include a call to action (CTA) in your video, you're inviting users to take the next step. Your click-through rate will tell you how many people took that step.
How to use video analytics to evaluate your video performance
The insight you gain from your video analytics can tell you how engaged viewers are in the content you're producing, but what about the bigger picture of how that content drives traffic to your site and becomes conversions?
You can combine the raw data from your video analytics with your site analytics to determine how effective your video marketing efforts are. Use the two together to evaluate the click-through rate from your videos, the effectiveness of your landing pages, and the conversion rate from your videos. In other words, you can use analytics to evaluate your video content in the same way you would use analytics to evaluate written content. 
Can you use video analytics for internal communications?
Yes! We've been talking about using video analytics for external marketing efforts, but what about using analytics to measure your internal communications? You can – and should – use video analytics to measure the impact of all the videos you produce, including ones for HR and internal comms teams. If you're using video to onboard new employees, communicate internal messages, or boost employee engagement, analytics will help you understand whether those videos are effective. 
The same metrics you use to evaluate marketing videos, such as views and watch time, can tell you whether your employees are engaged in the internal content you share with them, whether they're watching videos until the end, and if they watch them more than once. Having that information can help internal comms teams rethink their messaging as needed.
The best video analytics tools
When you use Powtoon to create videos either for external marketing or internal communications, you can export those videos or integrate them with several different platforms to publish them. Here are some of the best video analytics tools to use with your Powtoons.
YouTube Video Analytics
As part of Google, YouTube analytics connect you with a lot of the same data points you get from Google. See analytics on the channel level or video level, including watch time and viewer demographics. This is a great tool for videos you publish through YouTube, though less useful for videos published elsewhere, of course.
Wistia
One of the coolest aspects of Wistia's video analytics is its heat maps, which show you whether users are watching your videos straight through or if there are parts that they are either rewatching or skipping. Wistia also provides integration with other platforms, making it easy to turn your viewers into leads.
Sprout Video
Sprout Video's analytics tool gives you a detailed understanding of how viewers are engaging with your content. See view details, location, play rate, engagement, and more, and gain insights into how to improve and maximize your content.
The bottom line is, creating video content for marketing, sales, or internal communications, is a great way to engage users. But just as with any other content, you need to understand whether the videos you create are reaching your audience in an effective way – otherwise your tree may simply be falling in the forest. If you're not already doing so, it's time to incorporate video analytics into your videos. Sign up to try it free!

The following two tabs change content below.
Hanna is Powtoon's Content Marketing Strategist. She joined Powtoon as a copywriter in 2019, after graduating from university with a specialized degree in marketing and business. She continues to inspire people to create incredible video content with blog posts, videos, guides, and more. Hanna's passions include reading, singing, and caring for animals (#proudvegan). Nothing makes her happier than waking up to her two black kitties who, contrary to popular belief, are good luck!
Latest posts by Hanna Abitbul (see all)