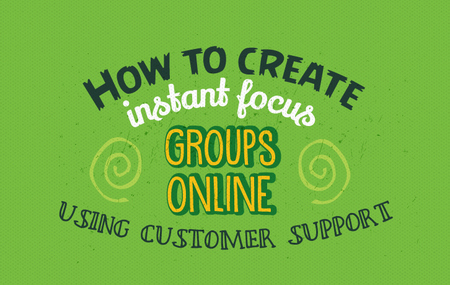 How to Create Instant Focus Groups Online Using Your Customer Support
Read Time:
5
minutes
Breathe in, take a step back and place your analytics sheet on the desk. What I'm going to say next will save you time and heartache: user feedback is the most clear and in depth way to understand how your company performs.​ Statistics may show you what happened, but user feedback tells you where to go.
One of the most popular and effective ways to collect user feedback is via focus groups. Focus groups consist of real people who use your product and show you where you stand. They tell you what mistakes you are making and how you can improve. It's your secret weapon. But who has time and money to conduct all this qualitative research!?
Not me, and not most companies, so I'm going to show you how to create instant online Focus Groups using your most treasured asset: your frustrated users.
Fix their Pain to Improve Your Product
"If I'd ask people what they wanted, they would've said a faster horse," – Henry Ford
Yes, it's true. But that's because people often misunderstand the role of customer support. Customers do not call or write to support in order to share grand visions ​ and cutting edge ideas; They either want to fix something that's broken or they've become frustrated somewhere along the user journey.
Customer Support is all about pain. Your customers tell you all the problems with your product or service and it's your job to turn the horse into a car.​ Think about it, ​ the people using your product are pinpointing, in detail, the features that frustrate them. No guessing necessary.​ They may not all be sitting with you in a room, ​ rather sitting in front of their individual computers, but that doesn't really matter. In fact your reach goes farther when your focus group is online.
Gather Your Data
Regardless of whether or not you have a call center, almost every company has some form of online support system. Use it to collect and organize your user feedback. Compile all your "tickets" and see if there are common concerns. Then​ act on them.
Turn each complaint into a discussion post/topic
Let's say your​ product is CRM software, ​ and many people call in complaining about ​ ​ 'importing contacts.' Identify that as a specific problem. Why is this a problem? Is the wording unclear? Is the design too busy? Is the button placed at the wrong point along the user journey? Or should the feature be totally replaced ? The beauty of user complaints ​ is that your demographic pinpointed the exact moments that a UX or UI problem arises.
If the problem or answer is small, then fix it, but if it requires a ​ big change for your product, ​ that's where online feedback comes into play.
Here's how you do it:
Email – You have a database of users at your disposal, so leverage it! ​ Send an awesome and friendly survey to your users; This may seem obvious but many companies do not follow up on their customer support queries. It's important to note that boring surveys suck. Remedy this by including screenshots, pictures or even an animated characters or videos​ highlighting a specific questions or asking for opinions, use a killer headline to boost the open rate . You can also take this opportunity to introduce a proposed feature or design, ​ and see how viewers react. Follow up : send Personal emails to those who really invested in answering your survey.
3.Blog– Take those user complaints and make a blogpost about the major issue you want to address, in this case it could be something like, "Top 5 frustrations with CRM Platforms that need to change." Then post the article on social media platforms (3 listed below) . Each time you link the post, make sure you attach a question; this creates an open platform for engagement. If you get writer's block, check out 10 Questions to Ask your Social Media Audience.
A.Linkedin– Join groups relevant to your product, your demographic or the issue at hand. For example, if your product is a CRM platform that caters to educators, then join groups labeled CRM, communication technology, UI, Design and color, education leaders, education technology etc…. Post the article and an engaging question "What is the best CRM feature you've ever used and where did you use it?" ​ You will be surprised at ​ how many people will answer. You can also post a proposed feature and see how others react. If ​ a specific user seems takes the time to give a lengthy answer, send a personal message thanking them and leverage the opportunity to get more feedback.
On your personal Linkedin page, you can be more personal. Post a screenshot/link and ask the question – "Hey guys I really want my CRM platform to empower educators, what do you think would make this page as fun and easy as spring break?"
B.Facebook – Images Rule Facebook. Post a few screenshots on your Facebook page along with your blogpost, then write a juicy line. You can also post on relevant group pages; your post will show up on'Posts to page' ​ or in the feed of the pages ​ followers. You can find Facebook groups by typing topics into the search bar and voila – groups with your keyword will show up.
C.Twitter – Tweet the link to your blogpost and hashtag all the relevant keywords. ​ You can also tag'Key Influencers' or mention them in your tweet to get the question out there, (Buzzsumo is great place to find these guys). Sticking with our current CRM example you could tweet, "I want to empower educators with the best CRM platform… ​ I wonder what @MrSmith would say after his recent #marketing #TED talk.
That's it!
All those customer support calls and complaint tickets are the direct and most pressing pain points of your users; if you respond to your user feedback and create instant focus groups online, it will lead you to more than a better horse, you will build that car.
How do you encourage your users to share feedback?
The following two tabs change content below.
Nirel Matsil
Howdy! I'm not actually a cowboy but I'm Super excited to be here, honing in my science background plus marketing experience to help show the world how anything you wish, dream or say, can be made more awesome with Powtoon!
Latest posts by Nirel Matsil (see all)