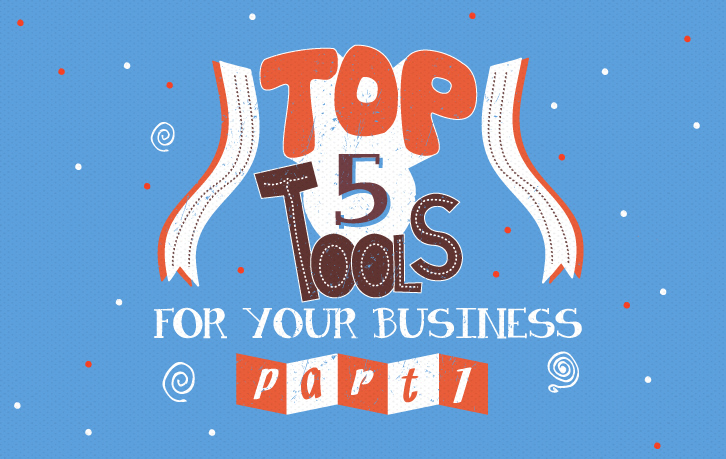 5 Tools for Growing Your Business
Read Time:
4
minutes
So you have a great idea for a business. Nowadays there are so many tools for​ growing your business​ and the best news is that most of them are free! Of course, the first thing you'll think of is when you have that brainstorm of an idea is that you're going to need a website.
One of the best web builders on the market, that is so easy to use even your dog could do it is​ Wix.
Wix​ is a free, user-friendly platform that lets you create your own stunning website, for free. Wix's super simple drag ​ 'n' drop feature enables budding entrepreneurs to access hundreds of fully customizable designer-made templates, and tons of cool Apps! All this comes with top-grade, reliable hosting. Simplicity is the winning element here, just pick a template, add your own text and images, hit publish, and you're done!
Got a little more time on your hands? You can customize anything you want, add cool features like rotating 3D galleries, slideshows and animations, use Wix's free image collection, promote your site with Social Media tools, and even send great looking emails to your audience. And the cool part is that Wix is always adding more stuff – last year alone the company released over 350 new features, Apps and templates!
So now you've got the bones of your website you'll want to start adding in the content. Most people now recognize that having a video on their website is valuable for their marketing strategy, but they often lack two things: the skill to make a video (which is, of course, where Powtoon comes in!) and the knowledge about how to use it on their site, which is where Wistia comes in!
In a nutshell, Wistia is a video hosting company for businesses. With detailed analytics, including engagement graphs and individual viewer heat maps, the Wistia application can help you measure and improve your video marketing efforts. Wistia also allows you to fully customize your video player, so that you can control how it looks, feels, and functions on your website. With Wistia you can even have pre and post roll calls to action, video SEO tools, closed captioning, social sharing options, and other features that will drive traffic to your business's website.
And it gets even better… if you're a Powtoon Business Account owner you get 3 FREE months of Wistia. Just upgrade here and you'll get the promo details in your "Welcome" email. So a Powtoon-Wistia integration is a super powerful combo that enables any marketer or small business owner to make and market terrific looking videos!
Although you're brimming over with ideas for your business, you may not have time to produce them all yourself. Enter Elance-oDesk…
Elance-oDesk allows you to access talent via the Internet. This shift is making it faster and easier for especially small business owners to hire the skills they need, when they need them, while freeing professionals from a set time and place work. Whether you need a copywriter, a developer, translation services or a telesales team it's all just a click of a mouse away. Better yet, Elance- oDesk is affordable and gives you a global workforce.
Now that you've got a great website with some traffic to it, you're bound to get more questions from customers. Luckily for you, there's Freshdesk. ​
Freshdesk provides an intuitive and effortless user experience for customers, and a simple, fun, and effective environment for customer support agents and administrators. With powerful features, in-depth customizations and a Freemium pricing model, Freshdesk enables companies of all sizes, from tiny start ups to behemoth businesses to provide a seamless multi-channel support experience across email, phone, web, chat, forums, social media, and mobile apps. Freshdesk's capabilities include robust ticketing, SLA management, smart automations, intelligent reporting and mobile in-app support. They even provide game mechanics to motivate agents. This is all backed by award-winning customer service from Freshdesk themselves of course!

Stay on the pulse with monday.com! As by now there are going to be an annoying amount of tasks to manage so being on top of everything is more important than ever! Step in monday.com; This online collaboration tool differs from classic project management software in a big way; instead of giving each person a separate view of what they need to do, monday.com creates an overview of the company's top priorities and processes. Managers can lead by showing their team the big picture. This unified view gets everyone on board, pushing together in the same direction. So with monday.com you'll become a truly smooth operator!
Now that you're armed with these five power pieces of software, you've got no excuse but to use these tools for growing your business to get it off to a flying start.
We'll be letting you know about more critical tools for growing your business very soon, but in the meantime let us know about all the cool software you've discovered? Comment below to tell us about new tools you've discovered that have really helped your business. We'd love to hear from you!

The following two tabs change content below.
Anna is an award-winning marketer with over twenty years' experience. She has worked across the whole marketing mix and in many different verticals. She has grown many brands such as Match.com, Coca-Cola, Currys & PC World (DSGi) as well as working for ad agencies such as JWT and media companies such as the BBC, NBC and Universal. She enjoys helping startups achieve the success they deserve and LOVES PowToon! Anna's an intrepid traveller/explorer (has just about survived to tell her many tales!) and is also passionate about dancing, music, film, theatre, art and playing sports (often quite badly!).