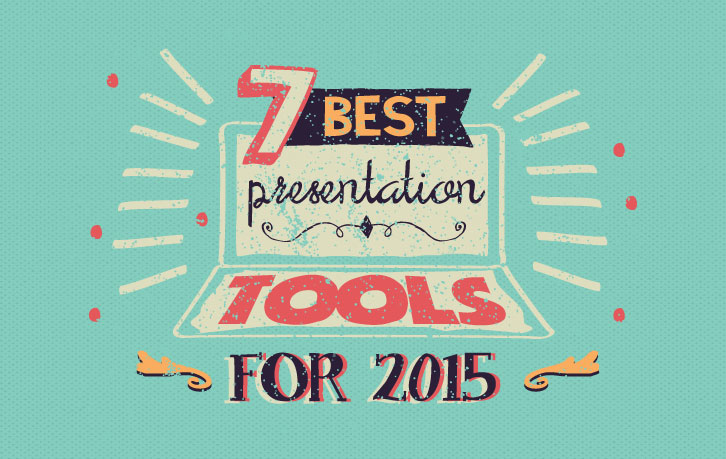 Top 7 Presentation Tools for 2015
Read Time:
6
minutes
Imagine the scenario… your boss has just asked you to give a presentation to the department at work, which, by the way, includes hundreds of co-workers! It's also your first month in your new job, so the pressure is on to impress, big time! you're working in a big corporate and from your experience of these companies you're aware that it's all about ​ 'looking good' or not ​ 'being found out' – all part of the shanannigans of company politics!
Of course you haven't been given much notice to deliver your presentation, so under such a tight timescale this makes it even more unnerving! What should you do?
You immediately think of PowerPoint. It's tried and tested and you're familiar with it. You could even call yourself an'advanced user!' It's reliable and won't take you long to create something that looks presentable as you know your way around it. However, this Microsoft owned software immediately springs to mind probably only because it's what your familiar with. PowerPoint been around the longest so enjoys the vast majority of market share in the presentation space but, let's face it, it is extremely dull. you're not going to be able to wow your audience and keep their attention, which is what you really want to do. Death by PowerPoint is hardly a good way to start your new job!
But if you are going to stray from what you already know, which presentation tools will be the easiest and quickest to learn? What are the options to get the best results?
Nowadays, there are plenty of cool startups as well as more established players eating away at PowerPoint's market share, and it seems almost every day now there's a new species in the Presentation Tools Animal Kingdom!
The main reason for this boom in presentation software is because the browser is becoming more and more powerful. New web technologies, free and open source libraries and more powerful devices have all contributed to making it possible to rapidly create advanced web applications that can do more or less the same as PowerPoint. But is "nearly the same" good enough? And do the new players pose any real threat to PowerPoint, the king of the Slide-Show Throne?
1. #Slides
#Slides is so Awesome, it will genuinely blow your mind! #Slides takes design and slideshow presentation software to the next level. It's also hot off the shelf as it came to market in November 2014, yet, despite being so new, it obviously does live up to the hype as already thousands of presentations have been created using ​ it. ​ #Slides allows anyone to create a professionally designed truly stunning presentation in mere minutes with only a few clicks of the mouse. To make your experience with #Slides seamless, and, if you are a presentation superstar, you can open your #Slides presentations within Powtoon Studio to customize further. #Slides is the perfect blend of funky fun animations and stunning designs that will give you a presentation that will not only blow your audience away but increase engagement and conversion so actually get the result you want!
2. Powtoon Studio
Powtoon's suite of animated characters, library of styles, awesome templates, special effects and hundreds of cool props are adored by the Powtoon tribe. ​ The best part about​ Powtoon Studio​ is that the finished product will look professionally designed, and so creative, that your audience will think you hired a professional to produce it. Even better, if you haven't used Powtoon before it's quick to use as it's so easy to learn – Powtoon's simple, fun interface requires you to simply drag and drop the props and characters, and the rest is pure magic! You can also add images of your own.
Powtoon is perfect for educators, students, small and large business owners, and entrepreneurs. It is even great for designers who wish to flex their creative side without having to fuss with designs from scratch.
3. Prezi

In terms of possibly the biggest threat to PowerPoint, purely from a numbers perspective, is Prezi -​ see it here. Their proposition is based around the idea of captivating the audience by zooming through a presentation. It's also Cloud-based which is good. However, from personal experience I find it extremely fiddly to use, to the point of getting so frustrated I want to throw the computer out of the window! Essentially it's rather gimmicky and is a bit of ​ a'one trick pony' built around this concept of zooming in. ​ Although the concept is simple, it seems to take ages to produce something that really works and moreover, if you really want to impress by looking cutting-edge, Prezi is not even seen as the latest, coolest kid on the block!
Prezi is investing a lot of time and money to speed up their rate of adoption by trying to steal customers from PowerPoint. They've sponsored big conferences as well as Obama's ConnectED Tech Initiative by giving free licenses, and they've put a massive effort into trying to convince teachers and educators that Prezi is the best tool for presenting. Even though Microsoft and others are also in on this sponsorship, it's Prezi who are getting the headlines on TechCrunch. And you've got to hand it to the Prezi guys, they're doing a great job in getting press coverage!
I reckon that Prezi will continue with this marketing strategy well into 2015 i.e. aiming specifically at the conference and education market.
4. SlideRocket
The killer feature in SlideRocket is their focus on viewer statistics and how to drive sales by sharing your SlideRocket presentations online. SlideRocket recently merged with ClearSlide, which defines itself as a Sales Engagement Platform, so it is no surprise that this is the direction they're going in. This is an interesting angle they're taking in the presentation tools space which should keep them in the top ranks in 2015.
5. Keynote
Keynote, the iWork presentation software (see it here), is now included on all new OS X Mavericks products, so it's likely to be a natural choice as one of the presentations tools for many Mac users from now on. Keynote itself isn't revolutionary or packed with lots of interesting features that sets it apart from its competitors, but it does have a nice user interface, comes with beautiful templates and has over the years proven to be a good alternative to PowerPoint. Given the massive penetration and popularity of Apple as a brand anyway, there'll be no surprise that Keynote features on many presentation tools lists throughout the whole of 2015.
6. SlideDog
SlideDog​ is slightly different to the others in this list. Instead of creating their own proprietary format, they aim to be a presentation​ player. They​ recently released a set of new features enabling users to interact with the audience and engage them like never before. You can now easily add live polls, ask the audience for feedback, share slides online and remote control SlideDog from your mobile phone. All pretty cool stuff! This is all operated from within the app itself. So rather than use Slidedog to create a presentation you use it for playback and its interactive audience features.
​ 7. Sparkol – VideoScribe
This presentation tool has become popular in the classroom. It allows you to make a line drawing of an image as well as your own images and even your own hand for the animated writing! ​ However, although it allows you to animate writing and drawings there is only one way to do things and overall there is not as much on offer in Sparkol as, for example, in Powtoon Studio or #Slides. It's Cloud-based as well as being downloadable on to all your devices, however, it is not a free product.
So there you have it! Fundamentally we put #Slides in the top spot of our presentation tools list as your goal was to impress your colleagues, wow your audience with an effective and beautifully-designed presentation that you can make extremely quickly AND that keeps your audience fully engaged, leaving them captivated! Mission accomplished!
​
The following two tabs change content below.
Anna is an award-winning marketer with over twenty years' experience. She has worked across the whole marketing mix and in many different verticals. She has grown many brands such as Match.com, Coca-Cola, Currys & PC World (DSGi) as well as working for ad agencies such as JWT and media companies such as the BBC, NBC and Universal. She enjoys helping startups achieve the success they deserve and LOVES PowToon! Anna's an intrepid traveller/explorer (has just about survived to tell her many tales!) and is also passionate about dancing, music, film, theatre, art and playing sports (often quite badly!).