How Chevy creates RAVING FANS with Powtoon
Read Time:
6
minutes
I want you to meet Matt Klepack. Matt increases Chevy's sales in some of the most innovative ways I've ever seen. He turns 'customers' into raving fans with his array of Powtoons.
The best part is that if you like putting smiles on people's faces, you're going to LOVE his relationship-based sales strategy. I sat down with Matt to learn more of his inspiring story.
Watch the interview we did in a short and rocking Powtoon:
https://powtoon.wistia.com/medias/stniydlni9
So, if you're struggling with:
1. Attracting more customers/clients
2. Strategies to ENGAGE your colleagues or clients
3. Ideas to grow your sales
4. Getting more REFERRALS
then Matt's strategies are PERFECT for you.
Matt is a sales professional and certified technology expert for one of Chevy's top stores in the country – Gordon Chevrolet.
Matt uses Powtoon to:
1. Increase traffic to his store
2. Create a more personal relationship with new customers
3. Ensure the customer experience is ENJOYABLE & ENTERTAINING
4. Get more referrals
Make a Powtoon now to turn your customers into raving fans
Buying cars is difficult for anybody because it's such a large purchase. That's why Matt and everyone at Gordon Chevrolet's main priority is the golden rule:
Treat the customer how you want to be treated
Matt goes out of his way to make the customer feel comfortable and happy at each stage of the buying relationship. Here are just 4 examples:
1. Thank you for visiting
2. Phone Tag Powtoons
3. When someone doesn't buy
4. On Star training Powtoons
His Powtoon videos are so successful because they get the customers involved so they feel like they are part of a relationship.
After someone visits for the first time, Matt sends them a Powtoon like this:
Watch Matt's "Thank you for visiting" Powtoon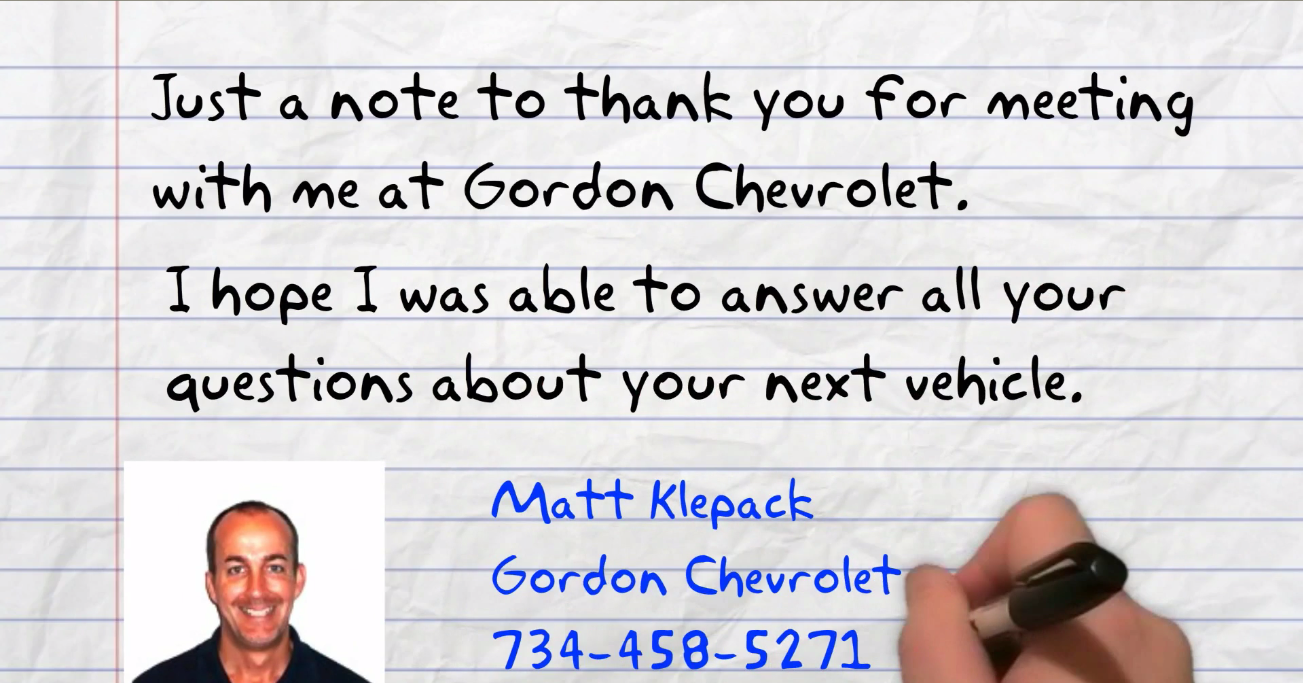 Yep, it's just 18 seconds long. Talk about ROI – 18 second Powtoon for a flood of referrals! Talk about a winning strategy!
Familiar with phone tag? As soon as the game begins for Matt, he sends his customer a Phone Tag Powtoon: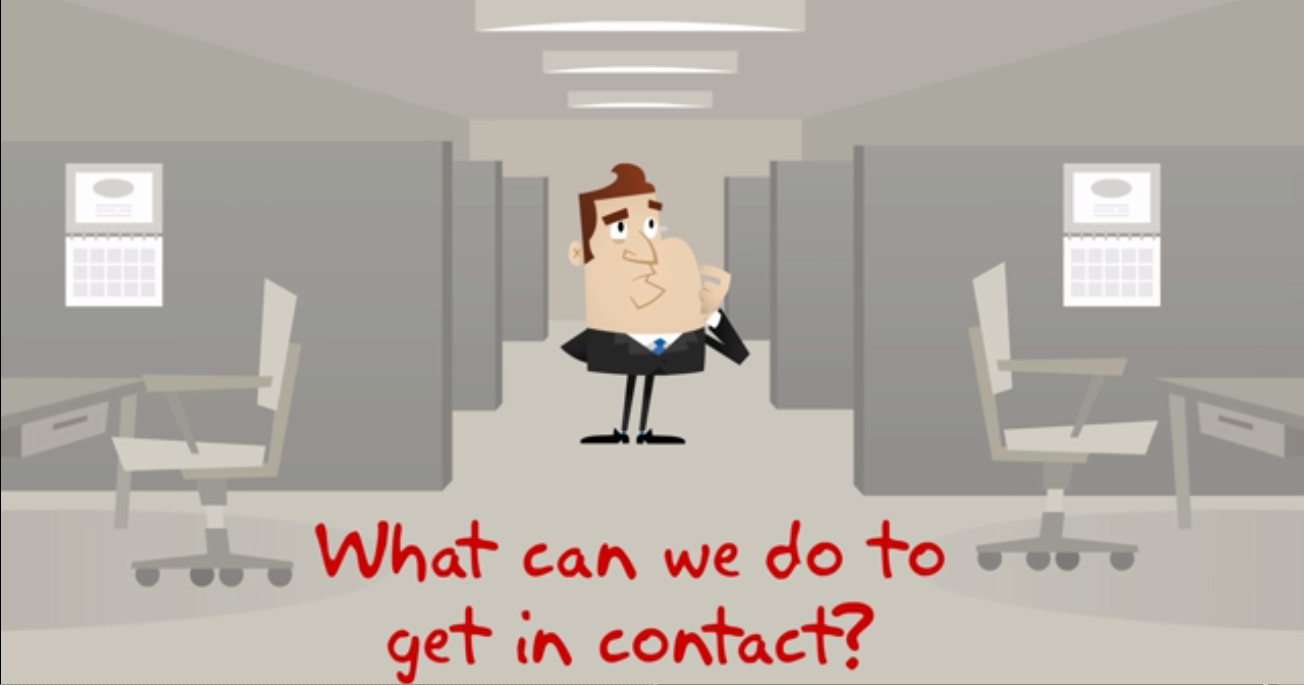 I asked Matt how he came up with this and I love what he said:
"Customers like to feel like you really care, because most businesses don't even bother calling you back. But when you go that extra step, it's definitely a WOW FACTOR because they can't believe someone would actually do something like that, something they've never seen before…it's a very positive thing."
– Matt Klepack, Gordon Chevrolet
Of course, not everyone buys a car who walks into the store. That doesn't keep Matt from letting them know he cares about them – because the relationship is not simply about the sale.
Matt's Raving Fan Genius Strategy:
Send a Powtoon, even when they DON'T buy!
So Matt sends someone who doesn't buy a car this kind of Powtoon (genius!).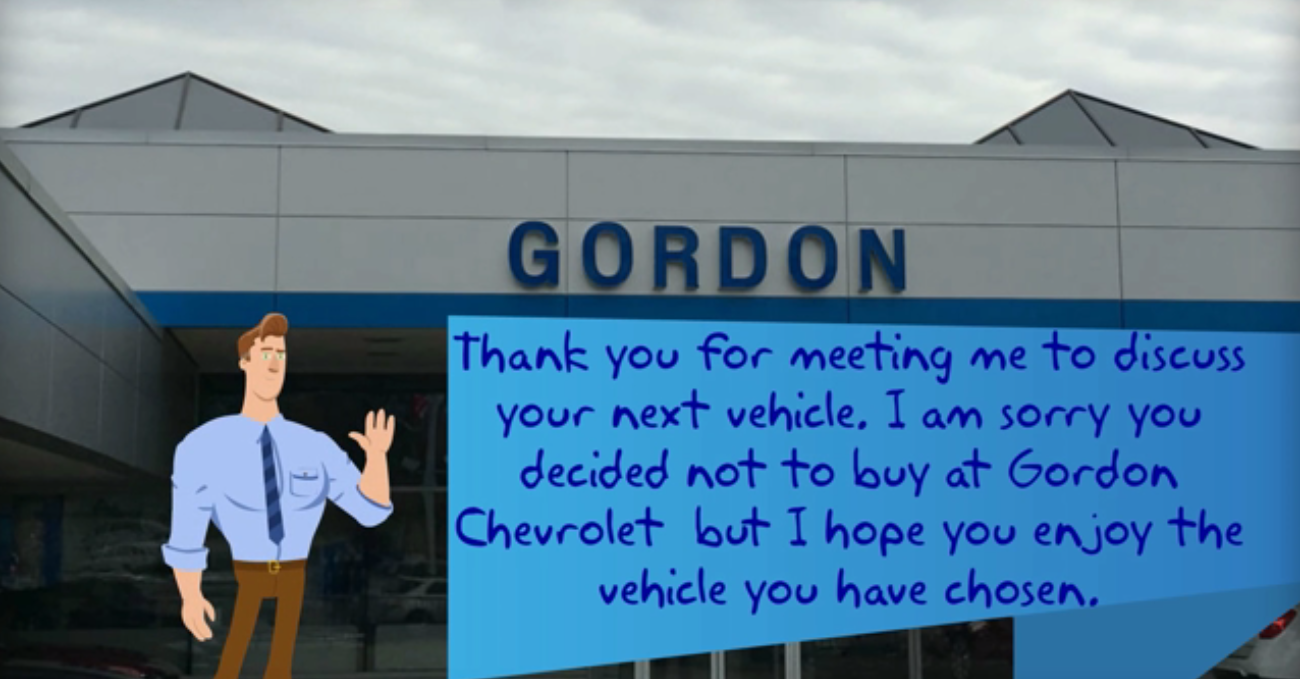 …now THAT is customer CARE! I mean, I want to buy a car just to get treated like that! As it turns out, Matt's in charge of the Corvette's, so looks like my birthday is about to come early this year 😉
What do you do when someone has a question about their new car? Here's what Matt told me:
"When a customer has a question about their vehicle, I send them a Powtoon to answer. Instead of just sending them a PDF file, the Powtoon creates excitement. It makes their experience as a customer enjoyable and entertaining.
Also, the Powtoon keeps them focused on the message!"
– Matt Klepack, Gordon Chevrolet
What Results have you achieved from
Your Powtoon Strategies?
Matt:
"I have Return customers when you give them a wow factor with a Powtoon. When you assure the customer that they've made the right decision with a follow-up Powtoon with their picture in it, that just blows their mind.
I do take pictures of the customers standing next to their new vehicle. When you send that to them to say thank you, they send that Powtoon to their friends and family. Look what I got from Gordon Chevy after buying my new car!
Yes, I get a lot of referrals from my investment with Powtoons. Those Powtoons will always be in their mind."
Watch this Powtoon interview Gordon Chevrolet made about Matt's success:
Make a Powtoon now to turn your customers into raving fans
How Matt plans on using Powtoon
to grow his Chevy store
Matt:
We do a new owner clinic every month – and I plan on using Powtoons for that clinic and updating it all the time. In addition to that, I also use Powtoon to help customers get trained using our technology.
The customer needs to understand how to use the On Star technology – but they don't just learn it. They're not going to read a whole book – so instead, I give them the training in a Powtoon. Now, they feel like they're just watching TV:
Here's Matt's "On Star Training" Powtoon
It makes it easier to understand which helps them feel more comfortable about their new vehicle. Even if they don't need On Star now – by watching a short Powtoon, they'll know what they need WHEN they need it.
With the variety of Powtoon templates and uses within Powtoon – it gives you unlimited options to do anything to help obtain, retain and continue serving your clientele.
With all the different items that Powtoon has to offer – you can cater it to any event, to any follow up, or even an advertisement for your company. Powtoon is ahead of the ball versus other companies out there with a 'standard presentation' – those are really getting old. What you can do with Powtoon is all new.
When you cater the needs of your client with a Powtoon – you go above and beyond. With all the new features and advancements within Powtoon – it's tremendous."
More about Gordon Chevrolet
Gordon Chevy has been in Garden City, Michigan since 1983. They've given a lot to their city. Because they're unique in their business strategy, they want everyone in Garden City to feel like they're family. Because they've done that, it's increased the number of loyal customers they have.
You're made to feel like family. No one will haggle or hassle about price – they treat the customer the way you'd want to be treated.
By building that relationship with organizations, communities, charities, and other companies in Garden City – word of mouth is one of the biggest and strongest factors that helped them become one of the top dealerships in the country. They…CARE, so they send Powtoons throughout the relationship.
My Top 4 Take-Aways From Matt
If you want to grow your business, or just have 10 times more impact at work, put Matt's brilliant strategies to use, right now. Here are the top 4 take-aways from Matt's interview.
As a side note, if by any chance you think these are common sense – Matt and I can both tell you that they're far away from being common practice. So be ahead of the curve and put these to use for your work:
1. When you think long term relationship, so does the customer
2. Adding more value and WOW than the competition turns your customer into a RAVING FAN
3. Happy customers REFER others to you
4. Powtoon makes the buying experience enjoyable, entertaining, and PERSONAL
Listen – if you live anywhere near Garden City, Michigan – head on over to see Matt for your next car. Actually – if you know ANYONE near Garden City, Michigan, send them over to see Matt about their next car.
Here's their website and Facebook page.
No, we don't get anything from this – nor are we interested. We just want to support awesome people in the world – and Matt Klepack is hands down awesome.
Leave an inspiring comment below, we'd LOVE to hear from you:
What's YOUR top take-away from Matt's interview?
Woah, almost forgot to tell you. If you have an inspiring success story using Powtoon at work, email success@powtoon.com.
Stay awesome,
Ari
PS – BONUS ROUND! Here's ONE more of Matt's strategic and creative Powtoons called "Secret Mission".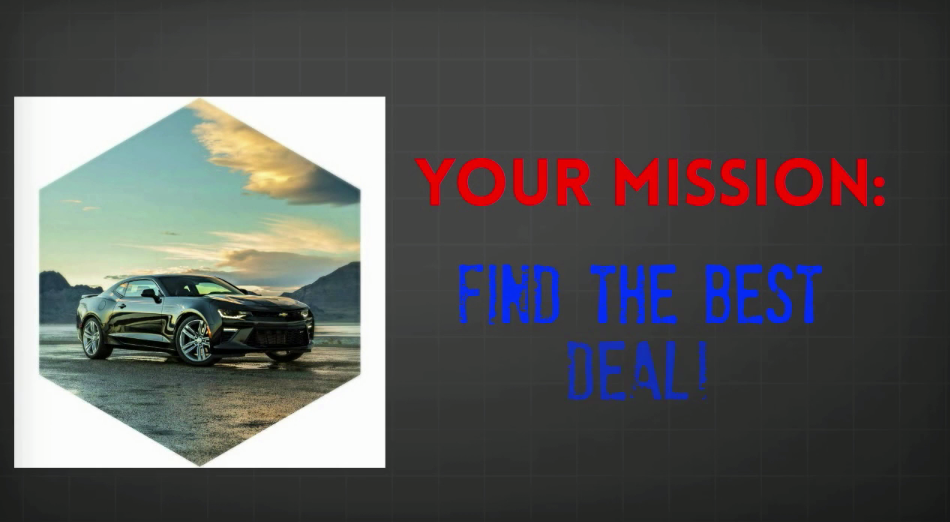 His concept is challenging his customers to find the best deal. Matt of course finishes by saying finding the best deal shouldn't be a mission – it should be EASY. Which is Matt's big promise…and what he delivers on. That's why Matt inspires his customers to become raving fans… and lifetime customers who tell their family and friends about his such incredible service.
Thanks for being so awesome Matt – you inspired us : )
Watch Matt's "Secret Mission" Powtoon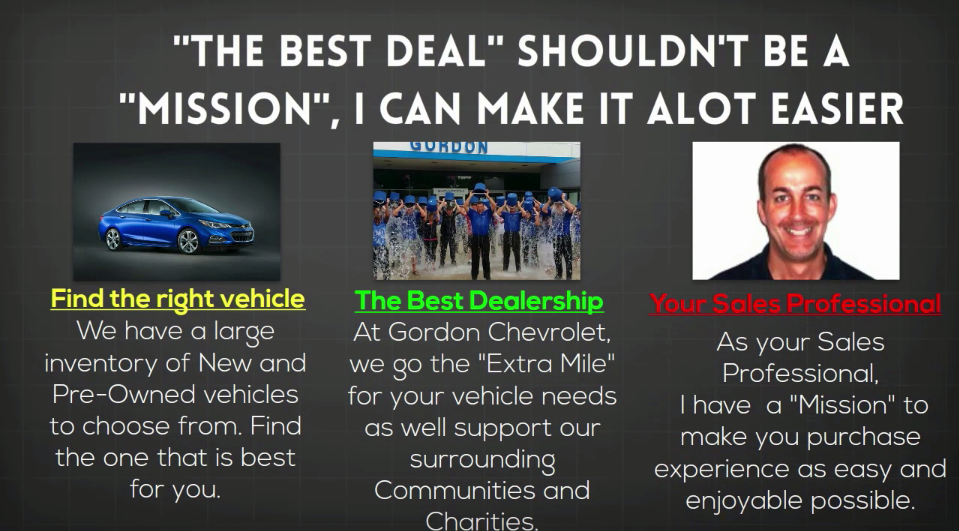 The following two tabs change content below.
Ari Sherbill
VP Business Development @Powtoon. Ari's known as the "High Energy Guy" who currently advises Fortune 500 companies, Hollywood Studios and over 5,000 executives and business owners every month how to increase their leads, engagement and sales with Powtoon. He's spoken on stage with MGM, the Sands Hotel, 3M and Oracle. NASA referred to his strategies as "fresh and intriguing". Learn how to grow your sales and impact by following me on twitter: @AriSherbill
Latest posts by Ari Sherbill (see all)