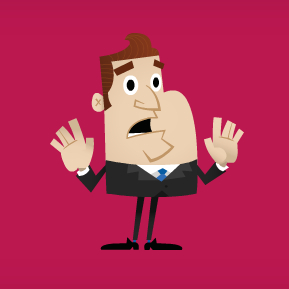 Dude – We Broke The Internet!!
Read Time:
< 1
minute
Hi – Ilya here, Powtoon's Chief Executive Unicorn. This happened last night and was so funny that I wanted to share it with you.
At around 9.15pm last night, I get a phone call from our CTO (The Architect of Awesomeness) who tells me in a very serious voice that since we sent the email announcing the Sneak Peek of #Slides just a few hours ago, something happened that has never happened before!
We've been bombarded with so much traffic that our servers buckled under the strain and Powtoon is now offline. Trying to stay composed I ask him whether he can fix it, and how long it will take.
He says: We're working on it….
I put the phone down and break out in a mild panic!
To get some reassurance I call the latest addition to the Powtoon Scientists, Ari our new Marketing Awesomeness.
The conversation goes like this:
Me: Ari, I am a little bit nervous. Our servers are down because too many people are trying to access the #Slides Sneak Peek.
SILENCE…. (for about 5 seconds)
Ari: Dude – We broke the internet!
I laughed so hard I nearly dropped my phone. A statement worthy of a true Powtoon scientist!
Luckily our Architect of Awesomeness was able to fix the problem relatively quickly and while doing so he increased our capacity massively.
In any case I apologize if you tried to reach the Sneak Peek last night and got a 502 Gateway error. Also a huge thank you for all the amazing comments, keep the awesome vibe going…
The site is fixed now and you can see it here: Sneak Peek of Powtoon's brand new PowerPoint alternative #Slides.
The following two tabs change content below.
Ilya Spitalnik
Powtoon's Chief Renegade Scientist
Latest posts by Ilya Spitalnik (see all)