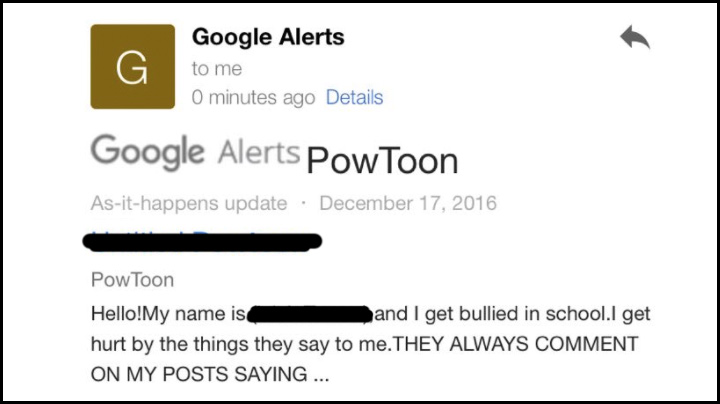 The Saddest Google Alert I've Ever Gotten…
Read Time:
2
minutes
The other day, I received the saddest google alert I've ever gotten, about a young boy who published a Powtoon about being bullied…
Out of respect for his privacy, I'll call him "M." Watch his Powtoon:
No child should feel bullied or alone — EVER!
M needs your help! We're asking all our millions of users to make a Powtoon for M this Christmas, to show him our support and love, and to cheer him up.
Leave your Powtoons in the comments to our Facebook post by December 25th to get them to M. In the spirit of giving, everyone who posts a Powtoon for M will get 1 year of Powtoon Pro for free!
That way, there will only be happy google alerts this Christmas.
I can't wait to see what you come up with.
From all of us at Powtoon, Happy Holidays!
Update:
Thank you to everyone who created a Powtoon for M! We were overwhelmed with how many Powtoons we received. Many of them are linked in the comments section below this post.
Everyone did such a great an amazing job encouraging M. Some of you shared some basic strategies for him to get help. Some of you shared your own stories of how you overcame a bully. And some of you just wanted to spread the love. It was all awesome.
From all of us at Powtoon and on behalf of M and his family: Thank you! And have an AWESOME 2017!
The following two tabs change content below.
Ilya Spitalnik
Powtoon's Chief Renegade Scientist
Latest posts by Ilya Spitalnik (see all)