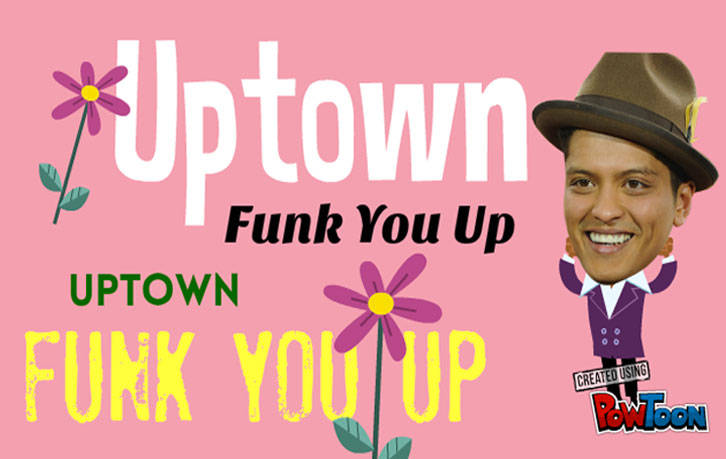 Hot Damn! We Salute Bruno Mars' Smash Hit Uptown Funk With an Insane Lyric Video
Read Time:
< 1
minute
Is there anyone so HOT that they could actually make a dragon want to retire? What does that even mean exactly?!?!
WHO CARES! Bruno Mars' latest hit, Uptown Funk, is so addictive and so full of fun, you'll find yourself singing to the beat and breaking out in dance before you even hit the hook.
The sound is a mixture of 70's Disco, Hip-Hop, and some ultra-smooth vocals. But the real secret boils down to Marc Ronson's tried and tested formula: The award winning music producer?and songwriter claims, "you have to take an element of the past and then bring something fresh and new to it". Well this works for us!
The Powtoon Scientists were so blown away by this beat we decided to say "thanks Bruno!" by creating an epic tribute to the talented artist.
So… Without further ado, we present this insane lyric video (shown above), saluting Bruno Mars' smash hit, "Uptown Funk"!
Create a tribute to your favorite artist by making a lyric video with Powtoon!
The following two tabs change content below.
Nirel Matsil
Howdy! I'm not actually a cowboy but I'm Super excited to be here, honing in my science background plus marketing experience to help show the world how anything you wish, dream or say, can be made more awesome with Powtoon!
Latest posts by Nirel Matsil (see all)