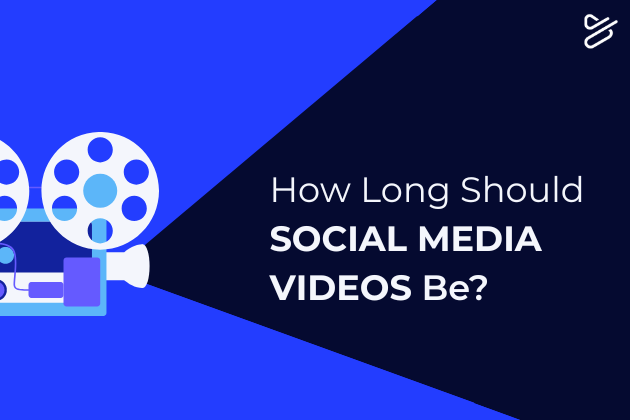 How Long Should Social Media Videos Be?
Read Time:
6
minutes
Welcome to the ultimate guide on social media video length! You're likely well aware of the importance of social media videos in today's digital age, especially when it comes to promoting your brand and product through video marketing. However, have you ever wondered how long your videos should be to achieve maximum engagement? In this post, we'll guide you through the optimal video lengths for various social media platforms and share tips on creating captivating and impactful videos using Powtoon. We've even included examples to help you get started!
Long versus short video content
Before we dive into the nitty-gritty details of creating social media video content, it's essential to start with the basics. As a creator, you should consider three critical things before creating social media videos.
Your audience: Firstly, knowing your audience is crucial. You need to have a clear understanding of who you're trying to reach and what type of content they prefer. By understanding your target audience's demographics, interests, and preferences, you can create content that resonates with them and meets their expectations.
The purpose of your video: The purpose of your video should align with your overall marketing strategy. Are you trying to increase brand awareness, drive sales, or educate your audience? Short videos work well for snackable content or promotional teasers, while long videos are great for in-depth storytelling or building brand trust. Knowing the goal of your video will help you determine the appropriate length to achieve that goal.
Your preferred channel: Your preferred channel also influences the length of your video. Each social media platform has different video length limitations, and audiences have varying attention spans on different platforms. For example, on TikTok, shorter videos are more popular, whereas, on YouTube, longer videos are typically preferred.
These three things will ultimately be your guide and help you determine the ideal size of your video. By keeping them in mind you can ensure that your videos are effective, engaging, and achieve your desired outcomes.
Regardless of the length of your social media videos, creating high-quality, engaging, and relevant content should be your top priority. With Powtoon, you can create stunning marketing and social media video content in no time. With hundreds of customizable templates, you can create animated videos, explainer videos, whiteboard animations, and more, all tailored to your unique brand and message.
Now that we covered the basics let's dive into the ideal video length for each major social media platform! Here we go…
Facebook Video Length
The best-performing videos on Facebook are usually between 30-90 seconds long, but longer videos (up to 20 minutes) can perform well if they're engaging and relevant.
Facebook video ideas that perform well:  
Product Demo: Create a short video that showcases your product
Customer Testimonials: Have satisfied customers share their positive experiences with your product or service.
Behind The Scenes: Give your audience a sneak peek into your business, whether it's your office, manufacturing process, or team.
Tips and Tricks: Share useful tips and tricks related to your industry or product that your audience will find valuable.
Animated Explainer Videos: Use animation to explain a complex concept or process related to your business.
How-To Videos: Create step-by-step guides to help your audience learn how to use your product or service.
Event Highlights: Show off the highlights of a recent event that your business hosted or attended.
Product Launch: Use video to create excitement around a new product or service launch.
Q&A: Answer frequently asked questions about your business, product, or industry.
Humorous Videos: Use humor to engage your audience and create memorable content that they'll want to share with their friends.
Instagram Video Length
On platforms like Instagram and Twitter users have shorter attention spans, and the first few seconds of your videos are critical, so make sure you hook your viewers right away with a strong opening. Instagram videos can be up to 60 seconds long for feed posts, while IGTV videos can be up to 10 minutes. However, shorter videos (15 seconds or less) tend to perform best on Instagram. Instagram stories are designed for short, bite-sized content, and have a time limit of 15 seconds.
Live Videos: Go live on Instagram to interact with your audience in real-time and answer their questions.
Reels: Create bite-sized entertaining videos that showcase your brand in a fun and engaging way.
Brand Storytelling: Use video to tell the story behind your brand, including its history, values, and mission.
Animated Videos: Use animation to create visually interesting content that explains complex ideas or concepts related to your business.
Influencer Collaborations: Partner with popular Instagram influencers in your industry or niche.
User-Generated Content: Encourage your followers to share their own photos or videos using your product or service, and share them on your page.
YouTube Video Length
The great thing about Youtube videos is that they can be longer. Of course, the ideal length depends on the content you are creating. For example, tutorials or how-to's can be around 5-10 minutes long, while promotional teasers should be shorter (1-2 minutes).
YouTube video ideas to try:
Product Reviews: You can review products that you have used and give your opinion on their pros and cons.
Educational Videos: Teach your viewers about a topic that you're knowledgeable about.
How-To Videos: These instructional videos teach viewers how to do something step-by-step. Examples include how to fix a leaky faucet, how to bake a cake, or how to do a specific makeup look. How-to videos can be educational, entertaining, or both.
Tutorials: Similar to how-to videos, tutorials are videos that provide step-by-step instructions on how to do something. Tutorials can be focused on a particular skill, software program, or craft.
New Updates and Features: These are videos that provide viewers with updates and information about new products, services, or features.
Q&A Videos: In Q&A videos, YouTubers answer questions from their viewers. Viewers can ask questions on a variety of topics, from personal questions about the YouTuber's life to questions about specific topics.
Behind-The-Scenes Videos: These are videos that show viewers what goes on behind the scenes of a production or event such as a movie, TV show, or music video. Behind-the-scenes videos can be informative, entertaining, or both.
Ads: YouTube also offers the option to create advertisements. Ads can be used to promote products or services, raise brand awareness, or drive traffic to a website or landing page. Ads can be targeted to specific audiences based on factors such as age, location, and interests.
LinkedIn Video Length
To create effective Linkedin videos, LinkedIn recommends less than 30 seconds for top-of-funnel awareness content and ads, with the first 3-5 seconds being the most important. Video ads that are less than 20 seconds long will loop continuously. LinkedIn reports that the best-performing video ads are under 15 seconds long. Videos that meet upper-funnel marketing goals should stick to a 30-90 second video length. However, you can opt for longer-form videos to tell a brand or product story.
Here are some good ideas for LinkedIn videos:
Thought Leadership: Position yourself or your brand as an industry thought leader by creating videos that share your expertise and insights on relevant industry topics.
Company Culture: Use LinkedIn videos to showcase your company culture and give potential job candidates a glimpse of what it's like to work for your company.
Product demos: Show off your products or services in action with a quick video demo that highlights their unique features and benefits.
Customer Testimonials: Share videos of satisfied customers who can vouch for your brand and help build trust with your audience.
Behind-the-scenes: Take your audience behind the scenes of your business and share a glimpse of the day-to-day operations.
Employee Spotlights: Highlight your team members and give them a chance to share their experiences working for your company.
Industry Events: Share videos from industry events you've attended, whether it's a conference, trade show, or networking event.
Educational Content: Use LinkedIn videos to share bite-sized educational content related to your industry or niche, such as quick tutorials or how-to videos.
Twitter Video Length
To make the most out of your Twitter videos, consider creating short and snappy content that gets straight to the point. Videos should be around 30 seconds or less, as Twitter users tend to have shorter attention spans.
Some great ideas for Twitter videos include:
Product Demos: Use Twitter videos to showcase your product's unique features and benefits.
Customer Testimonials: Share videos of satisfied customers who can vouch for your brand.
Event Promotions: Use Twitter videos to promote your upcoming events or highlight your participation in industry events.
Quick Tips: Share valuable tips and tricks related to your industry or niche that can help your audience.
Short Interviews: Conduct brief interviews with industry experts, influencers, or other relevant individuals that can add value to your audience.
Make Your Social Media Videos Pop with Powtoon
And that's all folks! We've covered some amazing ideas for your video content that will help you create standout social media videos. Now, if you're feeling overwhelmed by the thought of making your own videos, don't sweat it! Powtoon has got your back with its hundreds of customizable templates ready for you to polish up. So go ahead sign up today and give Powtoon a try. Who knows, maybe your next video will go viral! 
The following two tabs change content below.
Hannah Elishevitz
Hannah is a marketing intern at Powtoon. To her, nothing is more exciting than trying out new things. She has a passion for cooking, painting, great books, and sports. Making new friends and claiming new skills is her specialty. She is a big believer that everything happens for a reason and hopes to make people smile wherever she goes.
Latest posts by Hannah Elishevitz (see all)