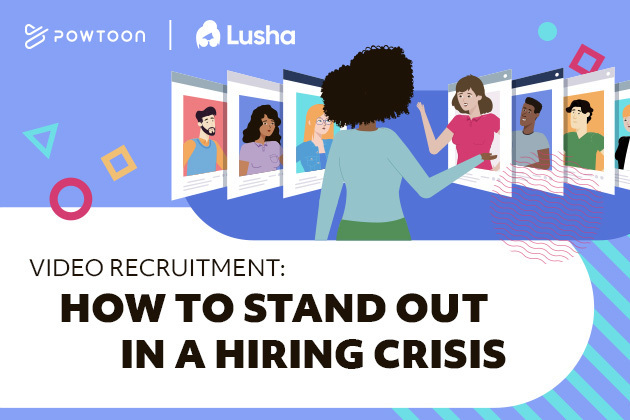 Video Recruitment: How to Stand Out in a Hiring Crisis
Read Time:
4
minutes
Recruiters, especially in industries like tech and healthcare, are facing a recruitment crisis that has never been seen before. "The Great Resignation is here," with up to 55% of American adults looking to switch workplaces during the next calendar year. With so many companies hiring, it's getting harder than ever for recruiters to stand out and attract top candidates to apply for roles. In this blog post we'll talk about the challenges of recruiting during "The Great Resignation," and strategies for attracting top candidates (like video recruiting!)
Want to stand out to candidates? You gotta do things differently….
95% of recruiters are doing the same old thing. Does this sound familiar? You send a LinkedIn connection request and copy-paste the same form message to 50 candidates – just changing the name, position name, and application link. That's not a personal outreach message, nor is it going to gain the attention of top candidates. Because the top candidates generally aren't applying. They're sitting, working quietly at their company's desk, minding their own business. Getting 100 of the same, boring LinkedIn outreach message from recruiters just like you.
Think About How You Conduct Recruiter and Candidate Sourcing
What's your approach to candidate sourcing? Are you going to LinkedIn, typing in top companies like "Google," and finding candidates in the role you want to fill? Because every recruiter is doing that. And it's easy for candidates to tune out 100 identical-sounding LinkedIn messages from other recruiters.
But what if you could get the phone numbers of candidates you want to reach and form a personal connection with them? It's harder to ignore a phone call, and sincere, human-to-human interaction. Phoning a prospective candidate is a way to stand out to candidates and make an impression. Phone calls are also in real-time, and allow you to gauge the tone of the candidate's voice while controlling your own delivery.
That's where Lusha, a free candidate sourcing and recruiting tool, comes into play. You can quickly find thousands of qualified candidates, according to smart filters like company name, industry, location, company size, revenue, department, seniority level, and job title. Or, if you prefer to work off of LinkedIn, you can look for candidates one-by-one, and see if Lusha has their contact details in just a click. It's free to use, GDPR and CCPA compliant, and used by over 670,000 users from B2B companies like Google, Uber, Dropbox, Aircall, and Snowflake.
Why are recruitment videos important?
Let's say you can't find a prospective candidate's phone number, or you just don't think it's prudent to call candidates. An email or even a LinkedIn message with a personalized recruitment video can also be a creative way to stand out to top candidates.
Powtoon is an easy way to create a customized recruitment video in minutes. They have thousands of templates that are easy to customize and work from. You can even record your screen or webcam to speak directly to candidates. It's catchy and most recruiters aren't taking this extra step to reach their perfect candidates.
What do you say in a recruitment video and how do you make it good?
The important thing to remember is that recruitment isn't a race – it's a marathon. The only thing your video should do is intrigue candidates enough to make contact with you. It's rare that the best candidates are rushing to leave their jobs. After all, the best candidates generally have their pick of employment, with most employers proactively reaching out – just like you. What can you say that will help you form a memorable and meaningful connection? Do you know any of their shared contacts that can make a personal introduction? Are there any achievements in their featured LinkedIn posts that they are proud of? Speak to those. Maybe they hosted a recent Webinar where they stole the show? Watch part of it and leave them a sincere comment. Find a way to make your message personal, show that you think they're a true professional and that you're paying attention to the things that matter to your candidate. That's what will make the difference.
Where can I post a recruitment video?
"It depends." Is your recruitment video general? If so, then post it on your website's career page, social media channels, and ask employees to share it on LinkedIn, with a message about why your company is so awesome. If the recruitment video is personalized for the candidate, then email or LinkedIn them directly with the video. It really is that simple.
Key Takeaways and Next Steps
Recruitment is harder than ever in the age of "The Great Resignation." The best candidates have their pick of employers, or may not be actively looking to leave their current workplace. Find a way to stand out with smart recruiter and candidate sourcing. Lusha can help you search for top candidates and get their direct contact details with their free B2B prospecting tool. You can make the most impact by calling candidates and getting personal – fast. Or, you can email or LinkedIn them with an awesome, customized recruitment video that you made in Powtoon. In just minutes you can create a personalized video message that can stand out in a crowd. Remember, recruitment is a marathon – not a race. You'll need to be patient, strategic, creative, and focused on making your outreach personalized and memorable. Good luck!
The following two tabs change content below.
Sapir Segal
Sapir is the Enterprise Product Marketing Manager at Powtoon. Her work is driven by a consistent, unwavering belief in the power of storytelling and how good product narratives help build long-lasting brands, connect between customers, and drive sales.
Latest posts by Sapir Segal (see all)