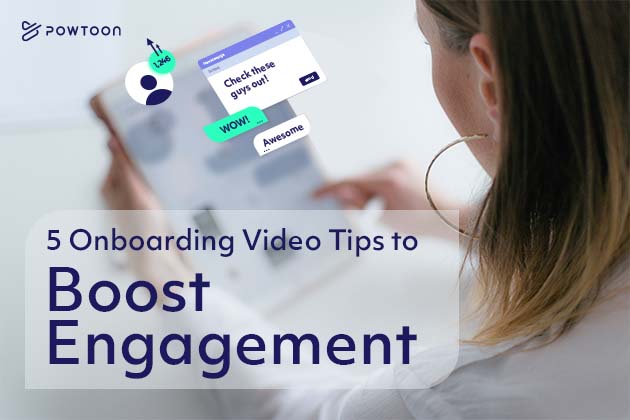 5 Onboarding Video Tips to Boost Engagement
Read Time:
4
minutes
If you're an HR professional, odds are good you appreciate the importance of effective new hire onboarding. Research consistently shows that proper onboarding can boost engagement and retention rates throughout an organization. That's why we've come up with 5 essential onboarding video tips for your HR team.
One way to improve your onboarding processes is to incorporate video. Video allows you to both share practical information and introduce a new hire to your unique company culture in a dynamic and memorable way. Additionally, a thorough employee onboarding video ensures the onboarding experience remains consistent for all new team members.
That said, not all onboarding videos are equally impressive. To leverage an employee onboarding video to its full potential, consider the following onboarding video tips:
Tip #1: Make a List of Essential Points
Before actually beginning to write and produce your onboarding video, start by making a list of the various types of information you want a video to share with a new employee. You may want to include information about such topics as:
Benefits packages
Company policies
Dress code
Payment processes
An onboarding video doesn't need to consist solely of bland practical details. Nor should it. A strong video should also be entertaining or engaging in some capacity. Later, this overview will cover some of the ways an onboarding video can make an employee's first days at your company truly fun.
However, video is a useful tool in part because it allows you to create a single resource that provides each new hire with a large amount of "need-to-know" info as efficiently as possible. Start off by coordinating with other HR team members and managers to determine what type of info your video should focus on.
Tip #2: Consider Making Multiple Videos
It can sometimes be difficult to strike a balance between sharing information about practical and important topics while also introducing a new employee to the company culture in an entertaining or light-hearted way when developing an onboarding video. That's why you might want to make more than one.
The first video you produce may cover the "dry" topics that you need to get employees up to speed on. The second can be more creative and brand-centric.
After all, a video is just another type of onboarding document or material. Many onboarding processes involve the use of multiple documents and resources. There's no reason to treat video differently than any of the other types of materials you use in your current onboarding processes.
Tip #3: Play to Your Brand and Strengths
Virtually every successful organization has a unique internal brand or identity that consists of its values, workplace atmosphere, and other such qualities. The identity of one company may not be ideal for another type of organization, though.
For example, a law firm's company culture may be one in which decorum and professionalism are emphasized. On the other hand, the brand and culture of a hip young media startup may be one in which the focus is on a "work hard, play hard" mentality.
Consider your organization's branded identity or culture when making choices about everything from the music to the editing style of your onboarding video. You should also consider your strengths and resources.
To return to the previous example, if you're making a video for a hip media startup, some of your employees may be skilled performers with a strong sense of humor. Thus, you might include comedy sketches in your video to demonstrate certain workplace policies in a way that entertains and educates. If you're creating a more serious video for a law firm, you might include clips of various team members speaking passionately but professionally about the firm's values.
Tip #4: Make it Interactive
Using video during onboarding procedures can also be helpful when you need to demonstrate to new hires how to perform certain tasks that will be part of their work duties. For example, if your employees tend to use various digital tools they may not be familiar with, you can create onboarding videos to train new team members.
This also gives you a way to make the onboarding process more interactive. Every time the video has demonstrated how to perform a particular task, you may stop it and ask new hires to perform said task on their own. Adding a little interactivity to the process can result in greater engagement while also letting you quickly determine if a new hire needs additional training.
Tip #5: Welcome Team Members
It's always advisable to make new employees feel appreciated from the start by inviting the CEO and various other managers and department heads to welcome them during onboarding. However, depending on the nature of your company, that might not be practical. It's unlikely the CEO can directly participate in every single onboarding session.
Luckily, they don't have to. You can instead make a video in which the CEO and other important team members welcome new hires. Strongly consider doing so.
Make Onboarding Videos With Ease Using Powtoon
Most importantly, don't assume you lack the funds or time to make onboarding videos. You don't necessarily need to hire a huge production team to create the types of videos described here. Powtoon makes creating videos a simple and intuitive process. Create a free account today to get started!

The following two tabs change content below.
Hanna is Powtoon's Content Marketing Strategist. She joined Powtoon as a copywriter in 2019, after graduating from university with a specialized degree in marketing and business. She continues to inspire people to create incredible video content with blog posts, videos, guides, and more. Hanna's passions include reading, singing, and caring for animals (#proudvegan). Nothing makes her happier than waking up to her two black kitties who, contrary to popular belief, are good luck!
Latest posts by Hanna Abitbul (see all)