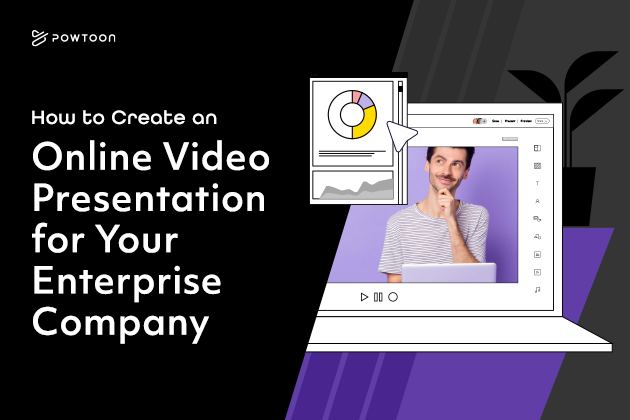 How to Create an Online Video Presentation for Your Enterprise Company
Read Time:
3
minutes
Online videos are effective communication tools, but they can be expensive to produce professionally. If you plan to use video in your sales, marketing, or communication strategies, it's most cost-effective to create them in-house using a video maker. This can be daunting for the novice user, but advancements in technology have made video-making accessible to everyone. Here's how to create an online video presentation that will impress your customers, staff, or stakeholders.
How to Create an Online Video Presentation
Wondering how to create an online video presentation with a professional feel? Follow these steps:
1. Choose an online video maker.
Every platform has a learning curve, so select your video maker with the big picture in mind. Can you make a wide variety of videos – from marketing videos to screen recordings to explainer videos? Does it have a library of stock photos and stock video clips? Are there music tracks or sound effects? Will you pay per download or are there subscription plans? Carefully review all the features before committing to a video maker to ensure it will meet your needs.
2. Make an outline.
Plan before you create! Organize the content of your presentation so when it's time to create your video, you will only have to focus on the visual elements. You may not even have to recreate the wheel – use content from an old slide deck, presentation handout, or other materials, and recycle it into a new, professional-looking video presentation.
3. Choose a template.
A template makes video creation easy! The creative work has been done to ensure a professional-quality video presentation. Choose one that matches the look and feel you're going for in your video.
4. Add your content.
Don't worry about perfection – that comes during the next step. Follow your outline, add the text, slides, images, and other visual elements you want in your video presentation.
5. Customize your presentation.
Now it's time to make the template uniquely yours! Change the color scheme to match your brand, add animation effects to your text or images, and use video editing tools to adjust timing and transitions. Most presentations will look great without customization, but if you want to add a 'wow' factor, spend time customizing your piece.
6. Share or export your video.
Download the video file, embed your video to your website, upload it to another hosting platform, or share a direct link to your project with your target audience. Each video maker has its own sharing parameters, so make sure the platform you choose will allow you to export or share your video in the way you need.
Why Use a Video Maker?
As an enterprise company, your communication must be consistent across departments, locations, and channels. A video maker will help your teams create video content that is visually consistent across the organization; an online video maker (as opposed to traditional machine-based software) makes this even easier.
A cloud-based platform lets you create and share video templates, upload custom logos, assets, or other visual elements for easy access across the company, and review videos for approval through a simple URL. Plus, it's far less expensive than using a professional production company.
With an in-house video maker, you can create hundreds of professional-looking videos for the cost of one professionally produced piece. If you're looking to boost your business through video, an in-house tool is ideal.
Create an Online Presentation in Minutes
Powtoon is the online video editor you need! Users of all skill levels can navigate its platform with ease. Novice users can choose ready-made templates to create video content, and experienced creators who want to show off their skills can either customize an existing template or start with a blank canvas. Ready to try it yourself? Sign up for free and start creating videos in minutes!
The following two tabs change content below.
Hanna is Powtoon's Content Marketing Strategist. She joined Powtoon as a copywriter in 2019, after graduating from university with a specialized degree in marketing and business. She continues to inspire people to create incredible video content with blog posts, videos, guides, and more. Hanna's passions include reading, singing, and caring for animals (#proudvegan). Nothing makes her happier than waking up to her two black kitties who, contrary to popular belief, are good luck!
Latest posts by Hanna Abitbul (see all)