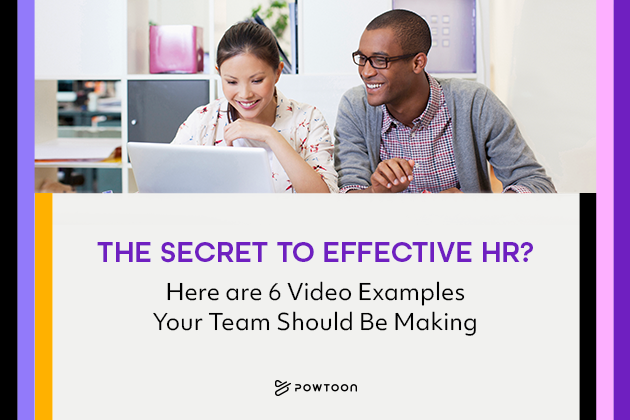 The Secret to Effective HR? Here are 6 Video Examples Your Team Should Be Making
Read Time:
5
minutes
Who wants to sit and read through long documents at work? Bet you didn't raise your hand, right? Human Resources is a department that is super content heavy, which usually includes monotonous materials on serious topics. However, HR is a fundamental cog in a company's clockwork with tons of responsibility on their shoulders, and if HR is not effective in its leadership position, then a company cannot function properly.
I know what you're thinking – there must be a way for important information provided by HR to be conveyed in a way that is engaging and memorable.
And there is…VIDEO!
The trending and most effective way for HR to communicate is to pour all that bland content into exciting and captivating videos as a means to engage and interact with all departments HR is responsible for educating. From the recruitment process all the way through to ensuring the wellbeing and satisfaction of every employee, there are many roles that HR tackles, and creating videos warrants that their work can be executed effectively, efficiently, and with a little more pizazz.
Recruiting
Growing a company is crucial for its success, part of which is hiring new talent. However, the company needs to ensure that it promotes itself in a manner that is enticing and inviting for future employees. Through a video, be it a flashy GIF or a short informative video, companies can express themselves through visual and audible manners and in a way that makes the company look desirable.
In the recruitment process, an eye-catching video will already capture the attention of potential employees. With proper phrasing, along with a splash of color, your company becomes an enticing place to work.  

Onboarding
Fantastic, a new employee is joining the company! Now it is up to HR to ensure the transition and onboarding process is smooth, clear, and maintains the employee's excitement. Between handing over a tower of documents or watching several short videos, which is more engaging? The latter, obviously!
Creating videos explaining organizational values, company processes, and further guidelines as to the employee's position can be greatly beneficial to the onboarding process. It is far less intimidating for your new employee and conveys the key points. 

Performance
Meetings with HR are intense. Sitting one-on-one and getting the lowdown of your performance. It can be nerve-wracking, it can be awkward, but it can also be encouraging. But does it all have to wait to be said in a face-to-face meeting?
No! It does not. Videos are a less intimidating and more consistent way to relay performance evaluations, whilst also helping make the leadup to the annual performance meeting less intense and stressful for the employee. For example, creating a "before" video outlining the details of the meeting allows your employee to come in prepared, and a post-meeting video gives employees the opportunity to absorb their criticisms and achievements – and constantly have access to it – in order to compare for future performance evaluations. 

Workplace Communication
An essential component to a company's success is having thorough workplace communication. Especially with the Covid 19 pandemic, communication has been relatively more difficult with people working from home, which does not allow for great workplace communication. Yet the responsibility remains on HR to ensure that every employee receives the relevant and necessary information. But what if that can't be done in a meeting? Or over the phone?
Creating videos is an effective way to communicate important messages and updates to the company employees. Sending out blast emails with short videos containing messages of company successes, newly implemented policies, introductions of new employees, and so on, not only saves everyone the time of setting up a meeting, but is also a creative and informative way to communicate to everyone in one shot. 

Tip: Keep it short and clear for maximum clarity and communication.
Compliance
It is not enough to just have proper workplace communication, employees need to comply with workplace policy, and be informed of policy changes and updated workplace ethics.
Human Resources can make procedures more enticing by creating videos explicitly outlining company policy and the importance of compliance with the rules, for their safety and to ensure the safety of the company. Rule following has never been so entertaining.

Wellbeing & Satisfaction
It doesn't all have to be serious with Human Resources. Announcing fun workplace events and activities can be done in a more thrilling way than just sending an email with capslock.
Exciting videos are engaging and more inviting for employees, helping them feel like their wellbeing is important to the company. All this responsibility falls under HR, so why not make the whole process more enjoyable, from creating the event to sending out the invites, and ultimately employees enjoying the event itself.
Imagine how appreciative your workers would be to get personalized birthday videos wishing them well, or congratulations for a workplace milestone or achievement!
Satisfied employees are happy employees, and using videos to check up on satisfaction levels, as well as general health and feeling of safety within the company, is an innovative way to stay connected with your employees.

Start Creating Your Own HR Videos
Powtoon provides templates covering all areas of HR, and can guide the department from being content-heavy to becoming content creative! Upgrade your company communication and start creating with Powtoon – sign up now!

The following two tabs change content below.
Michal Sanders
Michal joined Powtoon as a Content Marketing Intern. She loves to bake, shop, and hang out with her friends. Michal is happiest when she is by the beach with friends having a BBQ. Michal loves to start every morning with a good cup of coffee and catch up on the latest feeds.
Latest posts by Michal Sanders (see all)