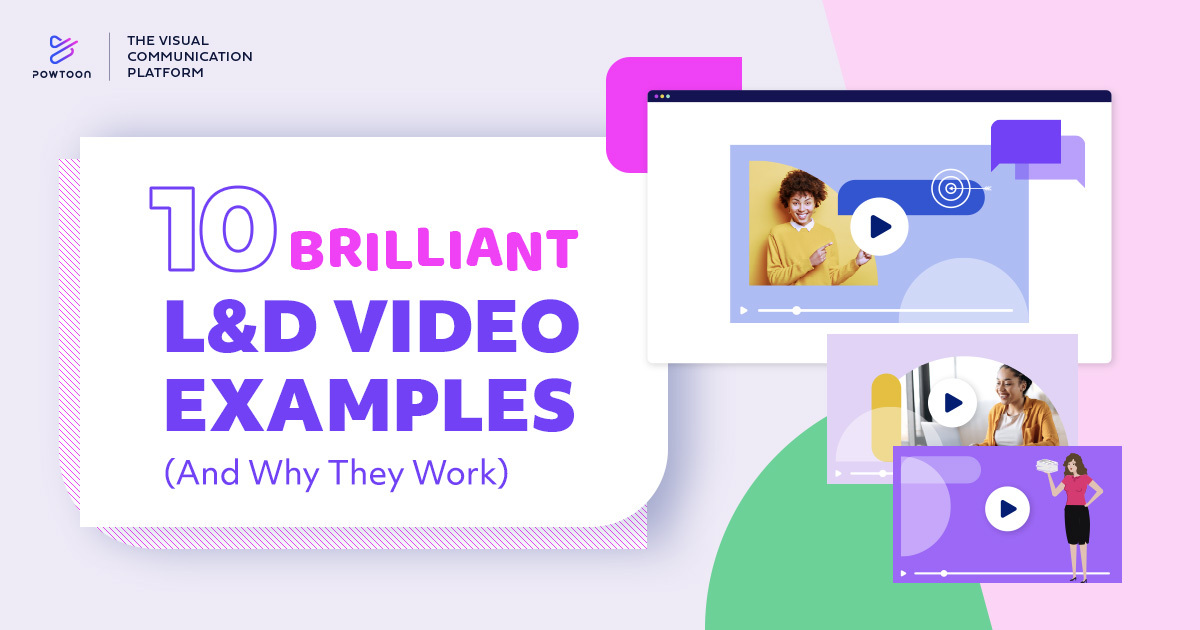 10 Brilliant L&D Video Examples (And Why They Work)
Read Time:
7
minutes
As a learning and development professional, your role is vital in the workforce. You are a trainer, motivator, and strategist — and as someone taking on these roles at a corporate level, you face the daily challenge these titles entail in L&D.
Increasing engagement amongst your people while delivering them content that is informative, relevant, and constructive is no easy feat. You need both the tools and strategy in order to effectively create content for your audience.
This is exactly why we wanted to bring you some insight as to how you can use video to reimagine your L&D strategy and better engage your peers.
But first, what makes a good L&D video?
Video is a powerful tool to incorporate into your training strategy as its very essence is engaging. It's also the medium your audience (Millennials and Gen Z) happen to be most familiar with and engage with on a day-to-day or even hourly basis thanks to social media platforms such as TikTok, YouTube, and Instagram.
Yet, we're all too familiar with coming across muddied, dull, or confusing content online or at the workplace. Here are a few tips for creating videos that truly resonate and engage.
Center your content behind a goal or goals
Plan out your content before filming
Write a script to ensure you stay on course with your plan and goal
Begin with a strong opening and close with a call to action in the conclusion
Use visual and design elements, such as custom characters, on-screen text, or text popups to engage the viewer
Have a narrator (on camera, voiceover, or text) to move the story along
Keep your audience in mind by remaining short, concise
Make sure your content is accessible on every device, especially mobile devices
Following these tips should guarantee you a successful L&D video. To give you some more insight, we've listed 10 wonderful examples of L&D videos that hit the target!
Great L&D video examples & why
01 Foot Locker – Leadership Training
We begin with Foot Locker's "Leadership Training" video. Foot Locker wanted to teach leadership positions how to effectively coach members of their store's team. In this video, they applied the pillars of telling, showing, and doing. To reflect the diversity of their team and make sure everyone feels like they belong, Foot Locker used diverse characters. They also made sure to keep consistent branding throughout.
Foot Locker excites, motivates, engages, and informs leadership team members, the results ring clear in the company's overall success. Using these bite-sized videos, the team was able to train 35,000 employees in 27 regions. Click here to view the full success story here.
What makes this video effective:
Has a clear storyline throughout video
Showcases the Foot Locker brand through the characters
Uses a mix of narrators to bring the story to life
02 TIBCO – Avoiding Zoom Fatigue
TIBCO used the power of video to discuss – and defeat – a side effect of constant video conferencing, Zoom fatigue. They've done a wonderful job at describing this— using real-life scenarios to describe what it is, its emotional, physical, and social symptoms as well as proposing particular solutions to assist in lowering the fatigue that employees are all too familiar with.
Throughout the video, you truly become immersed in the story and remain so due to the choice of visuals, audio, and voiceover that accompany the overall narrative. With an affinity for telling stories visually, it's no wonder the company has trained over 1,000 employees on remote work through video. Click here to view the full success story.
What makes this video effective:
Has a relevant and empathic message
Uses diverse characters and settings that reflect the audience
Narrative is consistent with a clear beginning, middle and end
03 Amazon – 14 Leadership Principles
Amazon managed to pack no less than 14 leadership principles into this 2-minute video educating employees on the company's values. While the very same topics would seem heavy in a different setting, Amazon uses lively music and fun animation to provide guidance while eliciting excitement.
The diverse characters once again help everyone feel reflected in this video, and the characters' branded apparel makes the video stand out. Thanks to these elements, Amazon managed to craft a stellar video with a resounding message to their employees, empowering them in the process.
What makes this video effective:
Combines lively music with animation
Diverse characters reflect audience
Branding is consistent and strong throughout video
04 Boston University – Motivations for Work
Boston University Center for Psychiatric Rehabilitation has managed to transform 80 to 120 documents into 28 videos. These videos are used as clinical research tools for the purpose of sensitizing the material and individuals. And the results show that they have achieved their initiatives, receiving extremely positive feedback from clients and clinicians alike.
In the video example, "Motivations for Work", we are given Jen's story. By using custom characters, voiceovers, and additional visual elements, we are presented with a narrative that feels both human and relatable. This, in turn, allows the narrative and the characters on screen to resonate with the viewer in a way clinical documents couldn't achieve on their own. Click here to view the full success story.
What makes this video effective:
Storytelling makes the video feel real and relatable
Pop-up visuals coincide with the narrative
Usage of "voice actors" furthers the realness of the story
05 Crown Commercial Service – L&D Team Update
Crown Commercial Service's L&D team used the power of video to encourage, inform, and update employees. With humor, color, and background music, this video is an effective way to connect employees to the L&D team's efforts, make sure they are aware of the various initiatives available to them, and set expectations for what's yet to come.
This is a great example showing you don't always need a full production (or even narration) to deliver a fun and effective video. By knowing your audience and content goals, you can deliver meaningful, bite-sized content your audience will find valuable. Click here to view the full success story.
What makes this video effective:
Mindfully placed humor throughout the video (ideal the audience and their situation)!
Lively music brings sensations of encouragement and camaraderie
Diverse characters reflect audience and thus humanizes video
06 Allianz – Ethics
Allianz Group uses video to inform new hires on the professional expectations as an Allianz employee. This video serves as a helpful, on-brand introduction to the company's code of conduct.
Differing from the above-listed videos on the list, Allianz uses stock video, a voiceover, pop-up text, and visuals to detail the code of conduct for employees and managers alike. This approach in video design is ideal given the subject matter, serving as a fitting and appropriate example to addressing ethics in their workforce.
What makes this video effective:
Choice of stock video is ideal for video's subject manner and brand
Pop-up text used to further enhance key takeaways
Subtle usage of a melody livens the tonality of video
07 Lockheed Martin Space – Buddy Training Program
Lockheed Martin Space leverages peer-to-peer learning to onboard new hires. During a buddy boot camp, new employees are assigned a "buddy" as an informal source for information and knowledge sharing, giving new hires the confidence to fully onboard onto the team.
While the video is simple, it uses all the elements needed to fully execute its goal of fostering a workplace centered around peer-to-peer learning: visual elements, on-screen text, as well as custom characters that reflect their team's diversity. By incorporating the buddy boot camp into their onboarding process, managers have been able to streamline their onboarding and training for over 1000 new hires— training 170 new hires each month with a 99% satisfaction rate. Click here to view the full success story.  
What makes this video effective:
Message is relevant and valuable to audience
Uses clear on-screen text and pop-ups
Video remains short despite being rich in content
08 EmployBridge – Safe Return to Work
EmployBridge's video is a great example of video content centered around the purpose of informing employees of company-wide policies. Why send bland company-wide emails when you can create quick, bite-sized clips that update employees and keep them informed on policy changes?
EmployBridge does just that by using custom characters, text, and scenes to inform the employees of new policies concerning COVID-19. Using this approach, not only does it inform employees, but it also adds an extra hint of personability to the message, even exciting employees on their return to work.
What makes this video effective:
On-screen graphics and icons directly correspond to message
Uses settings that reflect the work environment of employees
Upbeat music is a great inclusion given the subject manner (COVID-19)
09 Foot Locker – DIB Ally Training
Knowing your employees and how to appeal to them is absolutely vital when making good video content. It's clear that Foot Locker has a core understanding of its employees as this notion is realized in the form of Foot Locker's DIB Ally Training video.
From the incorporation of their branding to the inclusion of diverse characters, video format, editing, and the overall message of being an ally, Foot Locker effectively engages its new hires and proactively informs its youth employees on the company's culture and its principles of inclusivity. Click here to view the full success story here.
What makes this video effective:
Has a clear, relevant, and valuable message to audience
Showcases the Foot Locker brand through the characters, visuals, and design
Shot in the vertical video format their younger audience is most familiar with
10 Southern Water – Digital Transformation
Using video to inform employees of the company's achievements is a superb means to celebrate the milestones of the company, but most importantly the employees. Southern Water's video does exactly that— it informs employees on their successful company-wide transformation.
Video adds that extra flare of personability to company announcements, increasing the potential to excite, motivate, and engage employees across the board. What's most effective about this video is the addition of team members explaining the on-screen material in more detail, better enhancing the viewer's retention of the information presented within the video. Ideal for e-learning! Click here to view the full success story here.
What makes this video effective:
Uses mix of narrators in throughout video to carry narrative along
Has relevant and valuable message
Uses clear on-screen text and infographics
Level up your L&D strategy with video
Curious to learn more ways to level up your company's L&D video strategy? Join us at DevLearn Conference Las Vegas to gain more insights into how to build an effective video strategy. And for the meantime, download our free detailed guide on 5 winning practices for L&D teams.
The following two tabs change content below.
Sapir Segal
Sapir is the Enterprise Product Marketing Manager at Powtoon. Her work is driven by a consistent, unwavering belief in the power of storytelling and how good product narratives help build long-lasting brands, connect between customers, and drive sales.
Latest posts by Sapir Segal (see all)