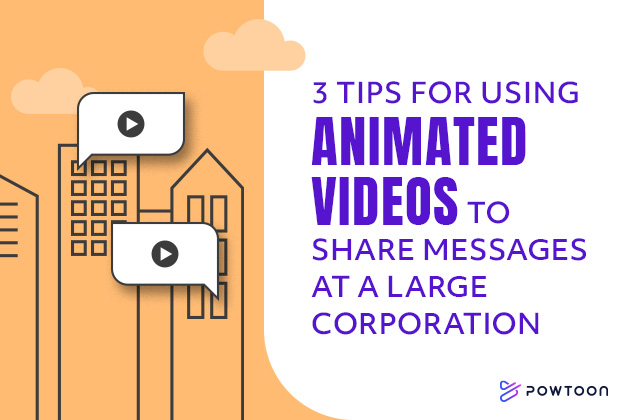 3 Tips for Using Animated Videos to Share Messages at a Large Corporation
Read Time:
4
minutes
When you work at a relatively large corporation, part of your job will almost always involve staying in touch with your teammates throughout the day and week. You may thus be well aware of the fact that many work-related messages aren't particularly engaging. If you spend a good portion of your day reading through emails, Slack messages, and similar communications, you're naturally going to start losing interest in such messages.
However, that doesn't mean the content of those messages isn't genuinely important. It simply may need to be presented in a way that's more engaging.
Animated video can help in this capacity. By sharing certain messages in the form of animated videos, a team member can boost the odds of their colleagues paying attention to the information they're conveying.
This is particularly important to keep in mind if you manage a workforce. That said, not all animated video content is equally effective at generating engagement among workers across large teams. To boost the odds of your videos yielding the desired results, keep the following tips in mind:
Play to Your Strengths
When people think of animated videos, often, their minds immediately conjure up thoughts of funny cartoons from their childhood.
This type of video can certainly be useful when you need to share what may be somewhat dry information or guidance with your team. However, the ability to write a genuinely amusing video script is a unique skill. If your script isn't as funny or cute as you want it to be, your video might not be as attention-grabbing as you planned.
That's not to say you shouldn't write funny scripts for animated videos if you're truly capable of doing so. It's simply meant to highlight the fact that playing to your strengths is key when producing animated videos to share with your colleagues. If you want to produce a funny video but you're not confident you can write one, consider hiring someone to help you – or take another approach, such as writing a purely informational script for a video that uses dynamic animation to make the content more engaging.
Use Sound Strategically
An animated corporate video can (and often should) feature music and sound effects at times. It's simply smart to use them in a way that doesn't distract from the important content of the video.
For example, perhaps you've created an animated video to demonstrate to workers in a factory how to avoid accidents. You might include animations of situations in which accidents may occur to illustrate the points you're conveying. Sound effects could help you make these segments of your video more effective.
However, if you're playing a distracting sound effect at the same time that a narrator or on-screen text is sharing important and practical safety information, it's possible members of your audience won't fully absorb the information that they are meant to.
Again, you can and should use sound effects and music in your animated videos. Just make sure you don't do so in a way that distracts your audience and prevents them from remembering your main points.
Choose an Emotion You Want to Evoke
Animated videos can be more engaging than typical forms of communication in a corporate setting for a wide variety of reasons. One is the fact that animated videos can generate emotions in an audience. When people have an emotional reaction to an experience, according to research, they are more likely to remember it. By stimulating your audience's emotions, you can increase the chances of them remembering what you're trying to explain in your video.
That said, an animated corporate video is usually going to be fairly short. When sharing one, you won't have the time to evoke a range of emotions in your audience the same way you could if you were screening a full-length movie.
You need to decide which type of emotion you want your video to generate when writing and producing it. Keep in mind that emotional experiences don't have to be "serious" or "moving." For instance, the subtle mood boost that comes from watching a funny video is technically an emotional experience.
This is an important step in the process of creating a corporate animated video. When you define the emotion you want to evoke in your audience, deciding which types of images and sounds to feature in your video becomes much easier.
Consider these points if you work at a large corporation (again, particularly if you're a manager or supervisor) and you feel as though your team members aren't engaging with certain important messages. Today's workers are bombarded with emails, team chat messages, and more. When you need to convey important information, using an animated video to do so could be a way to ensure your team will be interested in what you have to say.
Creating Impressive Corporate Animated Videos is Easier Than You Think
You don't need to have video production experience (nor do you need to spend money hiring a video production team) to create animated videos that are ideal for a large corporate setting. Powtoon's templates make creating animated videos simple and affordable, even for beginners. Get started for free today to learn more.

The following two tabs change content below.
Hanna is Powtoon's Content Marketing Strategist. She joined Powtoon as a copywriter in 2019, after graduating from university with a specialized degree in marketing and business. She continues to inspire people to create incredible video content with blog posts, videos, guides, and more. Hanna's passions include reading, singing, and caring for animals (#proudvegan). Nothing makes her happier than waking up to her two black kitties who, contrary to popular belief, are good luck!
Latest posts by Hanna Abitbul (see all)