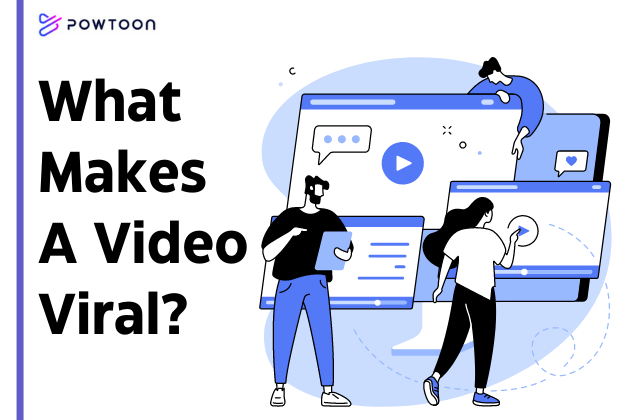 What Makes A Video Viral?
Read Time:
5
minutes
There is no shortage of video content on the internet. Statistics indicate that on YouTube alone, users upload 500 hours of video content every minute.
Video content should play a critical role in your approach to marketing. However, because there's plenty of competition, it's important to identify what makes a video stand out among an increasingly large crowd. You need to ask yourself, "What makes a video viral?"
This overview will help. Factors that may result in a video going viral include:
Making an Emotional Connection With an Audience
There are many reasons video marketing is an effective way to reach an audience and spread the word about your brand. One of the most significant is the fact that, when video content is strong, it has the potential to yield an emotional reaction in a viewer. The combination of images, music, and other such elements results in an emotional reaction much stronger than the one a mere blog post might generate.
That's important to keep in mind if your goal is to create and release a viral video. A viewer is simply more likely to share a video with friends and family if the video inspires strong emotion.
Just remember, the emotions your content triggers should be brand-appropriate. For example, if you're using a video maker to generate video content for a nonprofit, your goal may be to trigger emotions like optimism. On the other hand, if you're trying to let customers know about new snack food, a video that makes your audience laugh might be more effective.
Keeping it Simple
When considering what makes a video viral, it's wise to reflect on past examples. By doing so, you may find that many of the most surprisingly successful viral videos share a common quality: their concepts or messages are clear and easy to grasp.
This is tied to the abundance of content available online. When finding entertaining or informative content only takes a few seconds, it's easy to get distracted. Thus, a video that requires a viewer to focus on it for an extended length of time is unlikely to go viral.
This highlights an important point about generating video content for social media. Experts recommend that social media videos should not be longer than one minute if the goal is for a video to go viral. While there are exceptions, generally, this is a good rule of thumb to adhere to.
Surprising an Audience
What makes a video viral? Often, the answer is "novelty."
In a sea of content, even an otherwise strong video could nevertheless fail to make an impression on viewers if it reminds them of numerous other videos they've already seen.
One of the core principles of content marketing is providing value to your audience. However, it's also becoming increasingly important to surprise your audience in some way.
How you go about doing so can vary depending on your brand, the focus of your video, and other such factors. The following are a few ideas:
Share a surprising but true piece of trivia
Study absurdist humor (the type of humor that many refer to as "random") and incorporate it into your video
Demonstrate an amazing product that an audience member might describe as "mind-blowing"
Use animation to depict a unique situation that you might not be able to depict through live-action footage
Keeping it Relatable
You may need to strike a delicate balance when producing video content whose purpose is to go viral. On the one hand, you want to ensure your video is surprising or novel enough to make a lasting impression and essentially catch a viewer off-guard.
That said, some of the most popular viral videos in history have been those that are also relatable, at least to an extent.
Consider the example of "David After Dentist," the 2009 video depicting a confused child's reaction to (what was likely his first experience with) anesthesia.
The video catches the attention of the viewer because it shows a child in a state we don't tend to see children in often. Namely, a "drugged-out" state. It's easy to understand why the video got noticed.
However, it's likely people kept watching this funny video because many of us can relate to its content in some way. Anyone who remembers being a child and experiencing anesthesia for the first time can relate to what poor David is going through.
In fact, this is an example of a video making an emotional connection with an audience, even if it doesn't seem to be at first. The video makes us laugh while also making us reflect on our own similar life experiences.
Making it Interactive
One of the most effective ways to boost the odds of a video going viral is to give reasons for viewers to directly engage with it. To that end, you might focus on making your video as interactive as possible.
Potential ways to do so include:
Taking advantage of a trending hashtag
Releasing a video as part of a challenge
Asking viewers to recreate the video themselves (such as with the Ice Bucket Challenge)
Including a strong call-to-action
Partnering with Influencers
There are a few shortcuts to making a viral video. Releasing quality content that resonates with viewers is the simplest way to ensure a video casts a wide net.
That said, if your current audience is small, you could help your video gain traction by partnering with influencers on social media and other such platforms. When doing so, just make sure your audience overlaps with that of the influencer with whom you partner.
Getting the Timing Right
It's an unavoidable fact: some degree of luck often plays a role in any piece of content going viral. Sometimes, the right piece of content on the right platform reaches audiences at exactly the right time to gain momentum, and no one can explain precisely why or how.
That doesn't mean nailing the timing for your content to go viral is solely based on luck. Pay attention to trending news stories, pop culture, and other common topics of conversation that might be on the minds of your target customers when developing your content strategy. This may help you create the type of content that others are likely to share.
Avoiding 'Easy Tricks'
Don't assume there's a simple way to ensure content goes viral. Examples of mistakes you might make in an effort to boost the performance of a less-than-stellar video include:
Giving your video a clickbait title that doesn't reflect its actual content
Assuming that loud noises and bright colors always equate with catching an audience's attention
Hiring the wrong influencer or celebrity to appear in or share your content without considering whether you share an audience
Making a quick parody of another piece of famous viral content
Powtoon's Video Maker Helps You Get to Work on Your Viral Video
It can't be emphasized enough: a video is far more likely to go viral if its quality is top-notch. Luckily, you don't need much experience producing video content to release a video that viewers will respond to positively. With video templates and other such resources, Powtoon helps even those with modest video production budgets generate and release strong content. Get started today!
The following two tabs change content below.
Hanna is Powtoon's Content Marketing Strategist. She joined Powtoon as a copywriter in 2019, after graduating from university with a specialized degree in marketing and business. She continues to inspire people to create incredible video content with blog posts, videos, guides, and more. Hanna's passions include reading, singing, and caring for animals (#proudvegan). Nothing makes her happier than waking up to her two black kitties who, contrary to popular belief, are good luck!
Latest posts by Hanna Abitbul (see all)