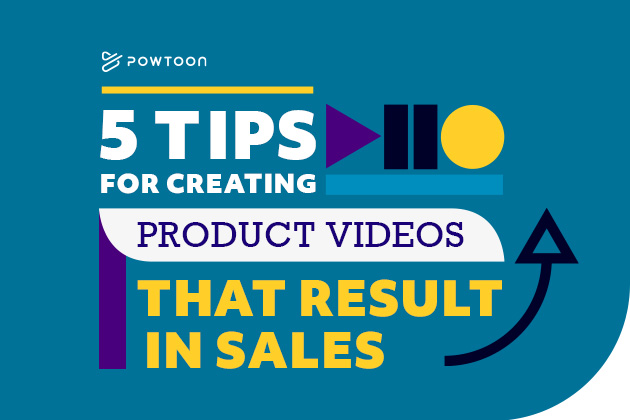 5 Tips for Creating Product Videos That Result in Sales
Read Time:
3
minutes
A strong product does not guarantee sales. To attract customers, you need to develop marketing content that clearly demonstrates why they should be interested in your particular product. One of the most effective ways to achieve this goal is to create a product video.
To a greater degree than any other form of content, video can show off how your product offers value to customers. That's not to say that all product videos are equally effective. To boost the odds of your video yielding sales, keep the following tips in mind:
1. Combine Showing and Telling
Video is a powerful tool because it lets you show how your product works and what it can do. However, you can't assume that everyone who sees your video will fully appreciate or understand what it is you're showing them if you don't also include text or voiceover.
Make a point of both showing and telling customers what your product does and why they need it in their lives when producing a video. This will optimize your chances of connecting with as many viewers as possible.
2. Include a Tutorial
This is a tip that's particularly worth keeping in mind if your product is one that customers may not immediately know how to use without proper instruction. Including a tutorial in your video is a simple way to guard against potential customers worrying that they won't know how to use your product as intended. It also gives you an opportunity to once again show why your product is useful in a more in-depth manner than you otherwise could if you merely included a basic brief demonstration without walking viewers through the steps that using your product may involve.
3. Illustrate the Problem
Illustrating the way your product works is an important element of a strong product video. However, most products are valuable because they solve some kind of a problem for a customer.
Thus, your video can potentially result in more conversions if you remember to also illustrate the problem your product solves. This doesn't mean your product video needs to resemble stereotypical TV infomercials, featuring comically exaggerated depictions of frustrating situations. You simply need to remember that a product video will stand a better chance of communicating a product's value if it addresses both the problem and the solution.
4. Create Multiple Product Videos for Multiple Audiences
You likely already know that any form of marketing content tends to be more effective when you identify your target audience or market first before developing and releasing your content. Just keep in mind that there may be instances when a product can appeal to multiple audiences.
Consider the example of a cookware product. This type of product can appeal to both professional chefs and home chefs. The type of video that resonates with one of those audiences might not have the same impact on the other.
When defining your target audience, consider whether you may be actually selling to more than one audience. If it appears this is the case, you might want to create more than one product video. Keep in mind, surveys indicate that today's consumers are increasingly demanding that marketing content be personalized and tailored to their unique qualities. You have a better chance of making the right impression on viewers if you create unique videos for each audience you're selling to.
5. Focus on Positive Feelings, Not Fear
A common mistake inventors and startups often make when marketing new products involves trying to scare people into buying their products. They might include phrases in their product videos like "Buy now or miss out on an amazing opportunity!", or they may focus too greatly on how a potential customer will simply be worse off in some way if they don't buy what's being sold to them.
This tactic might have worked in the past. However, according to research, consumers learn to identify cheap sales tactics when they become too widespread. There's strong evidence to suggest that today's consumers don't want to be told that not buying a product is a grave error with potentially serious repercussions.
Instead of focusing on the negative, always highlight the positive. Emphasize what your product can do for customers instead of emphasizing how they may pay the price if they decide not to buy your product.
Most importantly, remember that you can always experiment with multiple videos to determine which deliver the strongest results. This may sound prohibitively expensive, but that's no longer the case. Creating strong product videos without spending much time or money on them is easier than ever. Take advantage of this development by creating several product videos and testing them out. Eventually, you'll find out which ones are most likely to result in sales.
Create Product Videos Affordably and Easily
Powtoon's templates and other video resources dramatically simplify the process of creating appealing product videos that don't require much video production experience, nor do they require spending a lot of money. Get started today for free!

The following two tabs change content below.
Hanna is Powtoon's Content Marketing Strategist. She joined Powtoon as a copywriter in 2019, after graduating from university with a specialized degree in marketing and business. She continues to inspire people to create incredible video content with blog posts, videos, guides, and more. Hanna's passions include reading, singing, and caring for animals (#proudvegan). Nothing makes her happier than waking up to her two black kitties who, contrary to popular belief, are good luck!
Latest posts by Hanna Abitbul (see all)