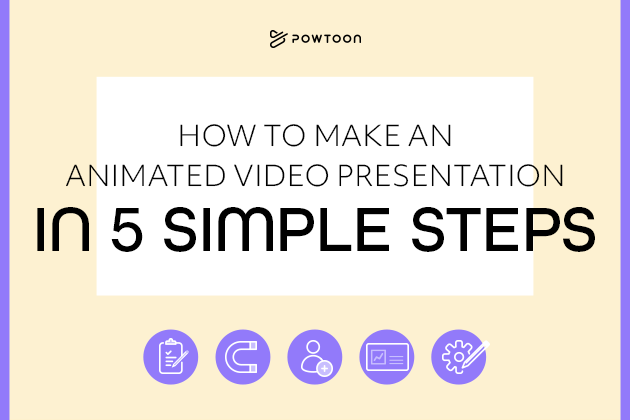 How to Make an Animated Video Presentation in Five Simple Steps
Read Time:
2
minutes
Animated video presentations look impressive. They also look complicated and time-consuming to produce. Fortunately, that's not the case; it's even possible for a novice user to make an engaging and eye-catching professional quality video presentation if they have the right tools. Here's what you need to know to make an animated video presentation in five simple steps.
Five Steps to Create an Animated Video Presentation
1. Create a presentation outline. Before you hop on your computer to make an animated presentation, you need to start low-tech with an old-fashioned outline. Organize your ideas, main points, illustrations, and viewer engagement segments so everything will come together easily when you get to the step of creating your presentation. Your future self will thank you for taking the time for a little low-tech preparation before diving into the digital creation process.
2. Gather existing assets. Don't reinvent the wheel; use assets and materials you already have! Collect images, anecdotes, and logos you'll need to insert in your presentation. Review previous comms, reports, or slide decks for data points, bullets, and text you can repurpose. Gather everything in one place so when you're ready to work on your animated video presentation, you won't have to spend time hunting down materials.
3. Create a free Powtoon account. The process is simple and only takes seconds. If you prefer, you can log in using existing Google, Outlook365, or LinkedIn credentials. Once you create an account, you're ready to make your first video presentation!
4. Choose a template. Click the "create" button on the left sidebar of your dashboard. Next, click "presentation" from the drop-down menu. A variety of templates will appear on your dashboard. You can further filter the selections by choosing your industry from the top buttons. Browse through the recommended templates to find one that best fits your vision for your animated video presentation. Don't worry if it's not perfect. With Powtoon, you can customize everything.
5. Customize your animated video presentation. Go through the template and add the content from your presentation outline. Upload images and assets, insert charts and create custom characters to help animate your anecdotes. After you've added all the necessary pieces, go back and focus on the details that make your animated video presentation shine. Add transitions, adjust animations, change the color scheme, or include your company logo. Use a video template to make your presentation look professional right out of the box, so don't worry if you don't make a ton of changes.
Make An Animated Video Presentation with Powtoon
Don't settle for run-of-the-mill presentations; take them to the next level by producing eye-catching video content instead! Whether you're a novice video editor or seasoned designer, Powtoon's user-friendly interface is loved by video creators of all skill levels. Use a professionally designed template to create an impressive presentation in minutes, make modifications to customize it to your liking, or create a video from scratch. With stock images and videos, a huge library of visual objects to enhance your presentation, and limitless customization options, Powtoon is the animation tool you need for all your presentation needs. Sign up for free!
The following two tabs change content below.
Hanna is Powtoon's Content Marketing Strategist. She joined Powtoon as a copywriter in 2019, after graduating from university with a specialized degree in marketing and business. She continues to inspire people to create incredible video content with blog posts, videos, guides, and more. Hanna's passions include reading, singing, and caring for animals (#proudvegan). Nothing makes her happier than waking up to her two black kitties who, contrary to popular belief, are good luck!
Latest posts by Hanna Abitbul (see all)