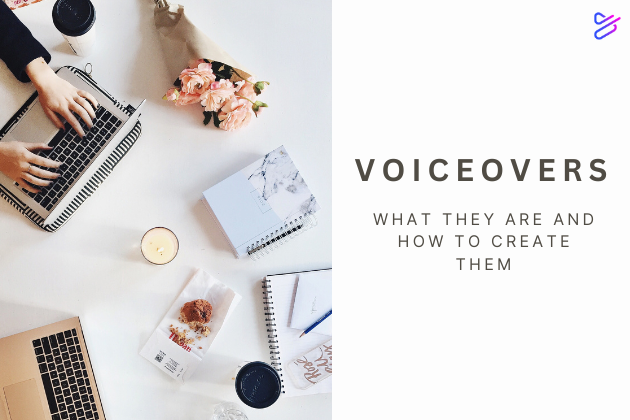 Voiceovers: What They Are and How to Create Them
Read Time:
5
minutes
Video content boosts engagement on social media, in the classroom, and in numerous other contexts. It does so because it's dynamic, capturing an audience's attention in a way other forms of content can't. However, it's important to remember that what your audience hears is as important as what they see when you generate video content.
For example, perhaps you've determined one or more of your videos could be improved upon with the addition of a voiceover. Keep reading if so. The following overview will help you better understand how to do a voiceover on a video, what purpose a strong voiceover can serve, and why you should consider using Powtoon's video maker tool when creating videos and adding audio.
What is a Voiceover?
A voiceover is essentially audio content typically featuring one individual's voice (although a voiceover that involves more than one speaker is not unheard of) that plays over a video. Examples of how a filmmaker might use a voiceover include (but are certainly not limited to) the following:
Giving voice to a character's thoughts
Describing or providing context for the clip on the screen
Reacting to the images on the screen
General narration (which can make your video content more accessible for people who are blind or have impaired vision)
The benefits a voiceover offers can vary depending on the specific way you use this technique. For example, if you create an explainer video but find that audience members still struggle to absorb all the information you wish to present, you might include a voiceover to add more clarification.
That's just one example. Regardless of your specific reason for recording a voiceover, you'll be more likely to take full advantage of this technique if you ensure the sound and overall strength of the recording are high-quality.
Choosing the Right Equipment
Choosing a speaker with a good voice for your purposes is an essential step when planning to add a voiceover to a video. However, even if someone has a truly impressive voice, the narration they deliver may fail to make a proper impact on your audience if you don't use the proper equipment. Just as you would use a powerful video maker tool to generate video content, you should also use the proper tools when recording attention-grabbing audio.
Tips to consider when choosing your equipment include the following:
Opt for a condenser microphone. This type of microphone is relatively sensitive and thus results in a more natural sound. Additionally, look for a microphone with a USB port so that you may easily connect it to your computer.
If you can afford them, buy acoustic panels for your recording space. If this isn't an option, record your own voice in different environments (and at different times of day, as background noise during busy hours can interfere with a recording) to determine which environment is best.
Purchase studio headphones so you can easily monitor audio levels and general audio quality during playback.
Be aware that Powtoon's video maker also offers a range of features designed to help you easily record voiceover content. It's almost as simple as plugging in your microphone, clicking a microphone icon, and starting your recording session. Powtoon also boasts a library of royalty-free, ready-to-use sound effects, music tracks, and similar audio files that may improve your videos.
Preparing for Recording
To prepare when recording a voiceover for a new project, keep these tips in mind:
Write a thorough script and ensure the individual whose voice you will be recording has rehearsed it several times. This gives you an opportunity to provide direction and explore different ways they may speak different lines.
Ensure the person whose voice you will be recording feels well, is hydrated, and has had the chance to rest their voice the day prior to your recording session.
Make sure all equipment is set up, the temperature in the room is comfortable, and you've chosen a space where background noise and/or distractions will be minimal.
Don't expect someone to record a full voiceover all in one go. Plan a recording schedule that includes time for breaks.
Recording Your Voiceover
When recording a voiceover (or any audio track that involves recording someone's voice), these suggestions will help you optimize the quality of the finished product:
Record multiple "takes." For video content, you might shoot multiple takes of a scene, so you have options to work with during the video editing process. The same principle applies when recording audio content.
Don't rush. The speaker should maintain a steady pace while adding breaks for dramatic effect when necessary to ensure their voice is clear in the final recording.
Keep the microphone pointed upwards at a 45-degree angle, no more than 12 inches, and no less than 6 inches from the speaker's mouth.
Listen to the recording through your studio headphones as the speaker talks so you can pick up on any issues you might miss if you were to listen to them merely with your ears.
Editing Your Voiceover
A voiceover isn't necessarily complete once it's been recorded! High-quality videos are the result of proper editing. The same holds true for voiceovers.
Powtoon's video maker allows you to upload your various audio files in the form of separate tracks, simplifying one step in the audio editing process. Keeping your audio tracks separate allows you to edit them individually.
Other audio editing tips to be aware of include:
Listen carefully to your tracks multiple times to begin making a list of errors and other such issues that you may want to correct during editing.
Use audio editing software to remove background noise.
If there are instances when a speaker fumbles their words or you can hear them breathing, coughing, etc., try to cut these out when assembling your audio files together.
Ensure the volume of the audio remains consistent. Changes in volume during a voiceover can distract an audience.
Finalizing Your Voiceover
Once you've finished editing your audio, you may finalize your voiceover by:
Combining all edited tracks into one complete track.
Saving your audio in different file formats. WAV and AIFF are "lossless" formats that ensure optimal quality. If you need to send someone an audio track so they can listen to it and confirm it is free of mistakes before you add it to your video, you may also save the track in MP3 or AAC format. These formats don't allow for the same degree of quality as lossless formats, but they result in a smaller file that's easier to send.
Name the file properly when saving it. Your goal is to ensure you and anyone else using the file will recognize its name.
Use Powtoon's intuitive drag-and-drop video maker to add your audio narration to your own video with just a few clicks.
How to Do Voiceover on a Video: Powtoon Helps
Powtoon offers templates, animation, and various other tools and features designed to ensure even those with minimal experience producing video content can do so with ease. Powtoon's video maker also includes features allowing users to add voiceover content efficiently. Learn more about what Powtoon can do for you by signing up today!
The following two tabs change content below.
Hanna is Powtoon's Content Marketing Strategist. She joined Powtoon as a copywriter in 2019, after graduating from university with a specialized degree in marketing and business. She continues to inspire people to create incredible video content with blog posts, videos, guides, and more. Hanna's passions include reading, singing, and caring for animals (#proudvegan). Nothing makes her happier than waking up to her two black kitties who, contrary to popular belief, are good luck!
Latest posts by Hanna Abitbul (see all)