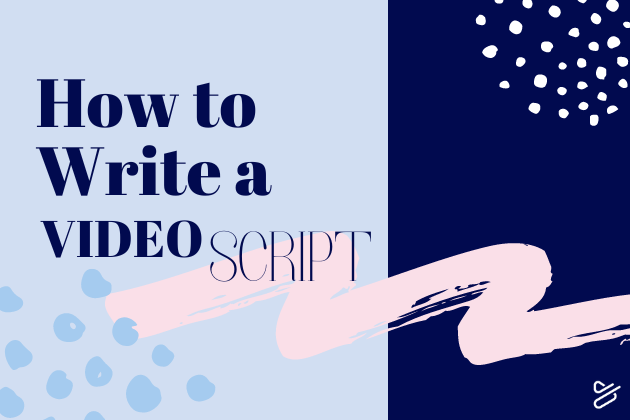 How to Write a Video Script
Read Time:
7
minutes
George Clooney once admitted that it is impossible for him to make a good movie out of a bad script, although the reverse is possible. A movie could have a big budget, a stellar cast, great cinematography, and amazing promotion, but all this would mean nothing if the script is poorly written. This holds true for any form of video production. Video content is only as good as the script it is based upon. You could be using the best video maker and the most stunning templates with a great music track, but the success of your video is very much dependent on the quality of your script.
Simply put, a video script is a blueprint that forms the foundation of your video and decides its direction. Trying to film a video without having a script in place is a sure formula for disaster. The lack of a script could result in you losing control over the process and creating a video with confused messaging. A well-written script plays a vital role in engaging your audience and capturing their attention. With a script, you would have an idea about the exact message that you are trying to convey, the duration of the video, and the visuals that you would like to incorporate into it. 
Videos are dominating the content creation landscape, and rightfully so. Statistically speaking, 88% of marketers have reported a positive ROI from videos. It's no surprise, then, that marketers have taken to social media platforms such as YouTube and Tiktok to promote their brands through videos and short clips. With video marketing strategies gaining prominence, it becomes imperative to pay more attention to the creation of videos with well-written content. But what are the steps that go into writing a good script that captivates the audience?
Here's the ultimate guide to writing a natural and engaging video script in seven simple steps.
Step 1: Create your brief
If writing a video script is the first step towards filming a video, then creating a brief is the first step towards writing your script. This step involves nothing more than the initial brainstorming, but it plays an important role in helping you structure your script writing. Some of the key questions that your brief should answer are:
What is the title of your video?
Who is your target audience?
What are the key messages that your video intends to convey?
What kind of tone/language should your video use?
What should be the duration of your video?
Where will this video be used? (On YouTube or some other platform)
What is the deadline for the video?
These questions serve as a great starting point to plan your video script and to understand the purpose of your video better.
Step 2: Outline the script
Now that you have an idea of what you want your script to look like move on to outlining the script. Remember that whatever you write, no matter bad or good is better than having a blank page. So do not focus so much on making your outline look perfect; just start by putting all the thoughts in your head onto paper. Once you see them on paper, it would be much easier to choose the ideas that go with the topic and weed out the rest. This step ensures that your video is not a result of garbled ideas and has a proper flow.
During this step, take a moment to consider the storytelling style that you would like to employ in your video. A good outline will include the following:
Problem: What is the problem the video is trying to address?
Solution: How to solve the mentioned pain point?
Benefits: What are the benefits of using your solution?
CTA: What is the action that you would like your viewer to take after watching the video?
Once you have all your ideas outlined, think about the order in which you would like to discuss them and how to link them together.
Step 3: Perfect your opening and closing lines
Crafting the intro and outro of your video is as important as the main body of your video. A good introduction will hook your audience and set the tone for the rest of your video, while a good conclusion will be successful in leaving the audience with the right message. Here are some tips to perfect your opening and closing lines.
Intro
The most important tip for writing a good opening line is to start it with a hook. Your hook has to be a statement or a question that arouses curiosity and gives the viewer a preview of what the video is about. Also, think of the accompanying visuals for your intro. If you are creating a video for your business, it would be a good idea to incorporate the logo and brand-aligned language and colors to assure the viewers that it is a trustworthy piece of content. If you are making an animated video, consider what visuals you'll use to open it. 
Outro
As mentioned earlier, your outro has to leave your viewers with the right message. Try to summarise the key points of your video in the outro to offer a quick reminder of what the video set out to convey. Keep in mind that this is where you include your CTA (Call to action). Although included towards the end, CTA is a very important part of your video. Through your CTA, you are telling your audience what exactly they are expected to do. While writing a good CTA can be tricky, it's essential for the success of your video.
Step 4: Write the body of the script
Now it's time for you to start writing the body of your video script. The body of your video script is of utmost importance as it takes up a major chunk of your video. It is no secret that it is the part that the viewer has been waiting for. From keeping it simple to including your brand personality, there are a few things you have to keep in mind while writing your video script. Let's take a look.
Keep it simple and conversational: This is the time for you to convey the central message of this video. Try to keep it as concise and clear as possible so as not to confuse the viewer. The goal of your video is to sound as natural and unscripted as possible. For this, write the way you talk and keep the tone conversational. 
Fun and flowing: If appropriate to your topic, sprinkling some humor into your video script will keep the viewer engaged and add a lighthearted tone to your video. However, keep in mind not to go overboard with the jokes. Another important thing to remember is that your script has to flow effectively. Ensure that there is continuity between the key points that are being discussed.
Support your claims with evidence: Try to back up any of your statements with evidence that will support your claims. This will ensure that the viewer knows that the content of your video is trustworthy.
Be authentic: If your video forms a part of the content for your business, try to stick to your brand personality. Research shows that 55.7% of consumers would unfollow a brand depending on the way they speak online. Thus, it is always a good idea to be authentic and consistent with your brand's tone of voice.
Step 5: Revise and edit
What do you do after you finish writing a piece of content? You proofread and edit it. The same holds true for a video script. Once you have written down the content for your script, it is time to go through it and edit it wherever necessary. It is always recommended to do two to three rounds of editing to ensure that your video script is perfect.
During the editing process, cut down any unnecessary words and try to shorten the duration of the video as much as possible. Expecting people to watch and engage with super-long videos is an impossible feat considering that the average attention span of a human is 8.25 seconds. If you feel bad about cutting down a particular part of the script because it is great content, always remember that you can repurpose it for another video or a blog post in the future. You can also use this time to check the flow of the video script and if it transitions smoothly.
Step 6: It's time for a verbal run-through
Having completed the editing, you can move on to the next step, which involves reading your script out loud. By doing this, you can see if your video script sounds as good as it did on paper. This also allows you to check your language and tone and to see if it sounds forced or robotic. Try rephrasing the sentences that sound out of place and ruin the flow of your script.
You can also read your script out loud to your friends or family to get external feedback and to make necessary changes.
Step 7: Prepare for production
We have come to the final step of writing a video script. The script has been written, and it's time for production. Now is the time to start thinking about how you will be supporting your written copy with visual and audio cues. 
During this step, think about the other aspects of your video, like the animations you will use, the audio tracks (if any), the camera angles, and how you will incorporate the B-roll footage into the main narrative. Including this step in the scriptwriting process will aid with the filming process by providing a sense of direction to the director or videographer.
It is helpful to remember that you do not always have to follow these steps to write a video script. If there is a video script that has been successful in the past, you can create a template out of it and keep it for future use!
Turn your ideas into beautiful videos with Powtoon
Once you have written your video script and are ready to create a video, it is only natural to feel a little drained. This is when a video maker could come to use. With a video maker, you gain access to free templates, video editing tools, and much more that can take your video to the next level.
Be it any form of video content (it could be for social media such as YouTube videos to Instagram stories or a simple animated clip that relays the core message of your business to the audience), you can find a template for any of your ideas on Powtoon, a free online video maker.
From attention-grabbing animation to ready-to-use templates, with Powtoon, you are just a few clicks away from creating high-quality videos. Create your free account today and get ready to upload stunning videos.
The following two tabs change content below.
Hanna is Powtoon's Content Marketing Strategist. She joined Powtoon as a copywriter in 2019, after graduating from university with a specialized degree in marketing and business. She continues to inspire people to create incredible video content with blog posts, videos, guides, and more. Hanna's passions include reading, singing, and caring for animals (#proudvegan). Nothing makes her happier than waking up to her two black kitties who, contrary to popular belief, are good luck!
Latest posts by Hanna Abitbul (see all)