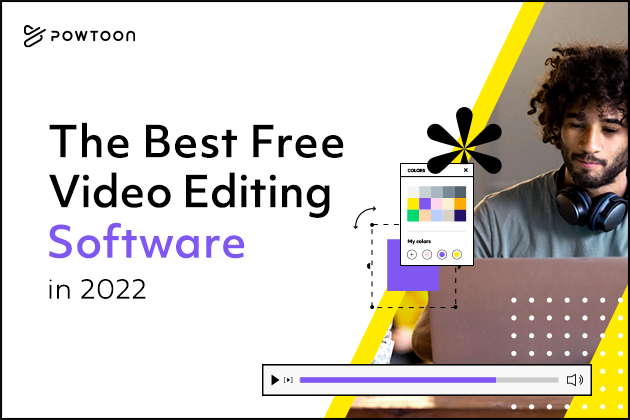 The Best Free Video Editing Software in 2022
Read Time:
5
minutes
Video editing is fundamental in creating the most captivating and exciting video to engage your audience. If you're using your video to leave a first and lasting impression, every aspect of your video needs to be perfect, from choosing the right sound and design, to making sure your video has the right flow with its framing and timing. Since video editing is so important, you are going to want to make sure the video editing software you use provides you the best of everything, and even better when you can do it all for FREE!
There are endless amounts of video editing software, which can seem very overwhelming. In this article, we will break down and explore some of the best video editing software options to help you achieve your goal of creating the best video you possibly can.
Who can use video editing software?
Anyone has the ability to edit and produce a top notch quality video – it is not limited to the professionals. It can be a fun and creative experience, part of which is through selecting the right video editing software for your project. Whether you are a one-time editor or a video editing guru, video editing is easy if you select the right software.
What to look out for in video editing software
There are many elements to video editing, and in order to choose the best software for creating your masterpiece, you need to know what to look for. All great things in life are free, so why not find a software that provides you with all the editing features you need at no cost at all! And what follows free things is comfort, and ease of use. You want to make sure that there are guides as to how to use the software and the capability to become proficient with the software with minimal energy exerted.
The main things you are going to be looking out for are the formatting options, editing tools, and special features provided by the software. You want to make sure the software supports the quality of your images and videos, and provides you the templates you desire, with the ability to add audio effects and graphics to really make your video stand out. 
So what are the best free video editing softwares?
These video editing softwares will help you make the most exciting and captivating videos you can, and best of all, they are all free!
Powtoon
When it comes to video editing, Powtoon has you covered! With Powtoon, you have the power to take your simple video idea and explore the endless possibilities to transform your idea into video excellence. Choosing the right design style is a key step in the video editing process as it sets the scene and tone of your video. With Powtoon, you have access to limitless design styles including cartoon, whiteboard, infographic, modern edge, and more! Choose from a wide range of stock images, as well as uploading any footage you would like to feature in the video, pumping soundtracks and crazy animation, and bring your vision to life.
You are in full control of the editing process with Powtoon, with the option to adjust your timeline as you see fit, giving you the editorial freedom to decide when your animation pops and for how long. And after all that work, why keep your masterpiece to yourself? With Powtoon, there are boundless sharing possibilities for you to spread your video far and wide through social media and any additional platform you can think of.
The beauty of Powtoon is that it's made for all users, both beginners and professionals. Whilst there might be a slight learning curve with the platform, Powtoon doesn't just leave you hanging. Through the wide array of tutorial videos and 24/7 customer support, Powtoon has never been simpler to use.

iMovie
iMovie is user friendly, and for those who own Apple products, the software is built right into the product, so that makes it a simple, easy and accessible video editing software option. There are many of the basic filter features, with a pre-made library filled with inspiration, and the ability to share your creation to any platform.
iMovie, however, has limited features if you are an advanced video editor but are looking to use a free video editing software. And regardless of whether you are a beginner or professional, iMovie is only supported by Apple, inconveniencing those who don't own Apple products. There is also a lack of customer support and guides as to how the software works.
Blender
Your creation is Blender's priority, and you can use it to create anything you can imagine. Blender's video editing software is great for basic video editing, and includes most of the necessary elements required in editing your video. Special features include speed control and adjustment settings, with space for up to 32 slots to insert your images and videos.
The Blender interface, however, is very complex, with many elements that are not useful to users. They also lack in basic tutorials on how to navigate their software, and the ones they do have focus mainly on their 3D animation. This creates a huge learning curve, especially for beginner editors.
DaVinci Resolve
DaVinci Resolve is a great video editing software for more advanced video editors. However, this leaves out those who are wanting to start out in video editing, or are only making a one-off video. There are great 2D and 3D animation options available, and great color correction.
The interface boasts many advanced features, which can be very intimidating for a beginner, and also requires a lot of system resources to use the interface. There is also no direct export to social media from their software, which is inconvenient for many users looking to share their video creation.
Lightworks
Lightworks is an advanced video editing software. One of the great things about Lightworks is its live forum, so users can stay up to date with changes and post questions, queries, and tips. In the free package, all of Lightworks' basic features are usable, giving you the power to create a great video.
However, after all the hard work editing your video, Lightworks free editing version does not allow for full export support, and limits your export possibilities, so why spend all that time editing if you can't spread your creation?
Shotcut
If you are looking to create and edit a short project, Shotcut allows users access to many basic video editing features, making it a smooth process for beginners to edit. This video editing software supports a wide range of formats, with many tutorials and great file format support.
A downside to Shotcut, however, is its unconventional interface which could be off-putting to users. Further, for those looking to make a larger and more advanced video, Shotcut does not provide all the features required to do so.
Take your video editing skills to the next level with Powtoon
Transform your vision into a video sensation, and start editing your video today with Powtoon's #1 video editing software!

The following two tabs change content below.
Sydney Bennett
Sydney is a Content Marketing Intern at Powtoon. She is a self-proclaimed foodie who loves to try new restaurants with friends, especially if they have sushi. Her ideal day would be spending time at the beach or cheering on the dawgs at a University of Georgia football game. Sydney is passionate about all things social media and content, and loves working on and watching Tik Toks.
Latest posts by Sydney Bennett (see all)