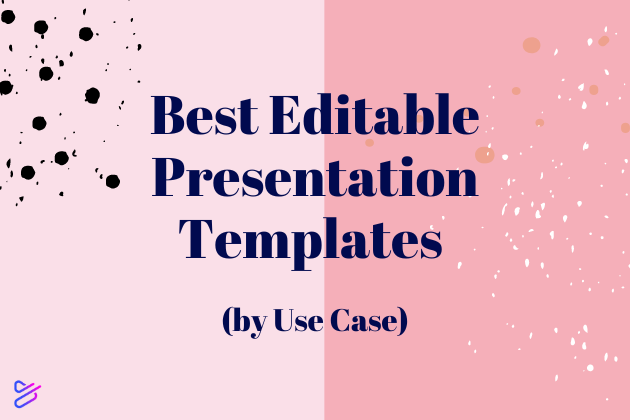 Best Editable Presentation Templates (by Use Case)
Read Time:
4
minutes
If you're like many people, public speaking isn't exactly your favorite activity. Thus, you might strongly dislike the experience of giving presentations for work, school, etc.
This may be at least partially due to the fact that you find it difficult to capture and keep the attention of an audience during a presentation.
Luckily, keeping an audience engaged when delivering a presentation doesn't need to be as challenging as you might assume. Powtoon's presentation maker allows you to add animations and other dynamic graphics to your presentations. This can transform what might otherwise be another generic PowerPoint presentation into an animated presentation that will genuinely impress audience members. It was created with non-designers in mind, so you don't need prior experience creating visually-stunning presentations to take advantage of the many benefits it has to offer.
Powtoon's tool further simplifies the process of creating an engaging presentation by offering a wide range of presentation templates. Whether planning a business presentation, school presentation, or any other type of video presentation, Powtoon has the best presentation template for your needs.
The following are just a few examples of the easy-to-edit templates this presentation maker offers:
Meet Kate
This professional-looking template is among the best presentation templates to use when attempting to explain the value of your products and services to potential clients. It allows you to introduce Kate, a theoretical client facing a problem, then explain in easy-to-understand terms how your business can solve Kate's problem.
Pitch Deck Video Template
The importance of a strong pitch deck when presenting your business to investors can't be overstated. Research indicates that an impressive pitch deck can play a critical role in convincing VCs to fund a business idea.
Thus, you don't want your own presentation to investors to consist of a forgettable PowerPoint. Instead, strongly consider how a beautiful presentation featuring animated content, brand colors, strong fonts, and other such visuals can help you stun those who may hold the key to funding your business' growth. Powtoon's presentation maker offers a presentation template to assist you in achieving this critical goal.
Company Introduction
This is among the best presentation templates available through Powtoon's all-in-one presentation maker because it's versatile. You can use this presentation template to, for example, create a piece of social media content that introduces your business to new customers.
However, you can also customize it to introduce your company and its goals to new employees. This can ensure that all new team members have a consistent onboarding experience that fuels employee engagement from the start. This can, in turn, make the experience of giving an onboarding presentation much less stressful for the team members who handle this task.
Available Positions
Attracting the right talent is key to thriving in any industry. Even if you're a hard worker, your business can't succeed if your employees aren't equally talented and driven.
That's why you should experiment with somewhat innovative methods when advertising open positions at your company. This presentation video template will ensure your business stands out in the crowd when ambitious job-seekers look for new opportunities.
While this might seem more like the type of template that you might use to create content for an online jobs board, it can also serve as a presentation template. For instance, perhaps your business sends representatives to job fairs and networking events to generate interest among potential employees. This template could help your team create a presentation that impresses those in attendance.
Project Goals
A presentation in which you establish your team's goals when starting a new project may be among the most critical presentations you need to give in your job. Ensuring everyone thoroughly understands their goals and how success will be measured is key to staying on track. Research even indicates that employees tend to be more engaged when they fully understand the purpose of their work and what they are striving to achieve.
This presentation template allows you to transform a basic infographic into a compelling video-based slideshow that helps visualize your team's goals. Use it to fire up your employees while also providing data-driven insights during the initial stages of a new project.
(Tip: When designing presentations for your employees, use a color scheme that's consistent with your brand. This will strengthen internal brand engagement.)
Ethics and Compliance Training
Few employees look forward to attending ethics and compliance training sessions. It may therefore come as no surprise to learn that those whose job it is to present essential info during these training sessions don't typically savor the experience either.
This is another reason to use a presentation template with built-in animation features and other such elements instead of starting with a PowerPoint template when getting ready for a future presentation. With this engaging template, minimalist imagery helps you clearly state your key points in a way that could resonate more effectively with your audience.
Be aware these are just a few presentation and slide templates Powtoon offers. The best presentation template for you will depend on your specific goals. Luckily, Powtoon offers many more editable templates than those listed here. Odds are good more than one of them will perfectly suit your needs.
Get Started With Powtoon's Presentation Maker
Creating engaging presentations has never been easier, thanks to customizable templates from Powtoon. To learn more about what this tool can do for you, sign up today!
The following two tabs change content below.
Powtoon's Social Media/Online Marketing Manager extraordinaire who loves to provide the Powtoon Community with amazing, fun, engaging, and informative content!
Latest posts by Jordana Pepper (see all)