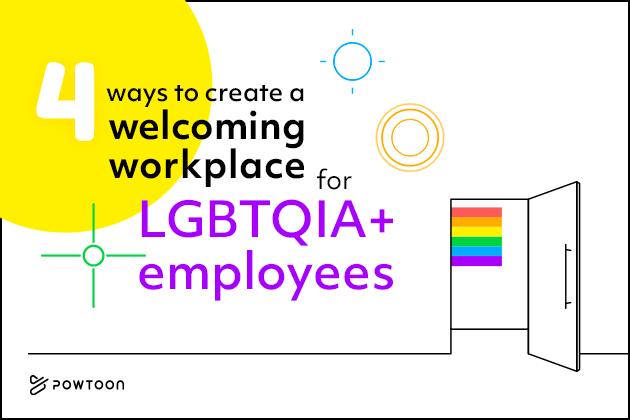 4 Ways to Create a Welcoming Workplace for LGBTQIA+ Employees
Read Time:
4
minutes
The month of June is great for tons of reasons. The days are long, school is out, and the weather is warm. But the best one? Pride is celebrated all over the world in the month of June. Pride honors the Stonewall Riots of 1969 that began the fight for the rights of the LGBTQIA+ community. Today, we celebrate how far LGBTQIA+ rights have progressed and how much the community has achieved with festivities from parades, to fairs, and even educational events. 
As important as it is for companies to celebrate their diverse employees this month, it's also imperative that they are advocating for their community beyond June. In order to create a welcoming and inclusive environment in the workplace, it's the responsibility of company leadership to recognize the struggles of the LGBTQIA+ community and make certain their employees never have to experience them again. So how can you promote education and awareness to create a fully inclusive company culture? Here are 4 ways to implement positive change in your workplace.
1. Promoting Allyship
While many people celebrate pride, they don't always know the history behind the holiday and the struggle of the LGBTQIA+ community. We must understand the past to be able to know how to progress in the future. The best way to do this is with engaging events that encourage allyship and understanding.
Your company can hold these events not only during pride month but throughout the year. Educate your staff on what is an ally, why allies are necessary, how to handle mistakes, how to give appropriate apologies, and more. An explainer video simulating positive interactions is a great way to visually engage your workforce.
2. Donation Efforts
A meaningful way to celebrate Pride Month this year is by donating to one of the many LGBTQIA+ charities. Thankfully, organizations and nonprofits are working to counter issues facing the queer and trans communities — from mental health and homelessness among LGBTQIA+ youth to discrimination against gay, lesbian and bisexual parents. Donating to these organizations is a tangible way to support the community and drives direct impact. Here are a few that we recommend:
The Trevor Project: LGBTQIA+ young people are much likelier than their straight and cisgender peers to experience depression and thoughts of suicide — especially if they are bullied by their peers or rejected by their families for their identities. The Trevor Project, founded in 1998, addresses this health disparity with a number of crisis interventions and community resources.
Human Rights Campaign: The HRC Foundation is one of the best-known LGBTQIA+ charities in the U.S. and around the world. With over three million supporters, its comprehensive approach to health, wellness, and inclusivity helps LGBTQIA+ individuals and populations worldwide. The HRC is responsible for implementing several programs that address the persistent forms of stigma, intolerance, and inequality that affect LGBTQIA+ communities.
The Family Equality Council: This nonprofit provides valuable resources for LGBTQIA+ parents and those who want to become parents. Their projects include providing information on family building, no matter your sexual orientation or gender identity. The organization also tracks and advocates for legislation that protects LGBTQIA+ parents from discrimination.
You can help make a difference in addressing inequality, improving health and safety, giving access to resources, and building a more accepting world one step at a time. Using a video is a great way to highlight organizations, their stories, and how you can donate throughout the year.
3. Community Story Highlights
According stonewall.org, more than a third of LGBTQ+ staff (35%) have hidden that they are part of the LGBTQIA+ community at work for fear of discrimination. It is important for all LGBTQIA+ employees to have zero doubts that they are equal to their colleagues, and in fact, are celebrated for being who they are. It is also important to recognize the hardships and triumphs of your LGBTQIA+ colleagues. The members of this community should know that they are seen and heard.
Your company can highlight its own LGBTQIA+ community by presenting consenting employee stories, struggles, proud moments, and accomplishments. The best way to tell these stories is through a video presentation with photos that visually take you through that employee's experience. Take it a step further by sharing them on social media for the whole world to learn from!
4. Diversity & Inclusion Training
Diversity training is an important step in achieving an environment of complete acceptance. Training helps employees become more aware of unconscious bias and other barriers to diversity and inclusion, and motivates positive behaviors and attitudes – essential for creating and maintaining a respectful, inclusive workplace. It's the L&D department's job to educate staff on these issues to help make positive behavioural change in the workplace culture. It is important to learn about where your company might be lacking, whether that's not providing adequate healthcare or lacking safe bathrooms, and be sure to make changes to address those shortcomings. A video can help you present these tough-to-discuss topics to encourage change and educate all members of the office.
Advocate for Your Employees Year-Round with Powtoon
While it is important to celebrate pride month in June, our history is still in the making – and it has its eyes on us. The ever-evolving progress towards reform supporting the LGBTQIA+ community should be championed year-round in the workplace to create safe spaces that welcome everyone with open arms. From training videos to educational resources, Powtoon can help you create engaging visual content to keep the conversation going after June. You can sign up for free to get started!