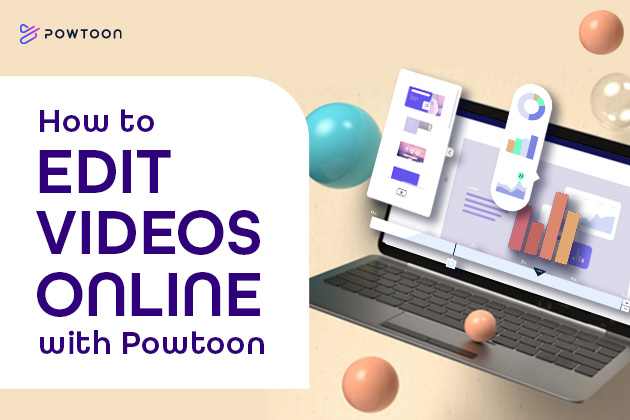 How to Edit Videos Online with Powtoon's Visual Communication Platform
Read Time:
2
minutes
Videos add value to every type of communication, but creating high-quality visual pieces is challenging if you don't have the right technical skills or editing tools. Thankfully, Powtoon's visual communication platform is a tool designed for users of every skill level. Here's how to edit videos online using the Powtoon Studio.
How to Edit Videos Online in Five Easy Steps
1. Log in.
You need an account to access Powtoon's video maker and other tools. If you don't have an account, you can sign up here for free.
2. Select the type of video you want to create.
Choose from thousands of professionally designed templates or make your own videos from scratch. If you're creating a video for a designated purpose, you can filter templates by categories such as Marketing, Corporate & Internal Comms, Employee Engagement, Education, and more. If you choose to start with a blank slate, you'll select the orientation of your video (square, landscape, or portrait) before you begin the editing process. If you choose to start with a template, the orientation will default to the template's ideal dimensions. If your preferred dimensions differ from the template, change them before you begin editing to avoid frustrating adjustments later. Change the orientation through a drop-down selection directly above the video editor in Powtoon Studio.
3. Upload your video.
Select the "videos" option from the toolbar on the right-hand side of Powtoon Studio. When the video menu appears, select "upload video" and choose your file source. You can upload a video from your computer, record one directly from your device, or import videos from Facebook, Instagram, Dropbox, Google Drive, or Google Photos.
4. Insert and edit your video.
Drag and drop your video into your blank slide or template. Resize or move your video as desired and use the timeline at the bottom to drag it to the proper place in your presentation. To trim your video, drag the left or right edge of your video on the bottom timeline to cut out portions of the beginning or end. Then, click on the "Settings" wheel in the top left corner of your video to access more advanced editing features including:
Flip your

video

to a mirror image
Mute the native sound in your imported

video

Adjust the opacity of your

video

Select artistic enter or exit effects
Animate a change in the size or location of your

video

Insert a web link into your

video
Once you've perfected your video, click the padlock icon in the upper left corner to prevent any accidental edits.
5. Customize your video.
Add the finishing touches to make the video uniquely yours! Insert text, logos, music, voiceovers, characters, or other elements to grab your audience's attention and reinforce your message. Then – voila! – your video is complete.
Make Your Own Videos with Powtoon's Online Video Maker
If you're not sure how to edit videos online, Powtoon makes it easy! The visual communication platform is user-friendly for the novice, with advanced features to satisfy the most serious of creators. Use a vast library of templates, stock videos, characters, and objects, or use internal assets. Ready to get started? Sign up for free!

The following two tabs change content below.
Hanna is Powtoon's Content Marketing Strategist. She joined Powtoon as a copywriter in 2019, after graduating from university with a specialized degree in marketing and business. She continues to inspire people to create incredible video content with blog posts, videos, guides, and more. Hanna's passions include reading, singing, and caring for animals (#proudvegan). Nothing makes her happier than waking up to her two black kitties who, contrary to popular belief, are good luck!
Latest posts by Hanna Abitbul (see all)