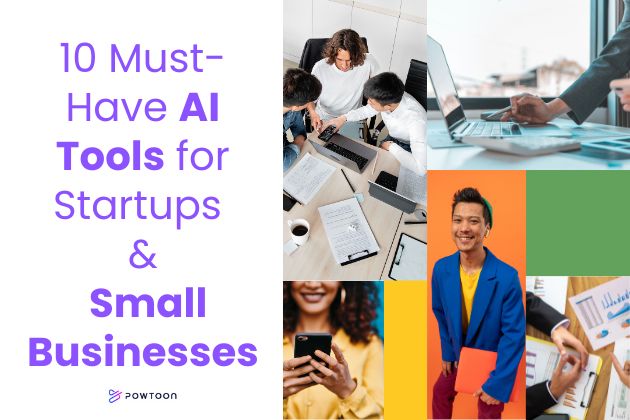 10 Must-Have AI Tools for Startups & Small Businesses
Read Time:
4
minutes
If you run a small business, the odds are good you don't have a large workforce. That means you don't always have the option of delegating key tasks to other employees. 
This can prevent you from growing your business as efficiently as possible. If you have to handle a wide range of tasks as the owner of your business, your ability to achieve fast growth may be limited.
That doesn't need to be the case! Smart small business owners know that automating certain tasks can allow them to devote their energies to more important priorities.
Various AI tools can significantly boost your productivity. The following are a few noteworthy examples a small business owner like yourself should be aware of.
ChatGPT
ChatGPT recently made news for setting a record as the fastest-growing consumer app in history. It may be easy to understand why.
ChatGPT is far from perfect, and users should always double-check any information or content it provides. That said, the following are just a few ways a small business owner could potentially use this innovative tool:
Generating marketing copy
Easily finding the answers to relevant questions
Planning social media calendars
General brainstorming
Explaining complex topics in simple language, which may be important if the nature of your products and services is somewhat complicated
DALL·E 2
DALL·E 2 comes from the same company that created ChatGPT. It allows users to generate AI art, which could streamline the process of generating certain pieces of marketing content.
Anyword
Anyword is an AI tool that generates ad copy and similar written material for users. Small business owners could experiment with this tool to develop marketing content far more efficiently than they could on their own. 
Any word doesn't merely generate content. It can also rank and score content using algorithms that predict its performance. This feature could theoretically help business owners optimize the strengths of their marketing content.
Jasper
Jasper is another AI tool through which a user can generate blogs, social media posts, website copy, and more. Along with generating written content, this AI tool can also generate AI images. It may thus help small businesses develop image-centric marketing content if they lack the funds necessary to hire an artist.
6sense Revenue AI
AI tools are helpful for many reasons. One is the fact that AI can analyze data virtually nonstop. This allows it to potentially identify trends that others might miss or overlook.
6sense Revenue AI specifically assists small business owners by curating datasets for revenue teams. Its purpose is to help business owners identify online users who are most likely to become paying customers. Using it could allow businesses to feel more confident they are focusing on the leads who are genuinely worth their time and energy.
Iterable
Surveys and studies consistently indicate that today's consumers are eager for personalization. Of course, as a business with limited means, personalizing your marketing could be a demanding task.
Iterable may change that. Like other AI tools, it relies on extensive data analysis, helping business owners provide customers with individualized messages. This can result in forging a deeper connection between a customer and a brand.
Iterable also assists users in harmonizing various communication channels. With Iterable, business owners can reach out to customers through email, SMS, and more.
Apollo.io
Apollo.io is yet another AI tool that leverages efficient data analysis to help users identify the strongest possible leads. Users have praised the tool for helping them save five to 10 hours a week (and sometimes more) on prospecting tasks. They also state that it generally simplifies the overall sales process. Consider experimenting with it if you find you devote a significant amount of time each week to identifying and nurturing leads.
Descript
Like many AI tools, Descript technically offers a range of features, including video and audio editing capabilities. The feature that may be most appealing to small businesses is the transcription feature.
There are several reasons you may need to transcribe audio. For example, perhaps you regularly meet with your employees or other business partners to discuss key topics. Maybe you record these discussions to transcribe them later.
Transcribing the audio yourself could be very time-consuming. Hiring someone to transcribe it for you can be costly. With Descript, you can use AI to transcribe audio, automating yet another major task.
Lavender
Email remains a very popular and effective marketing channel for small businesses across a range of industries. You may appreciate and understand this. Nevertheless, you might also feel you don't want to waste your time on email marketing when there's no guarantee your emails will yield engagement or replies.
Lavender is an AI tool that may be ideal for someone like you. It uses AI to identify any issues with an email that could minimize a sender's chances of getting a reply before they send it. Lavender also uses AI to help users offer more personalization in their emails, and can even craft the beginning of emails for users. As such, this AI tool may substantially improve the return on investment of your email marketing campaigns.
AutoPod
Video content can play a critical role in your marketing strategy. So can podcasts. Both videos and podcasts give you an opportunity to provide your customers with truly valuable content.
However, both videos and podcasts require editing. This may take a lot of time. AutoPod helps by using AI to simplify the video and podcast editing processes. Consider using it to improve your content marketing efforts.
AI Tools Make Running a Small Business Easier
Naturally, you may not have used for all the AI tools on this list. However, the odds are good that at least a few of them have the potential to save you a lot of time and money in the long run. Experiment with the options that interest you to learn more about how they can help.
Create Impressive Video Content With Powtoon
AI may help you edit video content, but you still have to produce it first. That's where Powtoon comes in. Thanks to templates and other such resources, Powtoon makes producing pro-quality video content a breeze, even if you have a small video marketing budget and next to no video production experience. Sign up today to learn more!

The following two tabs change content below.
Hanna is Powtoon's Content Marketing Strategist. She joined Powtoon as a copywriter in 2019, after graduating from university with a specialized degree in marketing and business. She continues to inspire people to create incredible video content with blog posts, videos, guides, and more. Hanna's passions include reading, singing, and caring for animals (#proudvegan). Nothing makes her happier than waking up to her two black kitties who, contrary to popular belief, are good luck!
Latest posts by Hanna Abitbul (see all)