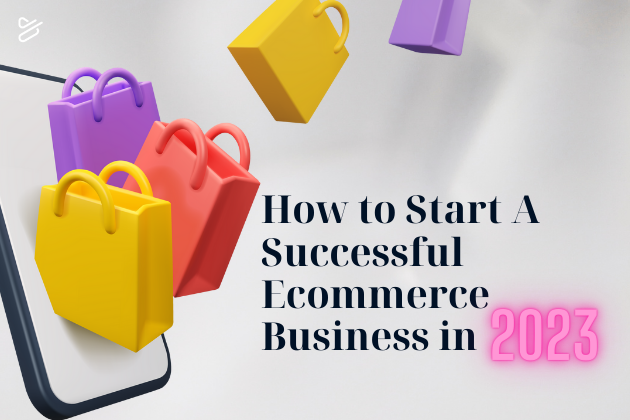 How to Start A Successful Ecommerce Business in 2023
Read Time:
4
minutes
Statistics indicate that online shopping continues to grow in popularity across the world. That means you're certainly not too late if you're considering starting an ecommerce business of your own! Some might argue there's never been a better time to start such a venture.
That said, having the desire to start an ecommerce business isn't the same as knowing how to start an ecommerce business. If you're not sure how to position your business for success in 2023, the following guide will help.
Want to know how to start an ecommerce business that succeeds? Keep these tips in mind:
Determine What Products You're Going to Sell
This is a critical first step. Whether you're selling items you've created yourself or selling someone else's products, you need to identify a niche that appeals to you (and to your potential customers) strongly enough to help you stay motivated during the early stages of growth.
Tips for choosing what types of products to sell when starting an ecommerce business include the following:
Determine if there are any high-quality products you can make that would offer value to your customers
Explore various niches instead of selling general items, as there may be less competition if you target a very specific set of customers
Consider starting by identifying your target audience first, then work backward, determining what their needs are and what types of products you can offer to fulfill said needs
Consider your budget, particularly if you're planning on selling items that you will source from others
Consider Your Platform
You have an important decision to make relatively early on as you learn how to start an ecommerce business. You could host your business on an existing platform, like Shopify, or you could create your own website through which to sell your items.
The advantages of working through an existing platform are obvious. This method allows you to simplify many of the steps involved in getting your business up and running. However, starting your own site could give you more freedom to set your own policies, cultivate your own unique brand, etc.
Explore your options by learning how to start an ecommerce business both ways. Once you've done some research, you'll better understand which option may best help you achieve your goals.
Optimize Your Ecommerce Business for Mobile
Just as statistics show that ecommerce in general, continues to remain popular, data also indicate that mobile browsing and mobile online shopping are growing more and more common. In fact, mobile browsing first overtook desktop browsing several years ago.
You need to ensure that customers can navigate and order from your ecommerce business just as easily from a phone or tablet as they could from a computer. If you choose to start your business on an existing platform, said platform might optimize your site for mobile automatically.
If you choose to create your own website, be sure to create a mobile-friendly version. Test both versions thoroughly to confirm they work reliably across all major devices customers may use.
Establish a Brand
Your brand is your ecommerce business' unique identity. It's one of the features that distinguishes your business from the competition. Steps to take when establishing your brand include:
Determining the values and overall lifestyle, that you want your brand to represent
Choosing a name that represents your brand and potentially gives customers a sense of what you offer
Choosing a color scheme and up to three fonts that you will use in branded content
Creating a logo
Determining the "tone" of your brand's voice that you will use through all marketing content
Set Up Behind-the-Scenes Systems
Your customer-facing processes aren't the only elements of your business you may need to optimize when starting an ecommerce shop. You also need to address certain practical behind-the-scenes matters as:
Organizing your bookkeeping so you consistently stay on top of tracking expenses and revenue
Setting up processes to ensure reliable shipping and customer service
Optimizing security
Setting up systems that allow you to accept multiple payment options
Establishing a way to track and analyze customer data to help you make informed decisions
Generate Valuable Content for Marketing Purposes
You need to market your brand somewhat aggressively when starting a new ecommerce business in 2023. In a crowded marketplace, you may need to be a little loud to ensure people know your business exists.
However, you must also account for the fact that surveys indicate customers hate overt advertising. That means you have to find a way to promote your business without giving customers the wrong impression.
One tried and true way to achieve this goal is to generate content your customers would find valuable. For example, maybe you're selling a line of cooking tools. Your target audience would likely engage with content teaching them cooking tips.
It's also wise to generate the dynamic type of content that has been shown to yield high levels of engagement among today's consumers. For example, video content boosts engagement and tends to be shared on social media more often than other types of content. Keep this in mind when working on your marketing plan.
How to Start an Ecommerce Business That Thrives: Constantly Learn
This is perhaps the most important piece of advice on this list. When running any type of business, from a small e-commerce operation to a major global enterprise, monitoring your progress and learning lessons from your victories and mistakes is essential. By applying these tips and consistently refining your strategy, your chances of succeeding as an ecommerce business owner will only increase.
Use Powtoon to Generate Video Content for Your Ecommerce Business
Even if you understand that video content can improve your marketing campaigns, you might be reluctant to even consider prioritizing it simply because you lack video production experience. You may also feel you don't have the budget to create marketing videos.
Powtoon was designed specifically for people like you. It simplifies the video production process, allowing beginners to create video content easily and affordably. Sign up today to learn more!

The following two tabs change content below.
Hanna is Powtoon's Content Marketing Strategist. She joined Powtoon as a copywriter in 2019, after graduating from university with a specialized degree in marketing and business. She continues to inspire people to create incredible video content with blog posts, videos, guides, and more. Hanna's passions include reading, singing, and caring for animals (#proudvegan). Nothing makes her happier than waking up to her two black kitties who, contrary to popular belief, are good luck!
Latest posts by Hanna Abitbul (see all)