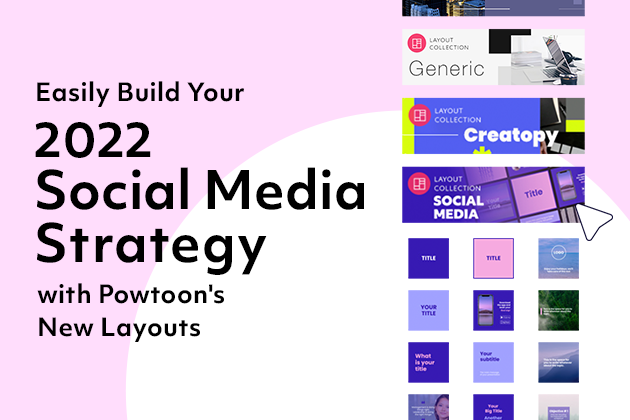 Easily Build Your 2022 Social Media Strategy with Powtoon's New Layouts
Read Time:
5
minutes
Are you ready to rise above the endless noise on social media and create attention-grabbing content in minutes? Hold your breath, because acing your social media strategy in 2022 has just become easier than ever before. Powtoon is excited to finally announce the release of our brand new social media layouts.
Starting in the Powtoon Studio, you can now explore our social media layouts – found under scenes – with over 60 pre-made designs for you to choose from and customize to your own brand, style, and message. Level up your social media with video marketing made easy using Powtoon templates.

But it doesn't stop there! Our social media templates offer even more variety. Instant access to our stunning social media marketing templates help to turn your most important messages into sizzling hot marketing videos.
So, let's dive in and have a look at how you can easily build your social media strategy this year around fun, professional, animated videos with Powtoon by your side.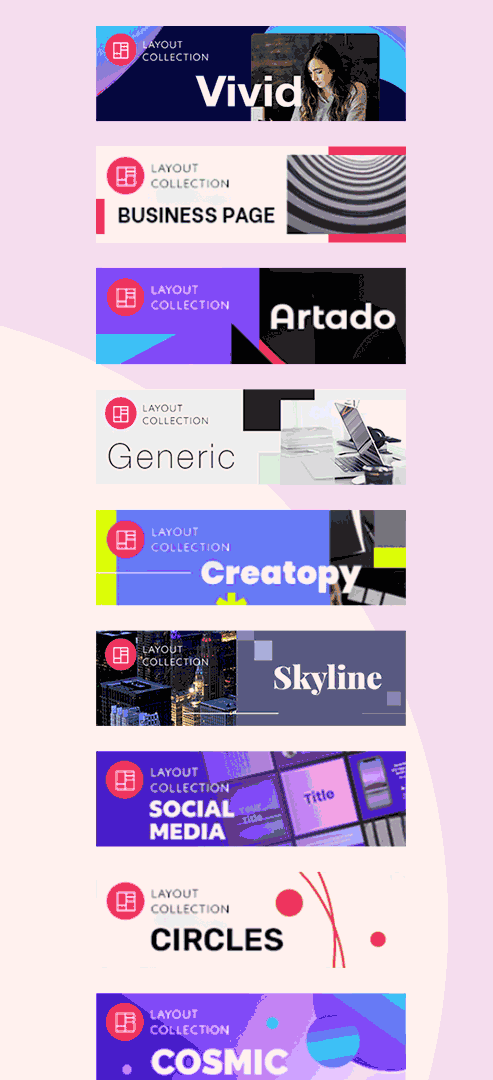 1. Select the Design Of Your Choice
Powtoon provides exclusive templates for your social media strategy. No matter your field of expertise, you can now easily create scroll-stopping videos that competitors can only dream of creating. Here's how different departments can use Powtoon's social media layouts:
Marketing
Here are some social media content ideas for marketing teams:
Promote a social event
Advertise an online class, conference, or webinar
Announce a social media LIVE
Promote a new guide or blog post
Announce a giveaway
Welcome new followers
Share a new feature or product release
Announce a sale
Thank volunteers
Try out this template:

Allow the social media layouts to be your stage to shine by customizing them with the message you want to promote.
HR
Here are some social media content ideas for HR teams:
Announce open positions
Showcase your people
Introduce your CEO and the executive team
Celebrate company milestones and accomplishments
Showcase your company culture
Share company announcements
Try out this template:

Amplify employee engagement and boost your company's social image by giving these ideas and templates a go!
Training and L&D
Here are some social media content ideas for L&D teams:
Promote a new course
Share new software features
Share employee development tips
Identify new concepts, trends, and important topics
Give kudos to team members

Spice up your learner engagement strategy with these cool layout designs and templates!
Sales
Here are some social media content ideas for sales teams:
Share product testimonials
Celebrate customer success stories
Share case studies
Announce new features or product releases

Publish

how-to and demo

videos

Report statistics and research data about your product or service
Promote a sale

Up your sales game and easily implement these ideas with social media templates and layout designs!
SMBs and Entrepreneurs
Here are some social media content ideas for SMBs and Entrepreneurs:
Advertise your product or service
Promote a how-to or

explainer video

Answer frequently asked questions
Share positive testimonials
Celebrate company milestones and achievements
Announce new releases

2. Choose A Template Size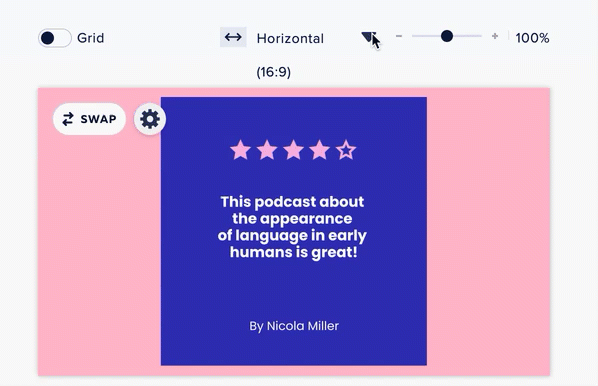 Whether you want to post content on Instagram, Facebook, LinkedIn, TikTok, YouTube, or even Twitter, Powtoon's instant resize option will ensure your videos look dazzling on any platform.
Simply select your preferred sizing option above your working slide. Not sure which one to choose? Don't worry. We made sure to include icons to remind you what platforms are compatible.
Horizontal
Choose the Horizontal sizing option when you want to post content on Youtube, Facebook, LinkedIn, or Twitter.
Square
If you're looking to post on Instagram and/or Facebook, you should opt for the square option.
Vertical
Want to go mobile? The vertical sizing option will ensure your audience can view your content on their phones. If you are creating content for Instagram Stories or TikTok, this is the size for you.
3. Edit Your Template
It's finally time to craft your message and turn it into a marvelous piece of visual art.
Drag and Drop
Powtoon's drag and drop ease allows you to seamlessly adjust your design to perfection. Easily customize your template by dragging and dropping in animated text, shapes, icons, characters, logos, images, footage, and more.
Brand Your Content
Show off your brand by uploading your brand colors and logo. You can even take it a step further by sporting your company logo on the clothing of your animated characters!
Personalized Characters
Always wanted to see yourself on screen? Powtoon allows you to build your own personalized characters that represent your employees, customers, or audience – while simultaneously staying true to your brand. Easily customize hair, clothing, facial expressions, animated gestures, and more.
Music Library
Are you perhaps searching for cool sound effects or groovy background music? Powtoon's audio and music library has thousands of soundtracks available at the click of a button. Oh, and of course, you have the option to upload your own music, sound effects, voiceover, and recordings as well.
Free Stock Images & Videos
With a built-in library of over a million free stock images and videos, you can easily swap in any footage your heart desires. No need to go searching for the perfect visual and praying that it doesn't cost you – this is a brilliant feature that will save you lots and lots of time.
Save Your Scenes
Created a slide you are incredibly proud of and would like to reuse in other videos? On each slide – or "scene" – you have the option to save your design. Easily access your saved scenes by clicking on the Scene icon in your navbar and selecting My Scenes.
4. Preview Your Video
Ready to preview your video before sharing it on social media? Simply click on the play button and enjoy the show. This is the time to make sure you are happy with your creation, proofread for potential mistakes, and add any finishing touches to your video.
5. Export and Share Your Video
Let's get a drumroll please – because you are standing at the finish line! Once you are satisfied with your video and ready to go LIVE, simply export your content directly to the platform of your choice – Facebook, YouTube, LinkedIn, Twitter, and more.
Not ready to share just yet? No problem! You also have the choice to create a public link to stream your video. Or, simply download your content as an MP4.
Explore More of Powtoon's Social Media Layouts
Ready to skyrocket your social media strategy and create scroll-stopping videos with ease? Sign up to Powtoon today and enjoy full access to our brand new social media templates.
The following two tabs change content below.
Hannah Elishevitz
Hannah is a marketing intern at Powtoon. To her, nothing is more exciting than trying out new things. She has a passion for cooking, painting, great books, and sports. Making new friends and claiming new skills is her specialty. She is a big believer that everything happens for a reason and hopes to make people smile wherever she goes.
Latest posts by Hannah Elishevitz (see all)