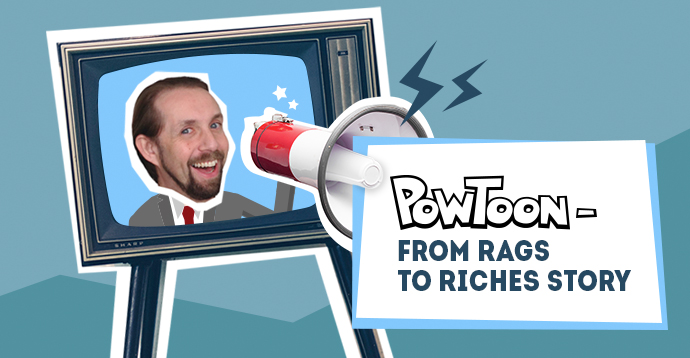 PowToon's Rags-to-Riches Story (Or: How We Reached 10M Users)
Read Time:
2
minutes
Hey, wanna hear a crazy story?
Around four years ago in a random cafe, a couple of friends — or shall we call them renegades? — got together to just hang out, and by chance they created something, well… RADICAL.
At the time I was trying to figure out how I could make a pitch to clients that wouldn't put them to sleep… or drive them to secretly browse Facebook under the table.
The solution was obvious: "Why not use one of those cool, animated videos?" Which was a great idea…with just one HUGE problem:
Animated videos cost thousands of dollars and take weeks for an agency to complete.
So…
Right then and there, with zero dollars in funding, zero customers and no software, we made the decision to build something that gives everyone the power to animate, just by pressing a few buttons.
And here's where things get crazy…
Before we went live with Powtoon, I emailed a few friends and colleagues. By the time we were ready to launch, we had over 40,000 people — from I don't even know where — requesting alpha access.
One year later, we passed one million awesome Powtoon tribe members — and today, just four years later:
A Powtoon is made every second of every day, all over the world, 24/7
The Powtoon tribe has over 10 million members and…
Virtually all fortune 500 companies are using Powtoon for their internal communications
In this day and age, where attention is so hard to get and even harder to keep, Powtoon has become the tool to use "when you can't afford to be ignored."
All of us here at Powtoon just wanted to say that we love you, and THANK YOU for this incredible journey together.
The Best Is yet to Come!
And yes, you're right — the best is yet to come. We're hard at work rebuilding Powtoon from the ground up with the latest technology, and building an ecosystem for all things video.
We know that it's still too hard to make an animated movie. This will make it 1000% easier.
If you can think it — you can make it
Let me know what you think in the comments below!!
The following two tabs change content below.
Ilya Spitalnik
Powtoon's Chief Renegade Scientist
Latest posts by Ilya Spitalnik (see all)