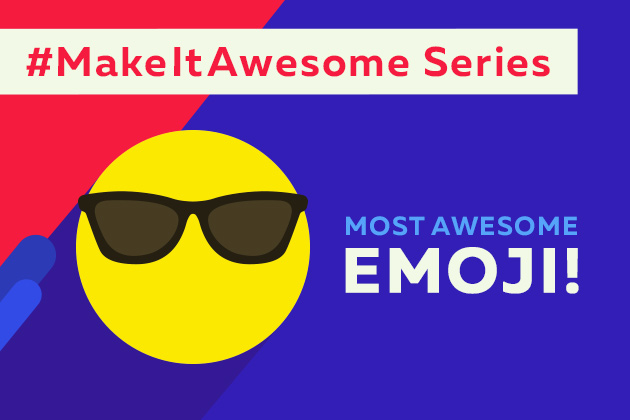 #MakeItAwesome — World Emoji Day Edition: What Is the Most Awesome Emoji [Video]
Read Time:
2
minutes
It's time for our next installment in the #MakeItAwesome series — The Most Awesome Emoji.
Emojis So Awesome, They Need Their Own Day
There's no denying the awesomeness of emojis. Emojis, those little smiley faces we all know and love, create a visual way to communicate in text that fills the gap between text and imagery. There's no doubt that these little goobers have added an entire new level of awesomeness to our communication.
Who Invented Emojis?
Emojis were invented in Japan in 1999 by Shigetaka Kurita, who was looking for a way to incorporate the symbols that texting customers were creating using punctuation (called emoticons). Why not make them colorful, with tons of personality, and why not build them right into the phone? What Shigetaka stumbled on was beyond awesome — and not just because emojis are fun to look at — they actually allow a more human form of expression.
In this Storify post about the history of emojis, we can see just why emojis are so completely awesome, "[Emojis] fulfill our human need to express emotions, giving people the ability to more clearly communicate and express the meaning, feeling, and tone of what we are saying. In fact emojis go even further as to actually providing humans increased social well-being and psychological health that actual face to face social interaction provides."
World Emoji Day
And World Emoji Day — the day we celebrate all things emoji — is July 17! Happy World Emoji Day, one and all! We are truly lucky to live in a world with little characters that can actually increase "social well-being and psychological health."
Awesomeness… Emoji Style
Like all things awesome, we wanted to see what the Powtoon team thought about it. So, in honor of World Emoji Day 2017, here you have the next installment of our #MakeItAwesome Series: What is the most awesome emoji?
#MakeItAwesome Series
Hey, it's a series! That means there's more! Check out the other episodes of the #MakeItAwesome series as they're released below:
Let's Hear YOUR Awesomeness
Maybe you agree — maybe you disagree! According to you: What's the most awesome Emoji? Leave a comment below!
The following two tabs change content below.
Nick Liebman
Nick is Powtoon's Head Creator for Video & Learning. He joined Powtoon as head copywriter in 2016, after his previous blog was voted one of the top 8 CRO blogs on the internet by Digital Marketer. He continues to churn out awesomeness for all Powtoon users via blog posts, tutorials, webinars, videos, and more. Before working in technology full-time, Nick honed his skills in the unlikely world of music and non-profit work. He holds a B.A. in Music from Grinnell College and an M.M. in Music Composition from Butler University, and has performed his and others' music all over the world.
Latest posts by Nick Liebman (see all)