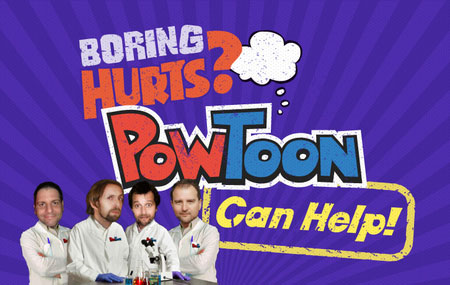 Bottling Awesomeness – Boring Hurts, PowToon Can Help
Read Time:
2
minutes
This is the story of how a small group of dedicated scientists went on a courageous quest to ​ rid the world of BOOORING, lame presentations​ … they​ created ​ a way for people to grab attention and create the most AWESOME animated videos and professional presentations!
It all started one rainy, December afternoon in Dr. Awesome's lab; his patients had been complaining of falling asleep at their work desks, dozing off in the classroom, and snoring while watching business presentations. One patient even fell off his chair during a meeting and injured his femur.
What was plaguing all these people? Some called it ​ 'Death by PowerPoint,' others called it ​ 'old fashioned' or ​ 'unoriginal.' But the answer was clear – the world was suffering from BORINGNESS!
Dr. Awesome was determined to eliminate BORINGNESS and find a way to restore Awesomeness in presentations! But he couldn't do it on his own, so he searched far and wide until he found a clever group of rebel scientists working on the very same problem. ​ Together, they came up with the antidote:
​ Identify and Extract Awesomeness
Bottle it
Make it available and easy for everyone to use!
Sit back and watch as people start creating AMAZING presentations, STUNNING professional videos, FUN educational assignments, and ANIMATED business tutorials.
No Designers needed. No Animators needed.
So combat BORING and get your friends and peers EXCITED about making presentations! Learn the secret to Bottling Awesomeness in the video above – and​ Join the Revolution TODAY​ to start making your own presentations and videos!
The following two tabs change content below.
Nirel Matsil
Howdy! I'm not actually a cowboy but I'm Super excited to be here, honing in my science background plus marketing experience to help show the world how anything you wish, dream or say, can be made more awesome with Powtoon!
Latest posts by Nirel Matsil (see all)