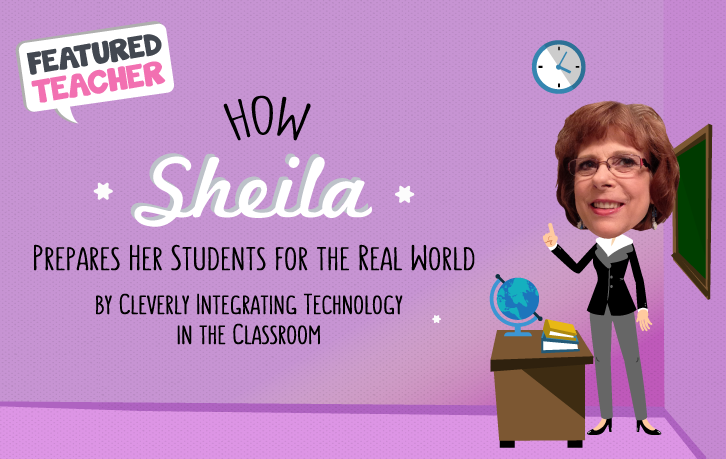 How Sheila Prepares Her Students for the Real World (by Cleverly Integrating Technology in the Classroom)
Read Time:
5
minutes
It's become a pretty iconic image; a cute toddler opens up a magazine and attempts to swipe right in order to ​ 'turn the page'. When she realizes the magazine doesn't work i.e., she's holding a broken iPad,​ she gives up.​ This scene is just one of many that highlights the unique and ever-growing relationship we have with technology; ​ Not only have children integrated tech into their daily activities, but technology itself has actually become an integral part of their learning process. It's changing the way they understand the world.
This includes ​ the 21st century classroom; where teaching has become synonymous with technology. According to a recent PBS survey of pre-K to 12th grade teachers:
74% of teachers use digital resources — tablets, computers — to expand and reinforce on content in their classrooms.
69%​ of teachers said educational technology helps them "do much more than ever before" for their students (the most commonly used resources being online lesson plans, interactive web games and online articles).
66% of teachers want to see more technology in the classroom.
This means that Chromebooks, iPads and even cell phones (learn 15 ways to use your iPhone in the classroom), are no longer luxury items, they've become a standard part of the classroom experience.
If this make you a bit nervous don't fret; just look to Sheila Gfell.
Sheila is not only an outstanding elementary and junior high school teacher, she's an an instructional coach and educational pioneer who has proven that the best way to embrace technology in the classroom is by pushing it to the limits. She​ believes that today's students face the challenge of an "ever-changing job market requiring a knowledge of technology regardless of your profession… it's hard to find ANY career that does not require a level of technology competency."
And, Sheila is determined to do something about it.​ By arming ​ her students with tech skills NOW, she's preparing them for a bright and successful future! Sheila shares her experiences with us…
When did you decide you wanted to to become a teacher…what inspired you?
"I was actually a nursing student for three years when I realized that nursing was not right for me. I went to the college career center and took an aptitude test where my strengths pointed to a teaching career. Although teachers were not in demand during this time period, I decided to pursue teaching anyway and found my true passion."
What are the greatest challenges you face as an educator?
"As a teacher, it is challenging for me to not only to learn the latest tools of technology, but also understanding how to use these tools effectively in the classroom. It is also challenging to make certain that all students have the same access. Fortunately, school districts are beginning to understand the importance of creating digital learning experiences for our students and are working toward providing the tools necessary for students."
Have you taught in any alternative educational settings?
"Yes. I've also taught in urban priority schools. Most of my career has been working with​ at-risk students teaching math. I have also served as a Master Teacher for the TAP program and worked as an instructional coach in a secondary setting."
How did you discover Powtoon?
"I was searching for a new presentation tool to spice up my lessons. I like to keep students engaged by using a variety of tools. I came across Powtoon and liked the feel of the presentation tools. The colors, fonts, animations and transitions seemed to fit the middle school students' style. I started trying it out and working with it and fell in love with it."
How have you used Powtoon to introduce and integrate technology into your classroom, especially for students who are economically challenged?
"Our district has provided chrome-books for all students now. This has been a great help, however, I have to provide class time for students to work on projects because many students do not have internet access at home. To shorten the amount of class time required, I have students plan out their projects in advance so that once they begin the project that already have an outline of what they want to do. I provide students with very specific rubrics to guide the students through the project and also assign most projects to be completed in groups. Working in groups allows students to collaborate, provide support, and share their knowledge. I have found that group work benefits all students and allows everyone an opportunity to shine!"
What is one memorable (or funny) story that stands out during your years as a teacher?
Several years ago, I had a young boy struggling with math. Our students were offered the opportunity to job shadow a professional for a day. This young man could not find anyone to shadow so I asked the principal if he could shadow her. During lunch she talked to him about why he was struggling with math. He said that you could not study for a math test. The administrator asked him why. He replied, "they always change the numbers." He wanted to memorize the facts and have the test simply ask him to repeat the answers. I spent a great deal of time working with him to help him see it was the process that he needed to learn, not the numbers.
How have students used Powtoon to express their creativity (did you experience any unexpected results)?
To be an effective teacher, I need to know my students. The beginning of the year, not knowing the students is difficult. I begin the year using Powtoon to introduce myself, then the first project of the year is for students to create their own biography using Powtoon. This is a tremendous help to me in making connections with my students and getting to know them. It also gives students a less formal first experience of using Powtoon as their presentation is more of a personal project instead of a content specific project.
What would your dream classroom look like?
My dream classroom would consist of work ​ stations for 3-4 students with easy access to plugins, warm, friendly colors, access to color printers, and a variety of technology tools. The room would be student-centered with the teacher acting as the facilitator rather than the focal point. Students would be working on a variety of tasks, collaborating, creating, communicating locally and globally.
If you could give new teachers one piece of advice (on any matter from classroom management to inspiration) what would it be?
I would advise teachers to spend more time measuring the growth and success of their students from the beginning of the year forward and less time worrying about standardized test scores. Plan lessons that engage, excite, and motivate students. Students will learn if you create an environment where taking risks, thinking outside of the box, and their accomplishments are not only acknowledged but treasured, then students will surpass your expectations.
Sheila, You are one unbelievable Educator! Thank you for sharing your experiences with Powtoon and for continuing to integrate the latest technologies into your lesson plans! Your instilling valuable tools and skills for our future generations!
If you'd like to be a ​ 'Featured Teacher' or know of any outstanding teachers that are rockin' the classroom, please write to us GreatestTeacher@powtoon.com.
The following two tabs change content below.
Nirel Matsil
Howdy! I'm not actually a cowboy but I'm Super excited to be here, honing in my science background plus marketing experience to help show the world how anything you wish, dream or say, can be made more awesome with Powtoon!
Latest posts by Nirel Matsil (see all)