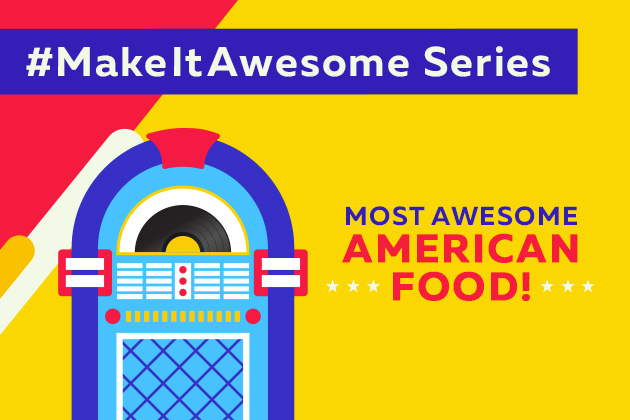 #MakeItAwesome — 4th of July Edition: What Is the Most Awesome American Food [Video]
Read Time:
2
minutes
Make it Awesome
Welcome to the first installment of our new series: #MakeItAwesome!
Everyone knows we love the word awesome here at Powtoon. But for us, it's more than just a word. Make it Awesome is what Powtoon is all about! We believe that in anything you do, you must go above and beyond what's expected from you and just Make it Awesome!
What Is Awesomeness?
Awesomeness comes in all stripes, from the serious to the light and fluffy stuff. We wanted to create a Powtoon series that touches all of these things and celebrates true awesomeness in all its forms.
We're launching our #MakeItAwesome video series to celebrate all things awesome, and we couldn't think of a better time to start than the 4th of July!
Why the 4th of July Is AWESOME!
We all know the 4th of July is American Independence Day. It's the day that represents freedom of choice and independence (truly AWESOME things!), and we could think of no better day to launch our new series.
No one can deny the melting pot of cultural heritage in the U.S. has produced a stunning array of cuisines, all mashed up and thrown together that could be called American Food. It's true genius, and it's just one of the ways the U.S. Makes it Awesome!
Most Awesome American Food
And of course, what better way to celebrate the 4th of July than to quiz the Powtoon team to learn which food is truly the Most Awesome American Food:
#MakeItAwesome Series
Hey, it's a series! That means there's more to come! Check out new episodes of the #MakeItAwesome series as they're released below:
Let's Hear YOUR Awesomeness
Maybe you agree — maybe you disagree! According to you: What's the most awesome American food? Leave a comment below!
The following two tabs change content below.
Nick Liebman
Nick is Powtoon's Head Creator for Video & Learning. He joined Powtoon as head copywriter in 2016, after his previous blog was voted one of the top 8 CRO blogs on the internet by Digital Marketer. He continues to churn out awesomeness for all Powtoon users via blog posts, tutorials, webinars, videos, and more. Before working in technology full-time, Nick honed his skills in the unlikely world of music and non-profit work. He holds a B.A. in Music from Grinnell College and an M.M. in Music Composition from Butler University, and has performed his and others' music all over the world.
Latest posts by Nick Liebman (see all)