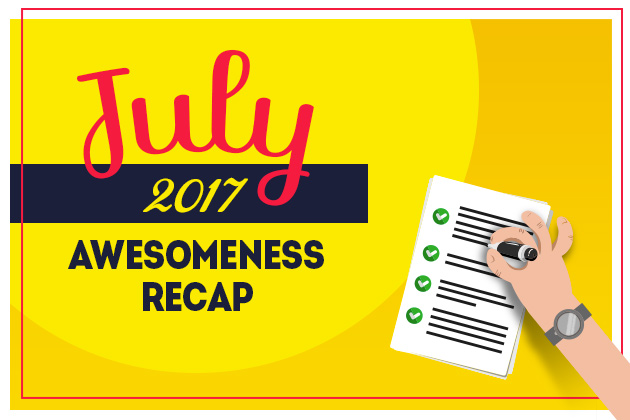 July's Awesome 7 — New Services, New Features, Powtoon Squared², and More!
Read Time:
2
minutes
There's been so much happening at Powtoon this summer, I wanted to be sure you were totally up-to-date. It was a tough choice, but I was able to boil it down to our Awesome 7 — the July 2017 recap of all things awesome for the Powtoon tribe in July. Here's what happened…
Let's take those updates, one by one…
#1 HTML5 Alpha
We opened the HTML5 Alpha version to a select group of our premium users to hear what you guys think, and to learn what else we needs to be available before going live with the Beta (more on that below)!
#2 Powtoon-on-Tap — A New Service for Corporations
We launched a brand new service for corporations called Powtoon-on-Tap. Demand is off the charts to transform standard corporate communications into awesome animated videos. As we speak, Powtoon-on-Tap is already awesomizing communications for corporations around the globe. So if you work for a large organization, just follow this link to learn more!
#3 The #MakeItAwesome Series (and Powtoon Squared²)
We released the first two episodes in our Make it Awesome series, celebrating the 4th of July and World Emoji Day. This series is created using Powtoon Squared² — a new solution for social media managers and content creators. This will be available in the HTML5 beta, and will help you crank out addictive social content in minutes. If you missed these Powtoons, you can check them out on our blog!
#4 Upload Directly to Facebook!
Great news if you create Powtoons for your Facebook communities! You can now upload your Powtoons directly to Facebook from your Powtoon account. We'll be adding more advanced upload options in the next few weeks so stay tuned!
#5 Facebook LIVE Pro Session on Marketing
Just in case you missed it: we had our first Facebook Live Pro Session! This one was all about marketing. Thanks to everyone who asked questions and tuned in. We've already had over 11,000 views!! More Pro Sessions are to come!! If you have any other pro questions, just follow this link to join our Premium Club on Facebook.
#6 Back to School Season Starts Soon…
Looking ahead to August, we're getting pumped for our back to school activities! If you're in EDU, you're going to want to join in! (Hint: we're giving away FREE classroom accounts! So stay tuned!)
#7 HTML5 Beta signup!
And finally, August is also all about getting ready for the HTML5 Beta launch. If you want in before anyone else,  just follow this link to join the waiting list!
And That's Your Awesome 7
That's it for July's Awesome 7. Chime in below in our comments section to tell me which one you're most excited for! And, as always, don't forget to Make it Awesome!
The following two tabs change content below.
Nick Liebman
Nick is Powtoon's Head Creator for Video & Learning. He joined Powtoon as head copywriter in 2016, after his previous blog was voted one of the top 8 CRO blogs on the internet by Digital Marketer. He continues to churn out awesomeness for all Powtoon users via blog posts, tutorials, webinars, videos, and more. Before working in technology full-time, Nick honed his skills in the unlikely world of music and non-profit work. He holds a B.A. in Music from Grinnell College and an M.M. in Music Composition from Butler University, and has performed his and others' music all over the world.
Latest posts by Nick Liebman (see all)