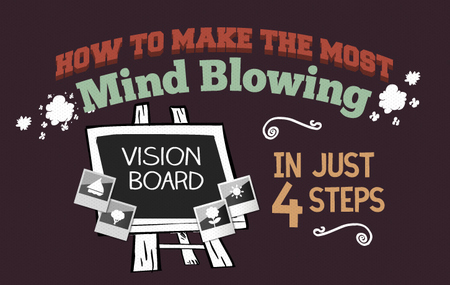 How to Make the Most Mind Blowing Vision Board in Just 4 Steps
Read Time:
6
minutes
Why is it that so many people have a hard time getting what they want?
No matter how hard they try, they find themselves stuck in a pattern, putting a lot of effort into what seems to be completely futile. They wish for a better life, or better results but it just doesn't happen.
There is one deep and underlying reason for this; ​ To quote American Author Richard Bach, "to bring anything into your life, imagine that it's already there…"
So, what's the deal with Vision Boards?
There's recently been a lot of hype about Vision Boards i.e, Boards with inspiring images and words, and how they can help you achieve your goals. But, do they work?
Famous People who use Vision Boards
Jim Carrey, Ellen Degeneres and the multi-millionaire founder of Spanx, Sarah Blakely all attribute their success to their vision boards. Even teachers across the globe have started to use Vision boards to grab their students attention! But, are vision boards just a trendy self-help tool flaunted by famous people, life coaches and spiritual gurus? Or are they sound, scientifically-proven mediums that allow individuals to materialize their dreams?
(And what on earth does Powtoon's presentation and video making platform have to do with all this?)
Get Your FREE Classroom Account Here …and Create Vision Boards with your entire class!
The Science behind Vision Boards
Every time your brain learns something new the neurons inside of it create a pathway. More learning and thinking generate more pathways and new networks. This is called neural circuitry and it makes you and me more aware, and more connected to what's going on around us. According to the​ Society of Science, this process is especially useful when it comes to positive thinking and Visualization. "The more you can see and think about what you want the more your brain becomes aware of opportunities for you to achieve it. You literally can rewire your brain for success."-DoseofBliss
How Vision Boards Work
Imagine waking up in the morning, smiling, full of joy with the sun's warm rays kissing your face. You stretch your hands above your head and stare out the bedroom window of your dream house. you're living with a loving kind spouse, swimming, reading, skydiving and doing activities that excite you. You recently quit your job and are pursuing that career you've always wanted (who cares what anybody thinks, you will be an awesome SCUBA Instructor). As you make your morning fruit shake you are grateful that the ache in your knee is gone and the overactive thoughts in your head have become focused and determined. After dropping off your angelic child to kindergarten you sit in a cozy cafe with your golden retriever and write one more page of that novel…
This is your perfect life. This is your Blue Sky Scenario.
But let's face it, it's not gonna happen, right? Look around you, time to get back to reality.
NO! Stop yourself. This is where most people mess up. This is where people block themselves from achieving their goals. It's too easy to let those negative thoughts creep in…
How to STOP Blocking Yourself from Achieving Goals
You need to get back to that daydream, that perfect life. The details of that moment where you feel happy and inspired …and materialize it. You need to see a constant reminder of your dreams. ​ So, copy and paste those dreams in your head onto an actual physical, board. ​ Add images, words and goals of everything you desire and wish to achieve in the next 3 months, or years, and add it onto a vision board.
Where ​ 'Blue Sky' Comes into Play
Now take that Vision Board and make it bigger, better, louder and portable. Powtoon created ​ a totally do-able template for everyone to use, it's called My Blue Sky Vision Board Template and it's a Vision Board on Steroids!​ Anytime you ​ want to feel inspired, take out that board or watch your ​ 'Blue Sky' Video. It will ignite a small spark of awesomeness that has the potential to help you make huge changes.
So now that you understand a little more about how vision boards work and why they are so crucial to success, let's jump right in and make one!
Step 1 – What do I really want?
It's hard to set a goal if you don't really know what you want. But, don't fret, now is the time to figure that out. Creating a vision board is the perfect opportunity to discover what you want out of life! ​ A little bit of introspection will allow you to stop being reactive and become proactive, so that you can focus on your true desires and set goals.
Some techniques to gain mental clarity:
Step 2 – Fill in the Blank
Powtoon's free Blue Sky ​ 'Vision Board' is literally the easiest, simplest and most focused vision board in the world. It's also animated (and let's not get started on the power of animation) and it's portable, so you can access it from anywhere, whenever you want. Each slide tackles a different area of life such as relationships, career and health. Fill out the details of your ideal job, how you want to feel and look and how awesome you will make your relationships with those you love…
Step 3 – Personalize with Images
The process of Creating a Blue sky is visual and EXPERIENTIAL. As you search for the right images to describe your dreams and goals you may come across pictures that you hadn't even imagined in your ​ 'Blue Sky' scenario, yet perfectly align with your dreams and goals. The journey of creating your vision board is a huge part of the experience itself. Take these images and upload them to your Blue Sky Vision Board. (Check out 11 Awesome and Free Image Resources for your next presentation.)
Step 4 – Awesome Music and Inspiring Quotations
When we hear a song we love, we become happier. The science says it all, music has the power to instantly motivate, excite, and lift our spirits. Choose a song you absolutely love and upload it to your ​ 'Blue Sky.' The same goes with quotations. Inspiration is rare, if you find a quotation that motivates and inspires you. ​ Add them to your vision board and get re-inspired every time you read it!
Here's the Portable Blue Sky Vision Board Template- Make Your own'Blue Sky' now!
Inspiration is rare. Create your own Vision Board, include images of all your goals and dreams, and watch it whenever you want to feel inspired! Soon you will be working towards achieving your goals without even knowing it! And as a bonus, Check out the 23 most inspiring people alive:
Good Luck!​
What would you include in your'Blue Sky' Vision Board?
Let us know in the comments below!
The following two tabs change content below.
Nirel Matsil
Howdy! I'm not actually a cowboy but I'm Super excited to be here, honing in my science background plus marketing experience to help show the world how anything you wish, dream or say, can be made more awesome with Powtoon!
Latest posts by Nirel Matsil (see all)