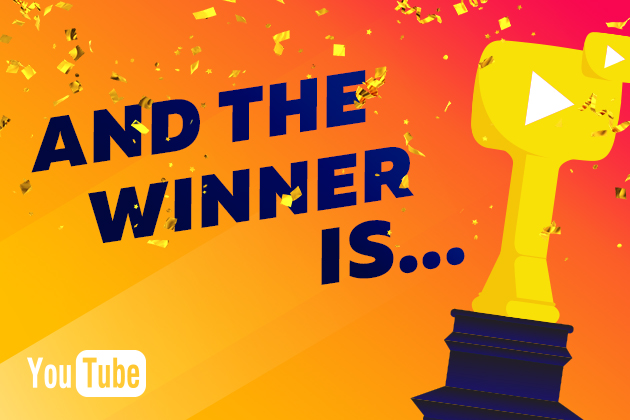 A New CTA Is Born from YouTube's 2018 Ads of the Year
Read Time:
5
minutes
We've all clicked on a YouTube video, only to impatiently stare at the countdown on the bottom right-hand corner of the screen for the "Skip Ad" button to appear. But what about those ads that hook you in and keep you watching long after that button surfaces on the screen?

This year, YouTube teamed up with The Webby Awards to present the top YouTube ads people couldn't help but keep watching. Now, the great video lovers of the universe have voted, revealing the best YouTube ads of 2018 in categories like #TheYouTubeAd That Deserves Best Picture, #TheYouTubeAd That Taught Me, and #TheYouTubeAd That Rewrites the Rules. Funny, heartwarming, thought-proving, or a moving mixture of all three, these videos offered up so much more than a sales pitch.
Now, while these videos can draw much inspiration for ads you can make this holiday season and beyond, it can be hard to put your finger exactly on what elements make them tick and which you can apply when advertising your own product. To help give you a little actionable insight, here are the four guiding principles to help you craft and execute a video ad with impact.

Four Guiding Principles for Every Ad
Brand identity
A no-brainer to start, your ad should include who you are as a company. This can appear visually by offering a look at your product in action, your logo, or even a more metaphysical representation of what you're all about. You already know that what sells is more than just your product, it's the brand and feeling that comes along with it. Make those shine!

Identify the audience
As important as it is to identify your brand, you need to identify your product's audience too. Be it through the actor you've chosen (from a celebrity cameo to a hunky stand-in from your development team) or written into the script you write, get your target audience to feel that your product is perfect for people just like them.

Pain, solution, benefit
The royal trifecta! Take the viewer through the buyer's journey or the path they'll take to finally purchasing your great product or service. This all starts with the pain they feel right now, then guiding them to your product as a solution to those challenges, and then wowing them with all the awesome ways your product will change their lives for the better, forever.

Calls to action (CTA)
Traditionally speaking, your ad's goal is simply to sell. Be sure to create a sense of urgency so that the video ad viewer feels compelled to trust you over your competitors and buy from you ASAP. But tons more on this later.
Video Ad Must-Haves: How YouTube's Top 2018 Ads Stack Up
That being said, how do this year's YouTube Ads of Year stack on these four fronts? Let's take a look!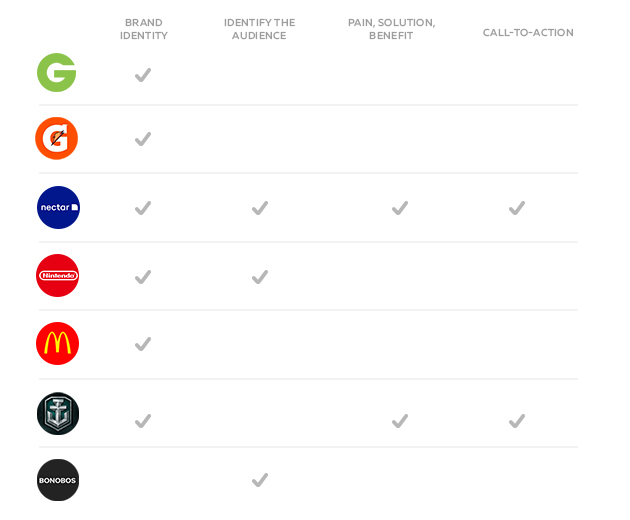 Anything jumping out at you looking at this table? If you're thinking what I'm thinking, Nectar is the ONLY winner this year that checks off every box of our "video ad must-haves." So what can we learn from this as video ad creators?
Nectar uses every must-have
Nectar takes you through a standard ad script by checking off these boxes, while occasionally breaking the rules for added humor. But when it comes to the punchline, the video has a clear, hard CTA: "Click here and order yourself a Nectar now!"

People know your product? Focus on brand identity!
Then you have mega brands, like McDonalds. They only seem to need to hit brand identity. This shows the freedom that comes with a well-known brand that doesn't require explaining who you are and what you do every time you advertise.

The other ads, alternatively, attempt a more subtle approach in their signoffs in hopes of gaining trust via sending a softer, but no less impactful CTAs. By being more viewer-centric and less sales-y, these other companies may not get you to buy their product "NOW!" or "TODAY!" Instead, they tactfully play on your heartstrings to engage in a conversation within yourself and with those around you about their brand and what they stand for.

Through these winners, we can tease out two variations of this "soft CTA" approach: Slogans as CTAs (using a tagline to hook your viewers with a certain sentiment) and the rhetorical questions as CTAs ("how could you not have realized this also can be used as a CTA?!"). Ready to learn how these winners implement these into their videos? Let's dive in.
Slogans as CTAs
Gatorade
No wonder this would have won "Best Picture". The animated ad takes you through the life of Barcelona soccer star, Lionel Messi. Between the animated action and the stirring soundtrack (sprinkled with Gatorade Easter eggs), this ad comes off as an epic tale of the underdog. The ad ends with the Messi's inspiring words, "When you have a dream to chase, nothing can stop you." This is directly followed by Gatorade's tagline: Win From Within. More than just pitching a sports drink, Gatorade is selling the age-old idea that the hero lies in all of us. Why wouldn't you want to buy the drink that gives you all those feels?
Nintendo
Kids building tech accessories paired with the nostalgia of the name Nintendo has got us pulled forward and backward in all the sentimental ways. Leaning on their slogan, "Make, Play, & Discover," Nintendo's ad makers used these three prongs to script the ad scenes of empowering young creators to do these three verbs in succession while adding a touch of childish wonder to each.

Bonobos
While #EvolveTheDefinition isn't technically Bonobos' brand slogan, the men's clothing company made an interesting move in their first-ever TV ad, which was later adapted for YouTube. With no mention of the brand, their clothes, or the wardrobe mishaps they solve for, Bonobos uses this ad to start a dialogue about what it means to be masculine in 2018. Taking to Instagram and Twitter, passionate viewers began speaking up about what it means to redefine masculinity outside the Oxford dictionary's opinion. Bringing this conversation to the people, Bonobos is using this hashtag to fuel a more meaningful conversation about what it means to be a man, and subsequently tying their brand label to feelings of acceptance, diversity, and community.

The Rhetorical Question as CTA
Groupon
"You don't use Groupon?!" With only 6 seconds of time to capture attention, Groupon went for the sassy, rhetorical question by the poolside. Such a question gets viewers thinking, "Shoot — I gotta get on this!" without trying to hard sell with a traditional CTA. Also, I'm totally sold on just about anything that gets me feeling like I'm poolside. Tell me it's not just me.

World of Warship
"You Haven't Played World of Warships Yet?!" See the similarity between this and the Groupon gimmick? Asking direct questions to the viewer can get them to sit up straight, after which you can follow up with all the benefits they'll gain by playing your game — or using your product.

2018 Video Ad Wrap Up
There will always be a place for strong, compelling CTAs in advertising. Where there's an urgency, there's a great chance you'll make a sale. That being said, it's important to note these newer, softer CTAs can help drive brand awareness, an emotional connection with the company, and a deep-seated call to action to bring the message of that brand into one's life and conversations. That way, when the time comes for those ad viewers to purchase a product like yours, you've captured their hearts and minds to get their vote… and their dollars.

Make Awesome Video Ads with Powtoon

The following two tabs change content below.
Shoshi Davis
Shoshi joined Powtoon as a Marketing Assistant. To read more of her stuff, you can find her content on Upwork and Business 2 Community talking all things inbound marketing for SaaS. After only 2 weeks at Powtoon, Shoshi was dubbed by the marketing team as having the superpower of "Unbridled Enthusiasm." So that was pretty cool.
Latest posts by Shoshi Davis (see all)